If you're addicted to social media, and one blue-logo'ed form of social media in particular, the idea of a Facebook phone is the equivalent of your holy grail. Add to that a full QWERTY keyboard and a dedicated Facebook button, and you can add nirvana to your holy grail!
For you, then, the HTC ChaCha would appear to the be the ultimate phone, as that's exactly what it offers.
But what can you do with the Facebook button that you can't already do with the Facebook app available on Android phones and the iPhone? Is the HTC ChaCha good enough to use as an everyday phone, and just who is it aimed at?
Let's have a look.

HTC ChaCha overview
The HTC ChaCha is a small slightly underpowered Android phone from HTC that's aimed squarely at the young and the Facebook-obsessed. Three are very keen on this little social Android and sent me a ChaCha to have a play with (you can see Three's HTC ChaCha deals here).
My first thoughts? A smartphone capable of organizing your home and professional life it is not; a Facebook friendly super-social phone capable of organizing your social life, it most certainly is!
As you can see from the pics, the prominent blue Facebook button is the central unique feature of the ChaCha, and its primary purpose is to give you instant access to Facebook functionality without having to dive into a thousand menus to share your pics, videos or thoughts.
Just take a pic, push the Facebook button, and bam – your pic is instantly upload to Facebook.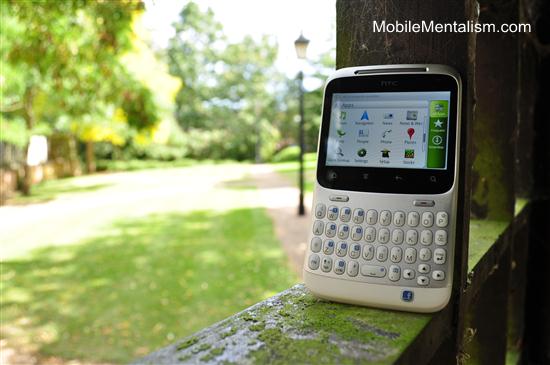 That's the idea in a nutshell. How much use you get out of of it will depend on how much you use Facebook.

So what else can you do with that Facebook button? Let's see.
What you can do with the Facebook button
This is what HTC has in mind withe ChaCha's Facebook button:
Instant uploads of photos and videos to Facebook – take the pic, press the button, and the photo (or video) is instantly uploaded to your Facebook wall.
Share what you're listening to with your friends – play a tune, press the button, and the name of the tune and the artist is uploaded to your status, telling the world who you're listening to (though they probably won't care!)
Group your friends together and chat with them using Facebook chat – the ChaCha's Facebook chat app will show you everyone who's online, letting you chat to them all in parallel conversations.
Share what Webpage you're browsing just by pressing the Facebook button
Check in using Facebook places
There's also a number of Facebook widgets you can use to display your friend's updates, and there's tight Facebook integration with the rest of the phone, such as your friends' birthdays being shown in the calendar app, and a stream of your friends' status updates being displayed in a Friends Stream widget.



However, widgets aren't new – this level of integration is all part of HTC's Sense user interface and is available on all HTC's Android phones.
Key features of the ChaCha
Aside from the Facebook button, what other features are one offer with the ChaCha?

Well, the ChaCha may not be an Android superphone, but it still comes with all the bells and whistles of Android, including HSDPA for fast downloads, WiFi b/g/n, music playback from loads of different codecs including MP3, WMA and even Ogg, and video playback and record.

Impressively, there's even support for Bluetooth 3.0, which is much faster than Bluetooth 2.0, and is something you don't even find on top-end phones such as the Motorola Atrix.

Inside, there's 512MB of RAM, which you can expand with an SD card, and an 800MHz processor powering things nicely.



The QWERTY keyboard on the ChaCha is nice and responsive, the phone itself oozes typical HTC quality, and even feels sturdier than the flagship Samsung Galaxy S 2 and Motorola Atrix phones.

Round the back is a 5 megapixel camera, with a VGA front-facing camera for video calls. There's the usual array of Android sensors inside (GPS, compass, accelerometer, prosimity sensor and light detector) and a 3.5mm headphone jack on the side.

Although 800Mhz doesn't sound a lot in this age of 1.5GHz dual core processor-sporting superphones, it's plenty for the ChaCha, as it's never going to be pushed hard. For one reason, the screen is so small. At just 2.6", there aren't many pixels to push around, so the processor has to do a lot less work than it would on a 4.3" Galaxy S2 screen, for example.



Indeed, using the ChaCha on a daily basis, its performance is fine. It's not the fastest phone on the planet, and its interface is a bit clunky at times as the processor struggles to animate elements of the user interface as seamlessly as you'd like, but you're not stuck waiting for the phone to catch up with you.
What's it like to use the ChaCha?
In a word – fiddly! Clearly I'm not the target demographic, but I found the keyboard too small, the screen much too small to see anything useful, and the use of QWERTY keyboard, call connect and disconnect buttons, Android menu keys and touchscreen much too confusing.



For example, there are times when pressing return on the QWERTY keyboard, pressing the green accept button or touching "OK" on the touchscreen all achieve the same thing, and then other times when only one or two of these input methods achieve the same thing.
Conclusion – should you buy the HTC ChaCha?
If you're a teen and you're heavily into Facebook, then the idea of a Facebook phone with a dedicated Facebook button is a good one. If this is you, then the ChaCha is the best Facebook QWERTY phone on the market.

It's got HTC's build quality and is a far superior phone to other Facebook QWERTY phones that are out.



If you don't mind a virtual keyboard, though, then go for the HTC Salsa, which still comes with the same Facebook button, but replaces the QWERTY keyboard with a much larger screen, which makes the phone actually usable.

However, if you don't spend your life on Facebook 24/7, then you might as well go for a standard mid-range Android phone and just use the excellent Facebook apps that already exist.