The Motorola Atrix could have been a giant gimmick, something to differentiate Motorola's Android phone from the competition. Happily, it's anything but. What Motorola has done is redefine what we think of as a computer and made something so incredibly useful and so technologically stunning that I'm almost lost for words.
And that rarely happens!
The Atrix doubles-up as a laptop and home multimedia entertainment system as well as a super-powerful dual-core Android smartphone. It's an exciting it of kit, but it leaves a number of questions:
Is the Atrix any good as a phone? Can it replace your laptop? And is it the perfect mobile tech for the mobile Web warrior?
Let's find out.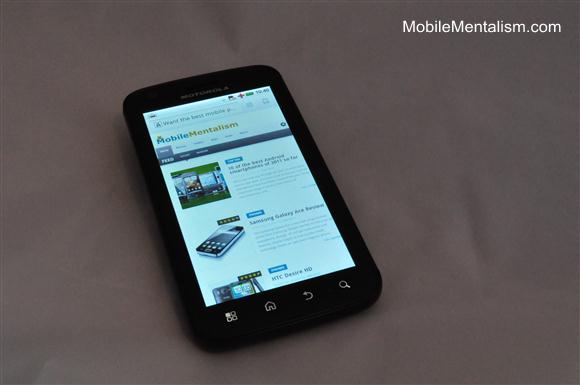 Motorola Atrix and lapdock – two reviews in one!
No matter how cool you think the Atrix is, with its dual-core 1GHz processor and NVIDIA GeForce graphics processor, it's not the phone itself that is the centerpiece – no, the seriously cool thing about the Atrix is the laptop dock (or lapdock) that the Atrix slots into, which makes the phone morph into a fully functional laptop.
Handily, I've been given both the Motorola Atrix and lapdock to review from the kind people at Clove Technologies, so I've been able to test out both phone and lapdock thoroughly.
So I'll split this review in two, with the first part focusing on the phone, and the second part on using the Atrix as a laptop replacement. If you prefer, jump to the following sections of this review:
Motorola Atrix Overview
The Motorola Atrix is a sleek Android touchscreen phone with a 4″ screen and a somewhat plasticky feeling back.
Externally it has pretty much every kind of port you'd hope for, including an HDMI connector for connecting to the TV; internally, it has every kind of feature you'd ever want, including a super powerful processor, huge amounts of RAM and an NVIDIA GeForce graphics processor.
In short, this one beast of a phone!
Here are its best bits…

Amazing multimedia features
record flicker-free 1080p HD video at 30fps
watch your 1080p videos on your HDTV thanks to the Atrix's HDMI port
play stunning games with fluid, super-smooth 3D graphics thanks to an NVIDIA GeForce graphics processor
share your photos and videos with your home entertainment devices either wirelessly or with wires, thanks to the Atrix's HDMI port, fast USB2.0 port, and DLNA
take cracking pictures instantly with the 5 megapixel camera with autofocus and near-zero shutter lag
also take great low-light photos with the dual-LED flash
front facing camera lets you make video calls, or just acts as a mirror
stream music and video with no jitter or irritating pauses with its 14.4Mbps download speed
super-crisp display shows off your media to perfection with 540×960 pixels making everything look smooth and non-jaggy (if that's a word!)
watch films in stunningly high quality, with a fast frame rate that never slows down and the crisp, vibrant display
watch videos recorded in nearly any format, including DivX and XVid
Unique accessories
unique expansion options lets the Atrix morph into a laptop or a multimedia controller
use the Atrix as a laptop with its built-in Webtop app and the lapdock accessory
hook the Atrix up to your HDTV and use it to browse the Web using Firefox on your giant shiny 50″ HDTV
add keyboard and mouse, plug the Atrix into a a TV and use it as a desktop PC replacement
sit back and watch your Atrix's photos and videos on your HDTV and control them via remote control
Built for reliability and security
prevent your data from being stolen with the built-in fingerprint scanner
forget about running out of power thanks to its huge 1950 mAh battery
fits into every pocket with slim profile and 4″ screen
virtually indestructible gorilla glass means you can forget about scratching the screen
Connectivity everywhere
connect to the world wherever you are with quad-band 3G and WiFi a/b/g/n support
super-fast downloads using 14.4Mbps HSDPA
super-slick Sat-Nav features including aGPS and Google Maps, which never slows down thanks to the power of the Atrix's processor
High-end processing power
Blazingly-fast 1GHz dual-core NVIDIA Tegra2 chip with NVIDIA GeForce graphics processor
install as many apps as you want onto the Atrix's huge 1GB of internal RAM
expand the storage capabilities to 32GB with microSD cards
Great user experience
completely customizable homescreens with resizable widgets that you can put anywhere
read all your social media messages at a glance with the Motorola MOTOBLUR widgets
write documents or messages quickly and easily with your choice of a multi-touch virtual keyboard or Swype
complete desktop-like Web browsing experience with HTML5 and Flash 10.1 support
That's a lot of best bits – an awful lot! If you're already sold, go and buy the Atrix now.
If you need some more convinving, or you just want to see a bit more about these features, here's some more detail.
What you'll love about the Atrix
As a phone, the Atrix rocks. Its speed is right up there with the best, and is shown off to perfection with processor-intensive tasks like watching video or playing 3D games.
Superb multimedia support

Video and multimedia in general is just one of the areas where the Atrix really excels. Its screen is crystal clear with high pixel density giving crisp, clear images and making videos and films leap out of the screen with vivid colours.
Added to that is the Atrix's advanced multimedia controller app, which lets you easily select and playback your videos, films, photos and tunes either on the phone itself, through a connected HDTV or the lapdock attachment.
You can even use the Atrix as a remote control to show off your media on your TV, or even to browse the Web through its onboard Firefox browser.
Unique HD Multimedia Dock
In addition to its built-in multimedia features, you can also buy an HD Multimedia dock that connects the Atrix to your home theatre system or HDTV. Of course, the Atrix can connect to your HDTV anyway as it has a built-in HDMI port, but the Multimedia dock adds an extra crucial feature – a remote control!
You plug your Atrix into the dock, which sits next to your HDTV and connects to it and your home theatre. You then sit back with your remote control and fire up the Atrix's multimedia app, which will instantly show your pictures and videos on your HDTV, or play any tunes you have stored on the Atrix through your amp.
That's not all though.
The Multimedia dock also has USB ports and will let you connect both a mouse and a keyboard to it. With these added, and the HDTV acting as a giant computer screen, you can use the Atrix as a home desktop PC, controlling a version of Firefox that the Atrix uses to provide a complete Webtop experience.
Genius, and now remarkably cheap too, as the Multimedia dock has recently been slashed in price.
Crystal clear photos
The Atrix has two cameras, one front-facing, the other a more conventional rear-facing one with dual LED flash. Although only 5 megapixels in size, the rear-facing camera takes cracking photos with excellent quality. Thanks to the power of the dual-core processor powering the phone, taking the photo is extremely quick as well.
With other phones, there's a delay when you launch the camera app, meaning you can miss that vital moment. Not with the Atrix. Touch the camera app and start shooting straight away. There's no delay, simply because the phone is so powerful.
Connect to the world
Externally, the Atrix is a sleek Android touchscreen phone with a 4″ screen and a somewhat plasticky feeling back. It doesn't have the reassuringly solid feel of HTC's aluminium-clad wonders, but it's more substantial in feel than Samsung's Galaxy S2, which despite its embarrassment of feature-filled riches, is remarkably plasticky for a flagship phone.
Other than that, it looks exactly like every other touchscreen phone.
It's when you look at the connectors around the outside of the Atrix that you start to get a feel for the power of the Atrix.
There's the ubiquitous 3.5mm headphone jack, a microSD card port, microUSB connector and charger, volume switch, 5 megapixel rear-facing camera, VGA forward-facing camera, LED flash – and two very intriguing ports.
One is an mini-HDMI port, which lets you connect the Atrix to an HDTV or a multimedia dock; and the other is a connector for plugging the Atrix into a lapdock – an Atrix-specific laptop that turns the Atrix into a fascinating new gadget that's truly unique in the world of mobile.
But more on that in a moment.
The User Experience
The Atrix uses Motorola's MotoBlur interface, which adds Motorola's own custom skin on top of Android. The result is somewhat mixed. Although perfectly functional, it's not exactly pretty, and you do wonder what value it adds to the phone over the standard Android user interface.
There's a Facebook widget that shows you individual updates from your friends and fan pages. This can be quite useful (and ironically, it was how I first learned of Google buying Motorola), and helps you keep up to date on what your friends are doing in a very passive way.
There's also a rather neat Google Calendar widget that shows you the next entries you've got coming up.
The rest of the phone feels very much like an Android phone, which is certainly no bad thing – but with one very big difference.
The processor.
Unbelievable performance

There's a beast of a CPU powering the Atrix in the shape of a 1GHz dual-core NVIDIA Tegra2 chip coupled to an NVIDIA GeForce graphics processor, which means that the Atrix simply never slows down.
Open the camera and bam! You can take photos almost instantly with hardly any shutter lag and no waiting for the camera app to load.
Switch from the Web to a text message, record a video, listen to music – whatever you do, the Atrix will switch to it instantly. No waiting, no hassle, meaning you actually use many of the apps far more than you might normally simply because they're so easy to dip in and out of.
The Atrix as a laptop
So that's the Motorola Atrix as a phone – but it's so much more than that! Continue on to the second page of this review to see what the Atrix's laptop dock is like.
Pages: 1 2