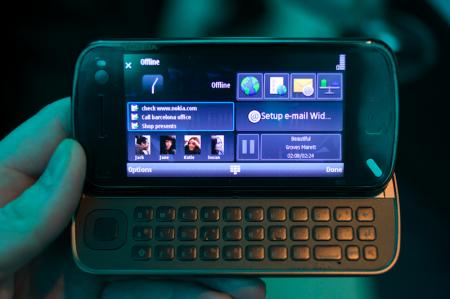 The hype is over folks – welcome to the new Nokia N97, Nokia's latest N-Series wonder phone. The N97 seems to be a neat blend of an N-Series phone and an E90, taking all the multimedia gloriousness of the N-Series and marrying it to the superb Web browsing experience you get on the E90.
There's a full slide-out QWERTY keyboard, which wil be super-ergonomic (the E90's is a peach), and a massive screen for desktop-like Web browsing. In fact, the screen is the star of the N97. It's massive – 3.5″ in size, widescreen 16:9 ratio, and touchscreen to boot, making it perfect for browsing the Web.
More pics of the Nokia N97 after the jump.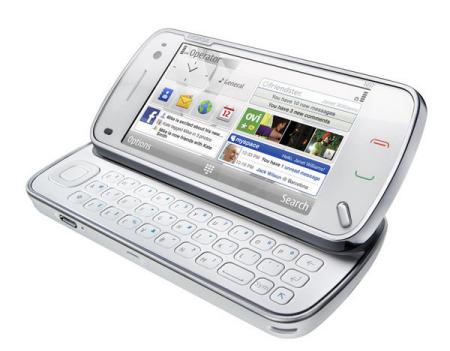 Other features of the new N97 include:
32GB memory, expandable to 48GB
5 megapixel camera with Carl Zeiss lens and dual LED Flash
GPS
HSDPA
Wi-Fi
USB 2.0
Bluetooth 2.0
3.5mm headphone jack
Huge battery life, offering 37 hours of music and 4.5 hours of video
There's also a neat new user interface, which lets you thumb through your pictures or your Web pages with the touch of a finger.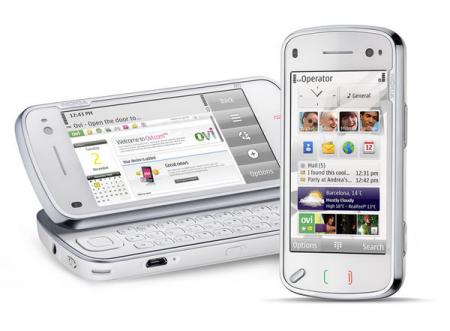 That said, I'm a little underwhelmed. The N97's QWERTY keyboard might have been unexpected by the blogosphere, but the rest of the specifications have been doing the rounds for over a month now. Looking at the specs, the N97 is the Eitri, but without the compass or the proximity sensor, which were the most interesting things I was looking out for.
In fact, other than the screen, it's not exactly pushing the boundaries in any of its features. You get the same camera, GPS and connectivity offerings in an N82, for example. There's a nod towards third party developer support with Nokia's Widsets, but these aren't exactly going to trouble Apple's AppStore. They've been around on the E90 for some time, and are almost without exception useless (and ugly, too).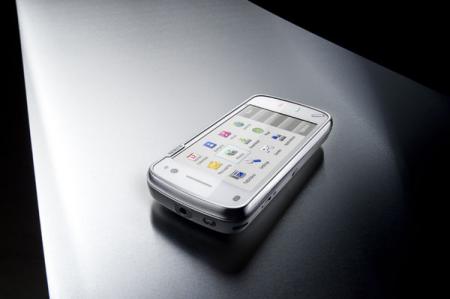 In fact, the Nokia N97 is much like the N96 – an unbelievably good phone when looked at in isolation, but offering nothing innovative or competition-beating when compared to other phones on the market. The N97 is just a Nokia 5800 with a bigger screen and a QWERTY keyboard.
If we had no iPhone or Google Android, the N97 would be a stunner. But we do, and so the N97, although undoubtedly good, fails to capture the imagination in quite the same way that these phones did.
Maybe I'm being unduly harsh. These are just my first impressions, so a full review later will see just how good the Nokia N97 is in the flesh.
The Nokia N97 release date will be Q2 2009, priced around 550 Euros before subsidies, which is actually quite cheap considering what it offers.
[Source: Dialaphone, Nokia]