Samsung have just launched the Samsung Galaxy S, the first Android device from the company that has all the might of Samsung's technologicaly supremacy thrown at it. With the Galaxy S, Samsung have thrown a tonne of features at it, as you'd expect, and equipped it with their glorious Super AMOLED screen. Add a super-fast 1GHz processor into the mix plus multi-touch user interface, and you've got a recipe for a very tasty smartphone.
But is all that enough to make the Samsung Galaxy S a phone worth buying? Does it offer enough over the other Android phones out there to make you choose it rather than its competitors? And how close does it come to being the best Android phone on the market?
Well, let's have a look, with our in-depth Samsung Galaxy S review.

Samsung Galaxy S Overview
The Samsung Galaxy S is a touchscreen Android 2.1 smartphone (it'll be updated automatically to Android 2.2 Froyo later in 2010) with a huge 4″ multi-touch screen that features Samsung's leading Super AMOLED screen technology.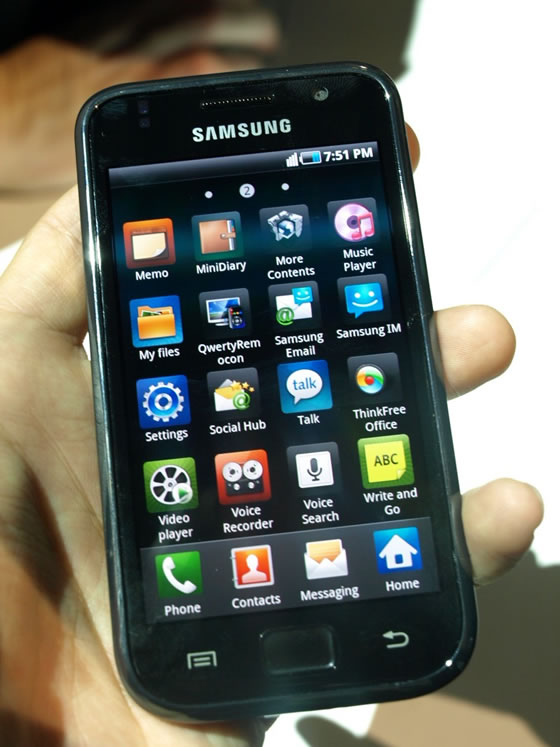 Its screen is one of the phone's three defining features. Not only can you see it from virtually any angle, but its contrast is second to none, giving rich and vibrant colours, super-dark blacks and an overall picture quality more at home on an HD TV than a phone.
Indeed, watching videos and browsing the Web are absolute pleasures simply because of the quality of the screen.
Like other manufacturers, Samsung have added their own user interface to the Galaxy S. Called TouchWiz 3, it offers a few more neat animations and transitions than the stock Android interface. Add to that full multi-touch support and blazing-fast performance, and the Galaxy S is starting to look like an extremely interesting new smartphone.
What you'll love about the Samsung Galaxy S
Here's what you'll love about the Galaxy S:
Super-fast and super-responsive thanks to its 1GHz Hummingbird processor
The best screen of any phone on the market – 4″, crystal clear display, 16 million rich vibrant colours, and visible from any angle even in sunlight
Super-fast downloads and uploads – 7.2Mbps downloads let you stream live video with ease while 5.6Mbps uploads let you transfer your videos to YouTube in seconds
Record stunning videos with 720p HD video recording
Great music features with 3.5mm headphone jack and MP3 player
View all of your pics on your phone or on the Web in an animated gallery app. The app lets you view all the pics on your phone and in your online Picasa account
A complete Sat-Nav in your pocket that actually works. No more sluggish maps – the Galaxy S has the power to move your maps instantly, while the multi-touch interface with pinch-zoom and stunning screen makes finding your way an absolute breeze.
Huge storage space lets you install as many apps as you want – 2GB is reserved just for apps, with an extra 16GB available for pics, videos and tunes.
Use Android to the full with a great range of pre-installed premium apps that have been installed for free.
Enter text faster than normal thanks to the built-in Swype virtual keyboard app
Use the Galaxy S as a remote control for your Samsung TV
Shoot HD videos, then view your videos on your Samsung HDTV – wirelessly.
These are just the headline benefits though. If you want to know more, though, then read on.
Three key features of the Galaxy S
Every phone has to have a unique selling point to make it stand out from the competition. With the Galaxy S, Samsung have given it three:
the best screen of any phone
stunning range of technologies giving class-leading performance
pre-loaded apps that make it a truly smart phone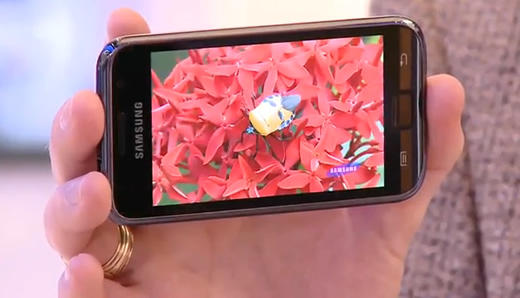 It's this combination of features that makes the Galaxy S so compelling. Sure there are loads of Android phones on the market now, but the Galaxy S does everything so effortlessly, and with such ease, that it leaves the others for dust!
Let's have a look at these features in more detail.
The best screen of any phone
The Super AMOLED technology that Samsung have developed has to be seen to be believed. If you think it won't make that much difference to a phone, think again. The richness of the colours, the superior contrast, and the ability to see all this even in daylight makes the phone a joy to use.
It really does transform the overall experience.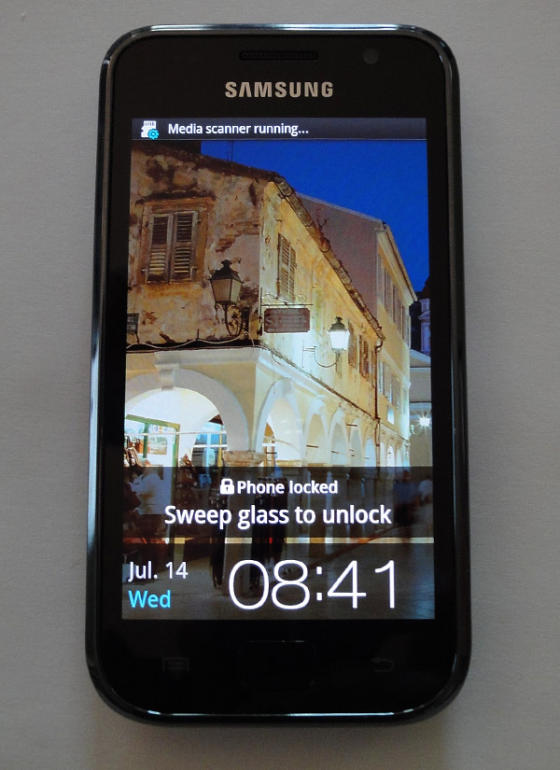 Of course, the screen might get some competition from the iPhone 4 as far as screen quality is concerned, and it's true that the iPhone 4's Retina display is being touted as the best phone screen on the market. But that's only in terms of pixels and overall resolution.
In tests conducted by Engadget, the Galaxy S's Super AMOLED screen had the more vivid colour saturation and sharper definition. As such, it's a close call, but Samsung's Super AMOLED technology ultimately came out on top.
Class leading performance
You'd expect a Samsung flagship phone to be stuffed to the gills with features, and you won't be disappointed. All the usual is included, as you'd expect:
1 GHz Hummingbird processor
Up to 16GB of storage (including 2GB just for your apps)
3.5mm headphone jack
5 megapixel camera
720p HD video at 30 frames per second
aGPS
7.2Mbps HSDPA
Wi-Fi
Compass
MP3 player
Video player
But it's not the list of features that makes the Galaxy S so impressive – it's how each feature works so well, giving the phone exceptional performance and superb responsiveness. To get a feel for how fast this phone is, and how vibrant its screen, check out the video below, showing the Galaxy S running a port of Quake III.
In addition to video and games, menus and screens swish by seemlessly as you flick them around with your finger. Animated transitions fly into focus without any delay, while multi-touch Web browsing becomes a joy to use.
In fact, with its 4″ screen with super colours, multi-touch and super-fast responsiveness, browsing on the Web seems even more enjoyable than on the desktop!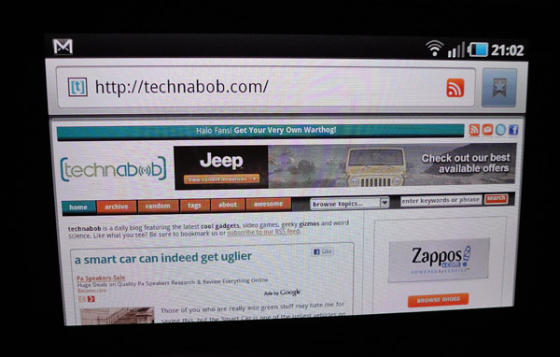 With the huge amount of onboard storage available, including 2GB just for apps, you can also use the Galaxy S for storing almost your whole life – any app you want, plus tonnes of music and pics can all be loaded into its gigantic storge space.
Great range of pre-installed software
It's not just the hardware that makes the Galaxy S so good though – Samsung have put a lot of thought into the software that comes with it too.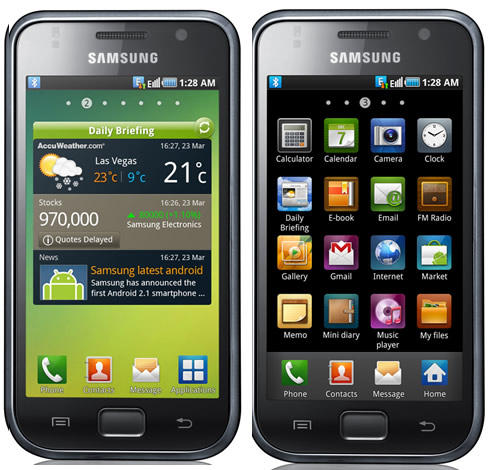 As well as the brand new Samsung TouchWiz 3 user interface, Samsung have thrown in a load of Android apps that you'd normally have to pay for.
All the usual apps are included, such as the Google range of apps (calendar, email, maps, etc.), as well as some seriously cool ones such as Layar, which provides an augmented reality interface onto the world around you via the Galaxy S's camera.
With Layar, when you view the world via your camera's viewfinder (i.e. the Galaxy S's screen in camera mode), the Layar app will add icons and info onto the screen that tell you what you're actually looking at.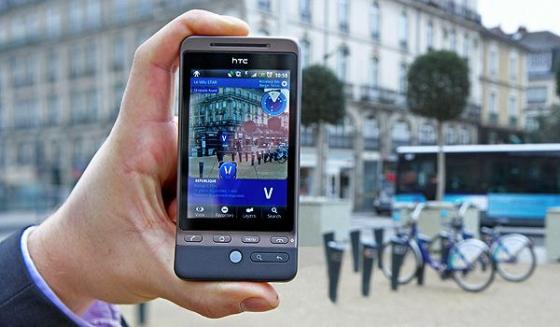 Layar has been around for a while, but on slower machines, it can be a bit clunky. With the Galaxy S, it comes alive. The phone is brilliantly responsive, its download speed is super-fast, and the screen, of course, is superb, making the whole Layar experience visually stunning.
If it's productivity apps you're after, then Samsung have pre-installed the fantastic ThinkFree app onto it. ThinkFree is an online Web app (and now mobile app) that lets you view, edit and save Microsoft Office documents from within the browser – and now from within an Android phone such as the Galaxy S.
With the Galaxy S, then, you can view, edit and save Microsoft Office documents, including Word, Excel and PowerPoint, as well as PD documents, then save them in the cloud where you can read them on any other computer (or mobile phone!) that has web browser and Internet connection.
Where other phones have focused on the world of social networks, Samsung haven't forgotten those of us who need a phone to work on our documents as much as we need one to stay in touch with our friends!
What's not to so good
The Galaxy S is a strong offering from Samsung, but it's not perfect. In particular, the TouchWiz 3 interface isn't as good as the Sense user interface on HTC's phones, such as the HTC Desire. It's still better than the standard Android interface, but Samsung could have worked a bit harder on making it better still.
The Galaxy S's camera isn't that good either. It's OK, but there's no flash, and it's not all that clear. Fortunately it's video camera is much better, while the screen makes any pics you've taken look glorious – just make sure you don't take them on the Galaxy S!
Other than that, there are no serious gripes to complain about. The Galaxy S is an excellent Android phone with features that work perfectly and responsiveness that makes the whole user experience really shine.
Video reviews of the Galaxy S
Enough of the words – let's see the Galaxy S in action.
Verdict – Should you buy the Galaxy S?
The Samsung Galaxy S is the Android phone where Samsung means business. No more testing the waters – Samsung is now firmly comitted to Android, and it wants its Android phones to be the best, starting with the Galaxy S.
And it sure has a lot going for it. Its speed and responsiveness make for a great user experience, while the display is simply the best of any phone on the market today.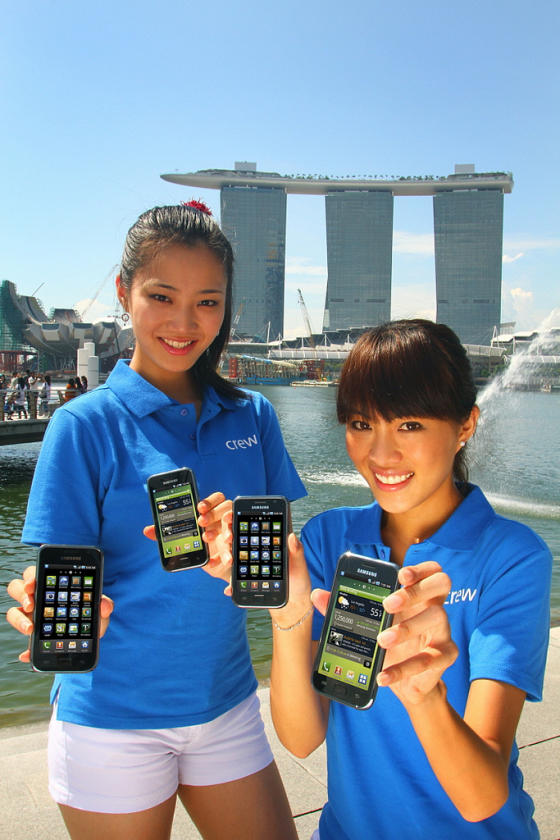 If you're looking for the best Android phone available, then it has to be a contender, along with the HTC Desire and Sony Ericsson Xperia X10. Both of these other phones are slightly odler than the Galaxy S, so they're a little cheaper by now, but they're also not quite as responsive, and their screens are not a patch on the Galaxy S's.
That said, the user interface of the Desire and X10 have the edge over the Galaxy S, which means we can't crown the Galaxy S as the best Android phone on the market.
However, with its glorious range of features, its speed and performance – and with that screen – the Samsung Galaxy S is seriously worth considering.
Highly recommended.