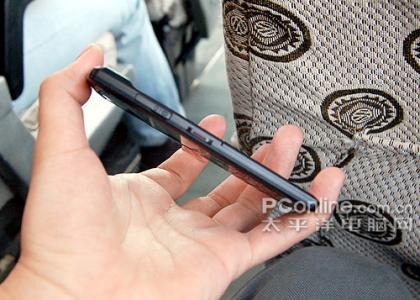 Samsung have announced what they claim is the world's thinnest mobile phone. The Samsung X828 beats the previous record-holder, the KTF EV-K100 (itself announced only two weeks ago!) by a full millimeter. One millimeter may not sound much, but given that the EV-K100 was only 7.9mm, the new Samsung X828's record-breaking 6.9mm is a full 12.7% thinner.
At these levels of thinness, that's a quantum leap! Even more amazing, it's half the size of Motorola's RAZR V3 (13.9mm), yet still packs a 2 megapixel camera, MP3 player and 80MB of memory! Stunning!
More pictures and details of Samsung's world's thinnest phone after the jump.
Samsung X828 – world's thinnest phone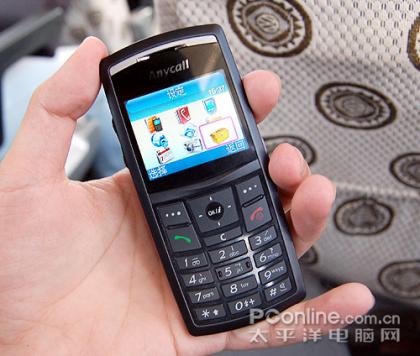 Motorola started the trend for thin phones with the launch of the Motorola RAZR V3 back in 2004. At 13.9mm, the RAZR stunned the world and still sells in huge volumes today. However, the original V3 only had a VGA camera, whilst newer variants, such as the Motorola V3c, which come with a 2 megapixel camera, have bloated to a whopping 23mm.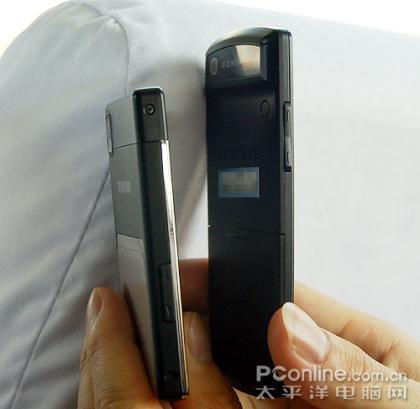 Pundits have been wondering whether the RAZR is the only phone Motorola can sell, as all their recent releases have just been different variants (or colours) of the same thing. Now Samsung have thrown down the gauntlet big time. They've shown a slim phone doesn't have to be short on features, and that 13.9mm just isn't slim enough any more. Ball's in your court now, Motorola!
[Source: PCOnline, via HipTechblog]