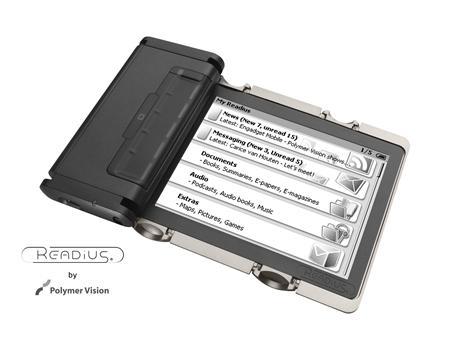 Philips' spin off Polymer Vision has been showing off its READIUS screen for over two years now, but nothing has emerged beyond prototype form. For those unaware of the READIUS, it's an innovative new display technology that enables the development of a completely foldable screen.
Now, though, they've just announced that a new mobile phone made by Philips (who own 25% of Polymer Vision) will soon be released that will be the first phone in the world to feature one of Polymer Vision's amazing five inch foldable screens.
"Hang on," I hear you cry, as the penny slowly starts its descent. "Five inch screen…foldable? You mean a huge mobile phone screen that folds up into a super-slim form factor when not in use? Just like paper?"
Yes – and it'll finally be released mid-2008!
More pics of the Philips READIUS mobile phone after the jump.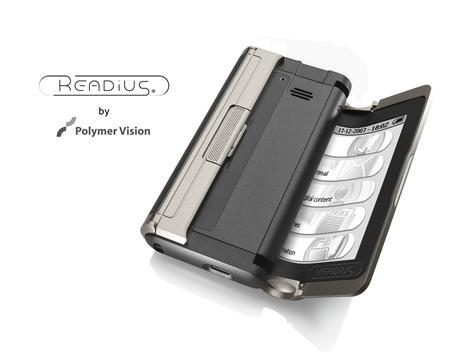 The READIUS was originally intended to be an e-reader for reading e-books. Fortunately, though, Philips have seen the light (and, presumably, the ugliness that is the Amazon Kindle!), and decided to repackage it as a mobile phone instead.
And what a mobile phone it'll be! Although the full specs haven't been released yet, the new screen technology is unlike anything we've seen before.
"You get the large display of e-reading, the super battery life of e-reading, and the high-end connectivity … and the form factor and weight of a mobile phone," said Karl McGoldrick, chief executive of the Polymer Vision.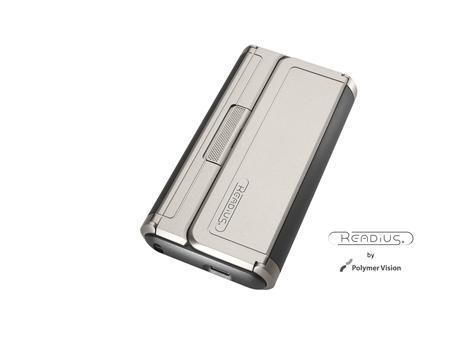 Better yet are his plans for the next generation of phones based on this new technology, which will apparently feature an 8-inch foldable colour display that could show video, and which, apparently, should be with us in as little as five years' time.
Naturally, the first generation will be a bit pants – these things always are. But the technology is finally out of the lab, and once one mobile phone manufacturer has one, they'll all be bringing them out! Just look at what Apple did for touch screen phones with the iPhone.
[Source: Reuters]