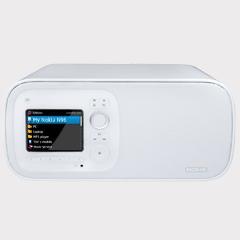 Not content with the Nokia N97 that was announced on Tuesday, we hear news that Nokia have even more announcements up their sleeve. The first is a certainty – actually, they've already announced it! – the second, is a little more unclear!
The first is something of a shock – it's the Nokia Home Music system, a dedicated wireless music streamer pitched directly at the Logitech Squeezebox.
Seems Nokia's going into the music business in a big way, and we can only assume they're trying to usurp the dominance of Apples iTunes store (and thus sever peoples reliance on the iPhone) with an enhanced version of their Comes With Music music download service.
Either that or Nokia also has 10% time just like Google, and one of their engineers came up with something bloody amazing!
The second announcement rumour comes from Scoble, who has either got his days wrong, or knows something we don't!
More details after the jump.

Writing early on Monday 1st Dec., he said "[A] Nokia executive met me and bragged that the Internet has no clue what they will announce this week. I asked what about the touch screen cell phone that I've seen rumors about? He said that no one had gotten it right yet. The announcements are on Wednesday morning (it's early Monday morning as I post this) so we'll have to wait to see what they announce" (my emphasis).
Later on, he asks "…what do you think Nokia is going to release on Wednesday? Will it take 'touch' and 'experience' leadership back from Research in Motion and Apple?"
That's a lot of Wednesdays! Today's Tuesday (well, it's not, its 12:38am when I'm writing this, so technically it's Wednesday, but you know what I mean!), and the N97 has already been announced. If Scoble's right, and there are more announcements to come on Wednesday morning, then Nokia must have something even bigger up their sleeves than the world's best Facebook phone and a new Home Music Streamer!
Or, Scoble just got confused with time zones and confused Wednesday with Tuesday!
[Source: Scoble, MediaMentalism]