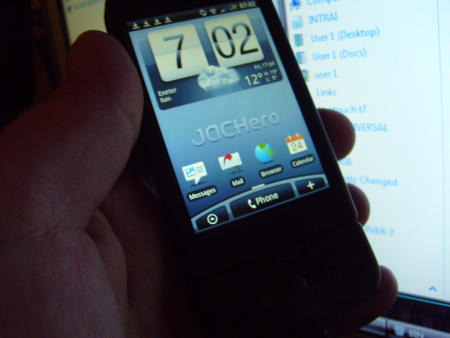 The HTC Hero is a brand new Android phone that's received all manner of awards as best mobile phone of 2009 (read our HTC Hero review for full details). One of the best features about the Hero is the fact that it has a brand new user interface – called Rosie, of all things! Rosie has bee developed by HTC to help it differentiate its Android phones from the myriad competitors that are now appearing.
The new user interface has been designed from the ground up to give Android a super-slick polished look. It's not just a port of HTC's TouchFLO user interface that it created for Windows Mobile. It's a brand new dedicated Android interface that looks super-slick, has a nifty new Web browser and great new music player, among many many other enhancements.
But what if you've already got a T-Mobile G1 with the "vanilla" Android user interface? Are you forced to watch your HTC Hero-sporting friend gloat over the greatness of his new phone's UI while you're stuck with your G1's UI for the next year or so?
Fear not. If you've got the technical chops, patience, and balls of steel, you too can port the HTC Hero's user interface over to your T-Mobile G1. Be warned – it's not easy!
But it can be done, and my brother Dave (@terminal7) has proved it by successfully upgrading his G1. You can see the pics he took of his new Hero G1, plus videos and details on how to do it after the jump.

A small warning!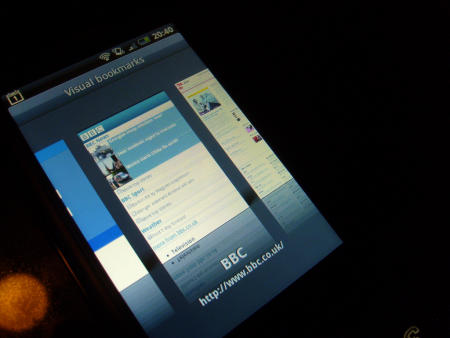 First, a small warning. If you decide to do this and you do it wrong, you may end up with a decidedly unhealthy G1. So unhealthy, in fact, it'll have all the functionality of a brick!
Also, if you succeed, you'll not be able to update your phone to any new Android updates that Google releases. The current version of Android is Cupcake, which added a plethora of new features to the original Android release. With the Donut, Eclair and Flan updates all scheduled for release this year, the chances are that the existing features of your G1 will be radically improved anyway without you doing a thing. If you choose to port the Hero's interface to your G1, you won't be able to use any of these.
That said, the Hero's new Rosie User Interface is so cool, you may not actually care about the official Google updates!
What do you get with the HTC Hero user interface?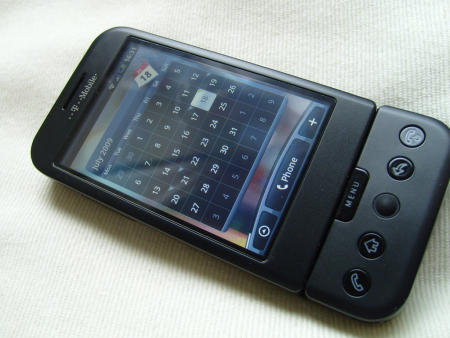 Before you decide to do this, though, you obviously need to know whether or not it's worth it. In other words, what do you get with the HTC Hero's Rosie UI that you don't get with the G1?
Well, I'll give a full run-down of the Hero's features later in the week when I do a full HTC Hero review, but in the meantime, here's a taster:
Updated Web browser – lets you see the whole Web page on screen and easily swipe through pages in the browser's history
Updated interface – brand new set of icons and flashy user interface widgets makes existing apps such as email look much, much better
Nifty new calendar – the calendar's been updated and is much easier to use
New music player – navigate your music playlists in a brand new media player
New media gallery – view your images in a much sexier gallery app
These are just some of the updates. In short, the new user interface makes Android look so much closer to the iPhone's beautiful interface, you wonder why Google didn't create an interface like it in the first place!
For more on the Hero's features, check out the pics taken by my brother Dave of his updated G1 (bottom of this post), or check out this video of the Hero interface successfully bolted onto the G1.
How to turn your T-Mobile G1 into an HTC Hero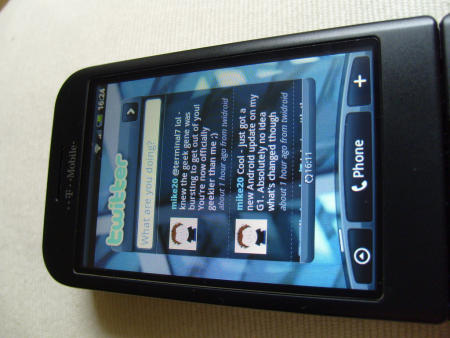 And now for the fun bit – or should that be the scary bit – actually porting the Hero interface over to your G1.
According to Dave, it's simple. Just do the following:
"After downgrading to pre-Cupcake firmware 1.0, then running telnet and rooting the thing, then flashing a new radio rom, then installing a new SPL, then installing a recovery image application, which I still cant seem to operate, then partitioning an SD card into 3 – and in 3 different file systems ! – then finally flashing a new build ROM from Haykuro and Jachero, it's all done…!"
Ahem! Told you this wasn't easy!
In a less breathless approach, the way to go about this is to follow the instructions over at XDA Developers, or just ask my brother Dave on Twitter (@terminal7). Not entirely sure how much help he can be with just 140 characters to play with, but I'm sure he'll help where he can.
Pictures of the HTC Hero interface on the G1
Right, now for all the glorious pics of HTC's Rosie on the G1. Now tell me you don't want to do this ;)