Feast your eyes on this, smartphone lovers – it's the new LG E900 being given a furtive stroke by someone who's entirely unaware that his camcorder has an auto-focus setting!
The E900 is a different beast to its brother, the LG C900, which we've known about for some time now. Where the C900 has a full slide-out QWERTY keyboard, the E900 favours the more traditional touchscreen approach of having an on-screen virtual keyboard.
All this points to a whole range of Windows Phone 7 devices coming onto the market just before Christmas, with LG, Samsung and HTC all rushing to bring their phones to the market first.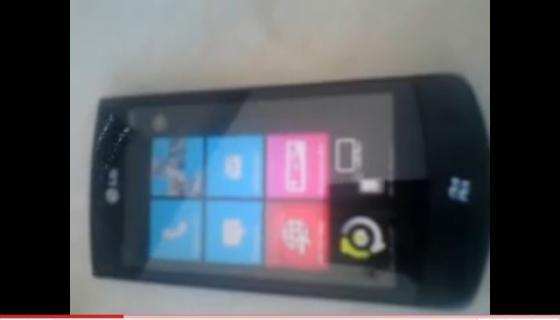 Which Windows Phone 7 Series device should yuo buy?
If you're in the market for a WinPho7 device, it could be tricky to choose the one you want, as they'll all be nearly identical! Certainly the software and overall user experience will be the same, so they'll all look alike.
The only thing to differentiate them will be hardware features such as the camera, but given that smartphone cameras are never all that good anyway, even this may not be enough to differentiate one WinPho7 phone from another.
Given that none of the manufacturers will be wanting to compete on the real differentiating factor – price – it means we can expect an interesting marketing campain in the run up to Christmas as each manufacturer tries to should louder than the competition!
LG E900 Video preview
Oooops, nearly forgot – here's the video preview of the LG E900!
[Source: WMPowerUser]