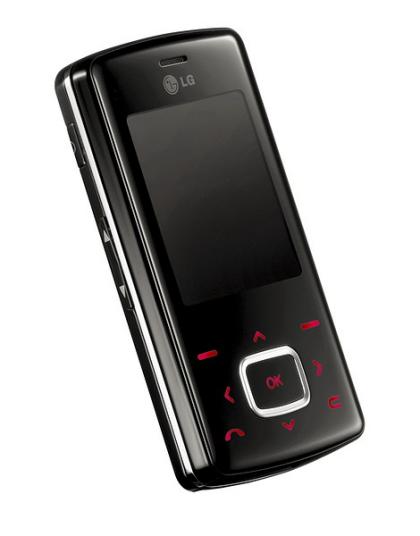 LG Chocolate Phone KG800 Review
The LG Chocolate is a range of designer phones developed by LG, who recognized the trend towards phones with more style but less features, and thought they'd jump on board. The result is a series of phones that really do look the biz – minimalist looks, some cool designer features, and phones that can be willingly shown off to anyone in view.
The LG KG800 Chocolate phone, reviewed here, was first announced back in March 2006. As befits a designer phone, it's low on features – for example, you only get a 1.3 megapixel camera – but where it does shine is with the technology used to enhance its looks.
Multimedia Features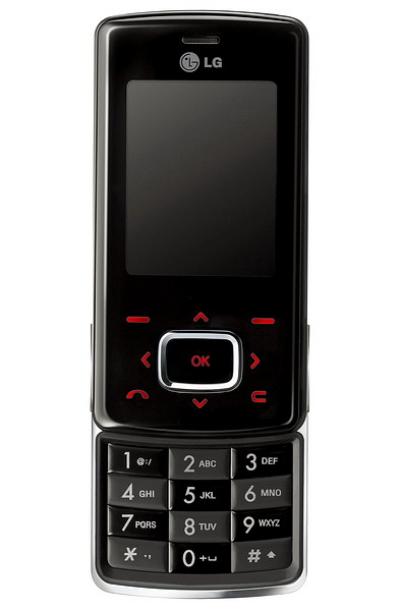 The LG KG800 is a designer phone, and so isn't designed to come with a whole host of features. As such, you get a standard 1.3 megapixel camera, video camera and MP3 player, and not a lot else. Well, apart from the usual plethora of mobile phone goodies, such as WAP2.0, SMS/EMS/MMS, Email, polyphonic ringtones and Java, but they're as expected on any mobile phone as wheels are on a car!
That said, the MP3 player is a bit above average, as LG throw in a remote control to access and play your tunes, as well as equalizer and decent sound quality. The only downside is that the KG800 only comes with 128MB of RAM, and there's no way to expand this.
The LG KG800 is a slider phone, and sliding the phone open reveals both a mobile phone keypad and the camera, complete with portrait mirror. The camera settings let you choose white balance, timer, and the flash, but not a lot else.
LG Chocolate Style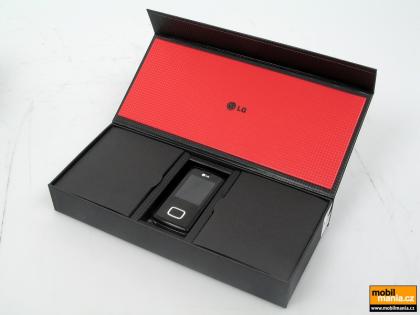 Despite having minimal technical features, it's the style aspect of the KG800 where it will be chiefly judged, and here it really execls. Even its packaging is super-stylish. According to LG, it's designed to look like a box of chocolates (a bit like life then…or is that another metaphor?!). According to CNet UK, "it is, without reservation, the best-looking box that has ever graced a mobile phone reviewer's table. Like a Japanese paint box, this black rectangular packaging looks like it was made to hold fine badger-hair brushes, not a mobile phone."
Which is a good start for a designer phone, but what about the phone itself?.
Fortunately, LG have that covered, too. Reviews across the web unanimously describe the KG800 as superb-looking, and it's won two design awards (the iF Design Award and the Red Dot Design Award). It's excellent design has also carried through to commerical success: when tested in Korea, LG shipped 300,000 KG800s in just three months – that's 7% of the entire Korean market!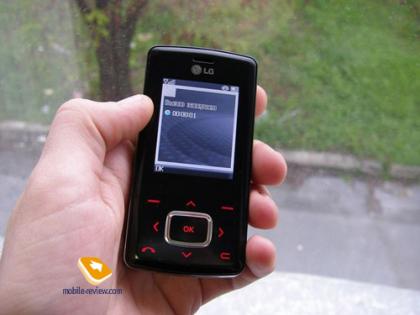 Key to the KG800's style succes lies with its heat-sensitive red touchpad on its outer surface. When not in use, the outer case of the KG800 is entirely black, with no buttons to be seen, and the screen blending in with the black case.
This, incidentally, is what distinguishes a Chocolate phone from it's non-edible counterparts – Chocolate phones are designed to look like bars of dark chocolate (i.e. dark, bar-like, and without obvious mobile phone elements such as buttons and screens).
It's only when a call or text is received, or the user presses their fingers over the phone's touchpad beneath the screen, that the buttons become apparent. Glorious red glowing icons at that, which really make the phone stand out from all of its rivals. The touchpad is heat and touch sensitive, so it's only enabled when a human finger (or some other part of a human anatomy) touches it.
Other Features
The LG KG800 Chocolate phone comes with tri-band GSM connectivity and GPRS support. As befits a style phone, the KG800 Chocolate phone is super-thin – just 15mm thin, and weighing only 16g. There's also a white version of the KG800 on sale as well, which presumablty reflects white chocolate. No sign of the caramel or chocolate truffle versions yet, though (more's the pity….mmmmm, chocolate truffle!)
LG Chocolate Phone KG800 Reviews across the web
The LG Chcolate Phone KG800 reviews across the web all state what a good looking phone this is. However, there are caveats, as it's let down in certain areas where a bit more attention to detail would have made it close to perfect.
CNet UK, for example, in their LG Chocolate KG800 review, say that "we're in love with the look of it, but the touchpad can be awkward to use and it's a shame about the lack of expandable memory." They also go on to criticize the T9 text input system, which is fiddly, the lack of a speakerphone, and the buggy PC software. Like I said, all minor niggles, but evidence of LG focusing overly on the design at the expense of the details.
GSMArena, in their comprehensive LG Chocolate KG800 review, report that "as far as our opinion goes, we have rarely seen so beautifully designed mobile phone," but add the caveat that "Generally speaking, the phone has claims of being capable of a whole lot of stuff and indeed, we proved that it is capable of them but pitifully, it manages to perform them on the level of a poor student working on a mid-term paper." Ouch!
Mobile-Review have another comprehensive LG Chocolate KG800 review, and they too love its looks, but feel it's let down by some niggles. They state that "even though we won't guarantee you amazements or admiring gazes from other people in the street, we assure you of receiving enough covert glances…", and conclude that "while the KG800 looks marvelous and will appeal to those, seeking for fresh ideas in design and not paying much of attention to the manufacturer's size or image. And this phone fits all these criteria."
Conclusion
The LG KG800 Chocolate Phone is one of those phones you'll buy based solely on its looks. It has annoying niggles that mean its other features, such as MP3 player, camera, and even its touchpad, can't be used without causing you some ergonomic annoyance. If it was a standard phone, this would be kill the KG800 stone dead in the market, as a phone that doesn't work too well, doesn't sell too well!
But it's not a normal phone – it's one of the best looking mobile phone on the market today, and people will buy it purely for its looks. And be honest – unless you bought a dedicated music phone or smartphone, how often do you actually use your phone's MP3 player, or do anything else on it other than text or use voice? For those of you who want a phone as a phone, and better still, a phone that will really turn heads wherever you go, the LG KG800 Chocolate phone is for you.