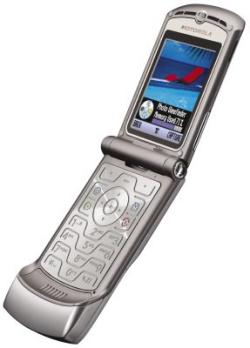 The Motorola RAZR began life as the world's slimmest mobile phone, at only 13.9mm. Even more impressive were the super-cool looks of the RAZR, which went on to sell by the ton.
This phone sold so well, it captured 6.2% of the market all by itself, and even began a new trend amongst manufacturers: the slimphone, which focuses on thinness and style, with fewer features, but acres of cool. Even Korean phones followed the trend, with the race now on to shrink the mobile phone down to credit card proportions.
The original RAZR had relatively few features, such as a VGA camera (0.3 megapixels). However, Motorola soon jumped on the success of the RAZR, and has since launched several variants. These are:
Motorola RAZR V3 – the original RAZR phone, with 14mm thinness but only a VGA camera. Also offers MPEG4 video playback, MMS, email, Bluetooth support, and quad-band GSM support. Now looking distinctly long in the tooth, but you can get it in a variety of colours (pink, black, blue).

Motorola RAZR V3x – 3G (UMTS) plus tri-band GSM version, but now a fatter phone at 20mm. Also features a 2 megapixel camera, email and a second camera (0.3 megapixel) for video calls. External 4,000 colour display plus internal 256k colour TFT screen, MMS, 512MB memory and support for AAC+, MPEG4, WMV, WMA, MP3 and Real Video/Audio. Also offers WAP 2.0, video streaming and Java.

Motorola RAZR V3c – same as the RAZR V3x, but with CDMA 3G support (for US 3G networks, rather than European ones)

Motorola RAZR V3i – interesting variant that comes complete with Apple iTunes interface. Think of it as a RAZR version of the ROKR, as it were! Feature-wise, the RAZR V3i is half way between the V3x and the V3. It offers a 1.3 megapixel camera, WAP 2.0, quad-band GSM (no 3G), email, two screens (external with 64k colours, internal with 256k colours), 512MB storage, an MPEG4 player, MP3 player, plus iTunes compatibility the V3i is another 13.9mm phone (it's 3G that adds the bulk).
So, four different RAZRs, two different sizes, a host of different features all in different colours. You pays your money and makes your choice! Read the reviews and check out the specifications in full first before you buy your Motorola RAZR of choice.