Time for a Samsung F400 review. The Samsung F400 is a music phone that combines the best bits of the Apple iPod with the luxurious sound qualities of a Band and Olufsen speaker system. Samsung realised they didn't have the brand power to compete with Sony Ericsson's Walkman range (or the Apple iPhone, for that matter), and so they've been using Bang and Olufsen's musical wizzardry in their phones for some time now.
With the F400, they've included B&O speakers and a B&O ICEpower amp, as well as an iPod-esque music wheel. Add all the other bells and whistles you'd expect from a Samsung phone, and the Samsung F400 has the makings of a cracking music phone.
Let's see how good it is with our Samsung F400 review, after the jump.

Samsung F400 music phone overview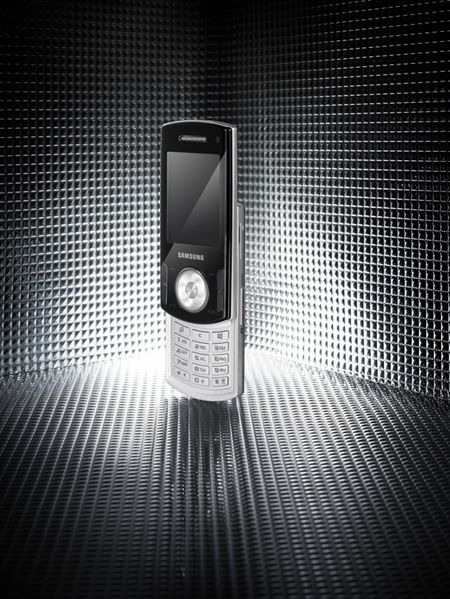 The Samsung F400 music phone features a dual-slide format similar ot the Nokia N95, with the keypad sliding down, and dedicated music keys appearing when you slide it up.
It looks classically Samsung – sleek, black and silver, and gloriously minimalist. All in all, it's a stylish package.
Samsung F400 Features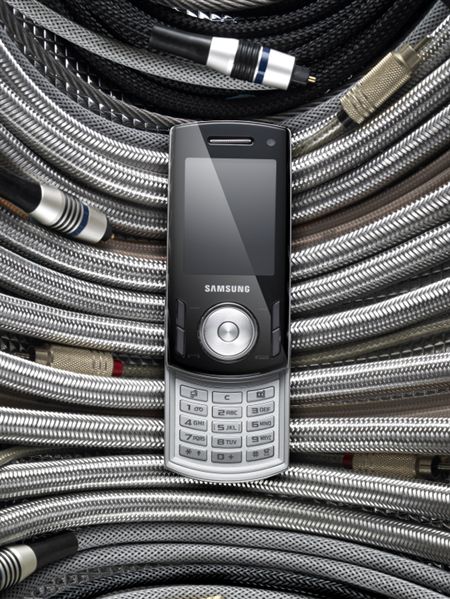 The F400 may be only a mid-range phone, but this is Samsung, remember, and if there's one thing Samsung knows how to do, it's pack its phones to the rafters with features.
The F400, therefore, comes with a decent 3 megapixel camera with autofocus and LED flash. There's also video recording, video calling, and HSDPA for super-fast broadband-like mobile downloads.
It's the F400's music features that really shine, though. With the B&O musical internals coupled with Samsung's own DNSe (Digital Natural Sound engine) and Smart Bass music-enhancing technologies, the sound quality is first rate, whether from the MP3 tunes you play (or AAC, eACC, or WMA-encoded tunes) or the built-in FM radio. There's even a 3.5mm headphone jack that'll accept any headphone on the market (which is just as well, as the headphones it comes with aren't exactly the best!)
The iPod-inspired music wheel makes browsing through your tunes a breeze, but like most Samsung phones, the user interface isn't as intuitive as it could be.
One other thing that's a bit lacking is storage – for some odd reason, Samsung thought a measly 20MB internal memory would be enough for a music phone! Luckily it'll accept 8GB memory cards.
Samsung F400 Reviews across the Web
The Samsung F400 reviews seem to be a bit mixed, but ot all depends what you're after from a music phone.
YourMobilePhoneReviews, for example, loves it, rating it 88% and concluding that "The Samsung F400 comes with a highly useable dual slider opening mechanism complete with Bang & Olufsen sound system. This desirable handset comes with 3G HSDPA technology & 24MB of internal memory complete with expandable memory option. The built in music player, FM radio with RDS & sound system provides high quality sound for the user on the move."
CNet are a bit in two minds about the F400. "Care about music in particular but nothing else that much?", they write. "Choose the [Motorola] E8. Like music and usability equally? Choose the Samsung F400." They give it a 6.8/10.
Perhaps Stuff.tv has the best conclusion, though. "The F400 shows Samsung might just be getting the hang of this music phone lark after all, " they write. "Measly on-board storage aside, it has all the audio mods expected of a mid-range music phone. If a built-in music player is top priority on your mobile then this dual slider is definitely worth a listen."
Conclusion
For those of you looking for a music phone with top quality sound, the Samsung F400 is hard to beat. As a phone, it's not as polished as some of its competitors, but its musical abilities are first rate and it comes with a great set of other features too. If it's a top-notch music phone you're after this Christmas, make sure the Samsung F400 is on your list.