The LG GD900 Crystal in this review is a curious phone as it comprises two touchscreens in one: the standard touchscreen you'd expect to find; and another one on the keypad.
But then the keypad is also curious: it's completely clear. Crystal clear, in fact, hence the name!
Combine all this curiosity with LG's great S-Class user interface and you have a superb touchscreen phone that's choc full of novelty, and which really knows how to stand out from the crowd.
At least, that's how it appears on the surface – is it actually any good though? Read our LG GD900 Crystal review to find out.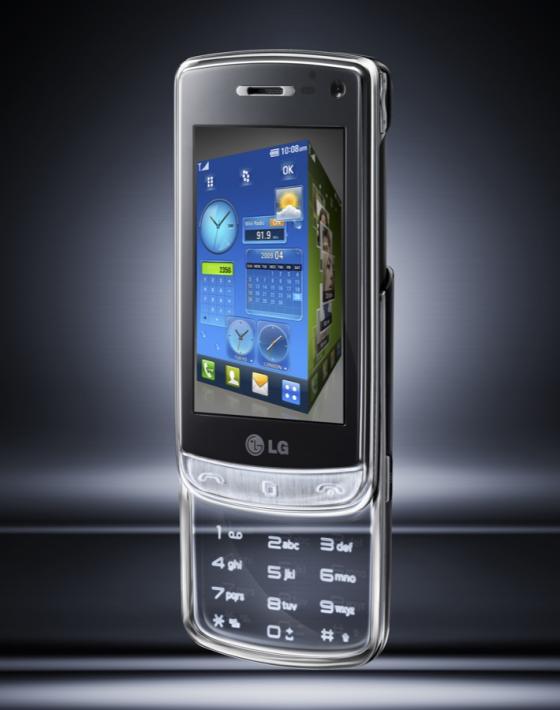 LG GD900 Crystal overview
At first glance, the LG Crystal looks like any other touchscreen mobile phone, with a big LCD screen and little in the way of buttons. As soon as you see it, you'll just assume the buttons are all virtual, and are accessed by pushing a virtual keypad or touching various icons on the screen.
The reality is very different. The LG Crystal has a completely see-through keypad that slides out from below, letting you access its multiple features without getting finger prints all over its screen.
Oddly enough, you can, if you wish, get fingerprints all over its lovely screen, as the screen is fully touch sensitive, so you can access all of its features in the usual touchscreen way.
But then its keypad is also a full touchscreen – as well as a keypad!
What's going on?!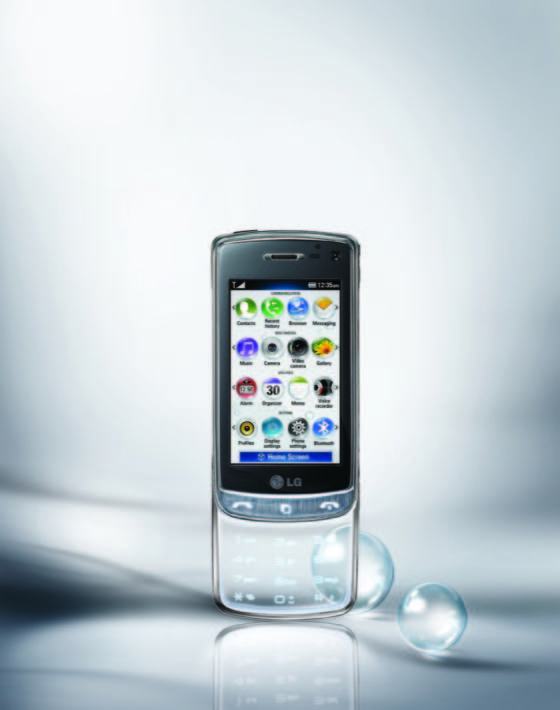 The benefit of multiple touchscreens
The LG Crystal is something of an experiment in phone design. Its a normal touchscreen phone when you want it to be, but you can also use the touchscreen keypad when you need to. You'll see how this can be useful when you start ot use the phone. The keypad doesn't just respond to touch, it responds to gestures as well, and it's this that makes it so innovative.
When you take a photo, for example, you can zoom in and out of a scene by circling your finger clockwise or anti-clockwise on the clear keypad.
The benefit of this is that you don't obscure the screen when interacting with the phone.
It's an interesting concept that makes for a truly novel phone that really stands out from all the other touchscreen phones out there. and because it's been out for a while, you can now some terrific Web-only deals on it.
And the reason for the keypad being crystal clear? None, really, other than LG knew they could do it, so they thought, why not?!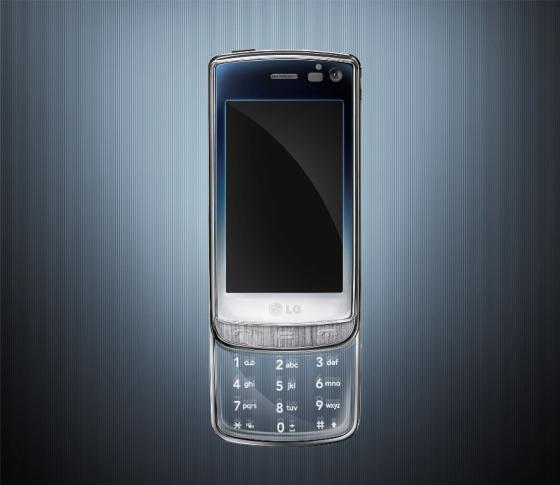 Things you'll love about the LG Crystal
What's the LG GD900 Crystal like as a phone, though? Is it actually any good?
Well fortunately, yes. It uses the same 3D S-Class interface that was first shown off on the high-end LG Viewty Smart and LG Arena phones. This has always been an extremely usable interface with nifty 3D transitions and animations, but being able to use it with two toucshcreens makes it even better.
There's also the usual range of features you'd expect from an LG phone, including the following:
Unique twin-touchscreen design with a normal touchscreen and a separate one on the crystal clear keypad
Innovative 3D S-Class user interface works even better with the twin touchscreens than it does on the LG Viewty Smart or LG Arena
Take great photos in a range of different settings with its superb 8 megapixel camera, complete with auto-focus, LED flash, geotagging, face detection, smile detection and image stabilization
Zoom in and out of a scene by spiralling your finger on the crystal clear touchpad
Multitouch support lets you pinch and zoom into photos and Web pages, jsut like an Apple iPhone
Show off the director in you with the Crystal's DVD quality video recorder that records VGA videos at 30 frames per second, and even offers time-lapse and slow motion video recording
Vibrant 3″ screen with 16 million colours
Super-fast Web browsing thanks to Wi-Fi and 7.2Mbps HSDPA
Watch downloaded videos and ripped DVDs thanks to XVid and DivX support
Cracking music playing abilities with its MP3 player, Dolby audio enhancement, FM radio and Bluetooth 21 with support for wireless music streaming
Watch videos and pictures on your TV thanks to built-in TV-Out
Accelerometer automatically rotates the screen when you move it betweeen landscape and portrait modes
Control the Crystal with gestures on either of the two toucscreens.
Phew! So, yes, it is a good phone, and an entirely unique one at that (unless you can show me another phone with two touchscreens, one of which is completely clear?!)
Let's have a look at some of its featues in more detail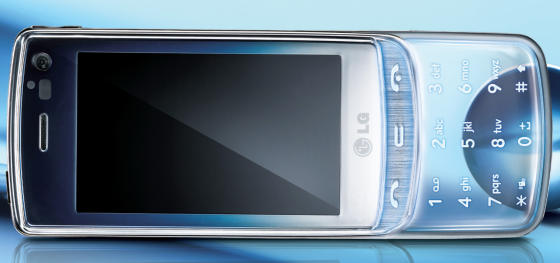 Fantastically fun video features
With DivX and XVid support, an 8 megapixel camera, DVD video recording and a plethora of other multimedia features, you'd think the LG Crystal would be a great phone for taking pics, viewing films and listening to music.
And you'd be right!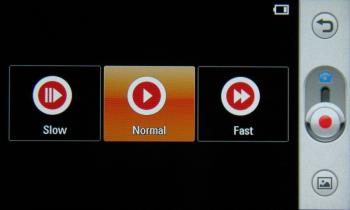 The video recording feature in particular is something to show off about as not only can it record at a resolution of 720×480 pixels at 30 frames per second, it can also record in slow-motion or by time-lapse, letting you slow down or speed up the action as you wish.
This lets you create all sorts of innovative effects. Want to see what your dog looks like when he's shaking himself down after getting wet? Record him in slow motion and see!
What about how snow builds up over time on a snowy day? Just make sure your Crystal is placed down in the same spot and put it in time-lapse mode. It'll then record frames of video over a period of time that you specifiy, which, when you play it back, will seem to speed up the action. A day of snow, for example, will magically appear in just a minutes.
There's all sorts of things you can play around with this feature, making the LG Crystal a genuinely fun phone.
Once you've recorded your video masterpiece, upload it onto YouTube with just the touch of a virtual button.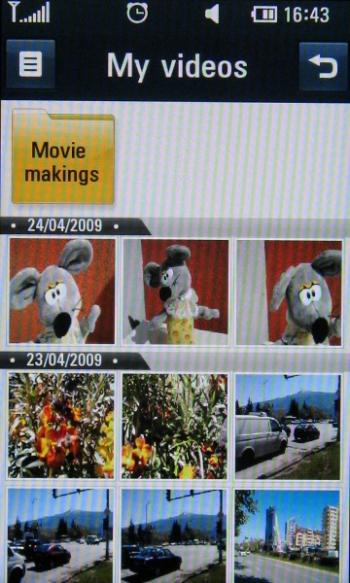 Mighty Music Features
Music's not exactly bad, either. As well as the MP3 player you'd expect, the Crystal also comes with an FM radio and Dolby audio enhancement to make your tunes sound even better.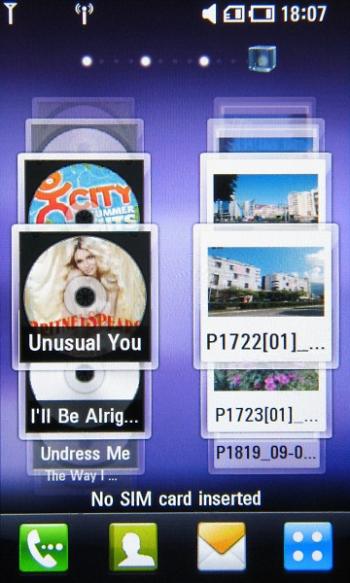 There's 1.5GB of onboard storage, enough for hundreds of tunes, and there's a microSD card slot, which will let you add another 32GB of storage if you want to take your library up to thousands of tunes.
The music player isn't the most feature packed, but it does at least look good. Thanks to the S-Class UI, you can see the cover art of your tunes in a CoverFlow like way, with the CD covers flowing either horizontally or vertically.
There's loads of equalizer settings to help you get the most out of your tunes, and the Dolby Mobile setting really works, making your sounds much better than they would ordinarily.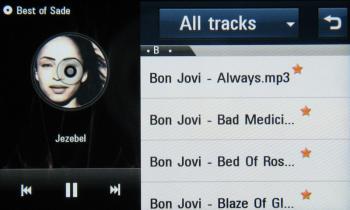 The only downside is the lack of a standard 3.5mm headphone jack. You can get a 3.5mm adaptor, so you can still eventually plug your own headphones into the LG Crystal, but it's annoying not have a standard adaptor come as, well, standard!
Phabulous Photos with a stonking 8 megapixel camera
The photos you can take on the LG Crystal are also rather good. With an 8 megapixel camera with autofocus, the detail is excellent, and with features such as image stabilization, smile detection and face detection, you'll have no problem taking great pics in all manner of different environments.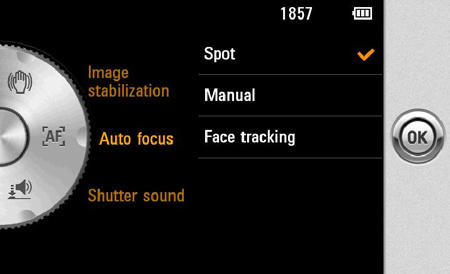 The LG Crystal doesn't provide the same quality of photos as, say, the Sony Ericsson Satio or Vivaz, but then the phone isn't meant to be the last word in camera phones. It's a great feature phone that adds fun and novelty, rather than exceptional photography, and it lets you take great pictures of your mates wherever you happen to be with just a few gestures on your crystal clear keypad!
You can see an example photo taken by the LG Crystal below (photo courtesy of RegHardware)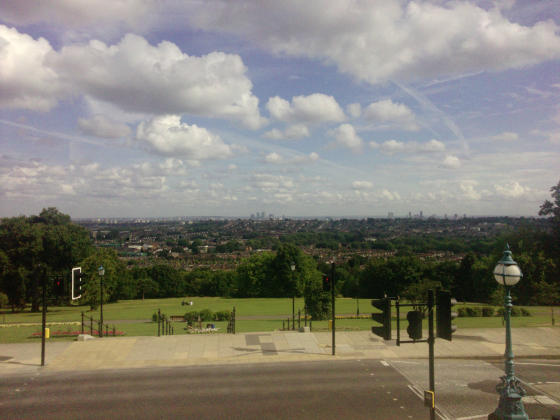 As well as taking great pictures, the picture gallery on the LG Crystal is excellent. You can view your pics either as a flat grid, or in a 3D CoverFlow-like style, with swipes of the touchscreen (either one!) letting you scroll through the pictures to your heart's content.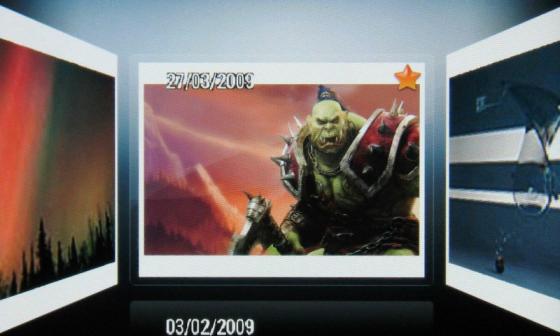 Better still, the LG Crystal supports multi-touch, letting you pinch and zoom into and out of your pictures, just as you would on an iPhone.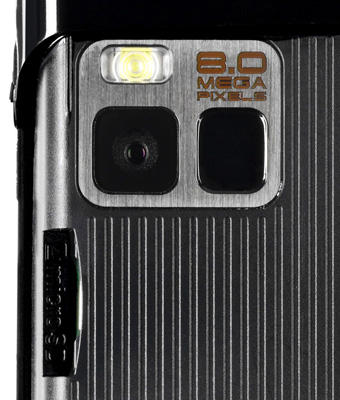 Web browsing
Web browsing on the LG Crystal is good. You can pinch and zoom into Web pages, and although it's not as fluid as on the iPhone, it's still well implemented and works really well.
There's a nice history feature, which lets you see screenshots of previously visited pages, and you can pan and zoom around a page to your heart's content.
With WiFi and 7.2Mbps HSDPA, browsing is quick and painless. The only downside is that the LG Crystal doesn't support Adobe Flash, so you can't see YouTube videos within the browser. That said, there is a dedicated YouTube app, so you can still YouTube videos – just not embedded in a Web page.
Web browsing is one area where the touchscreen keypad really comes in handy. You can use your finger on the keypad to control to a mouse, and use this to navigate around t a Web page (as well as using your finger on the Web page itself, and the multi-touch pinch and zoom!)
This makes navigating the Web simplicity itself, and again gives the LG Crystal an element of novelty that other phones just don't have.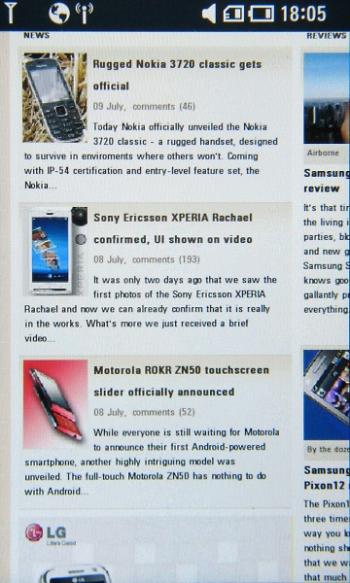 Apps
Although the LG Crystal doesn't have an app store, it does come with an array of apps. Most of these are what you can think of as traditional phone apps – organizers, calendars, games, etc. – rather than the more recent smartphone apps.
The reason for this is that the Crystal isn't a smartphone. However, this isn't actually a problem, as most apps such as YouTube, Twitter, FAcebook, Flickr, etc., a;; have a Website equivalent, and with a 3″ touchscreen and fast download speeds, using them is no problem.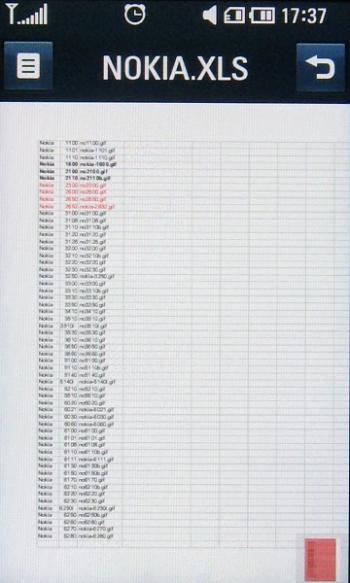 The apps that you do get are all rather useful in their own right. As well as a selection of games and organizers, you also get Picsel viewer, which lets you view Microsoft Office documents. As well as viewing them, you can also zoom into and out of them using the same pinch zoom multi-touch gesture that you use to zoom into photos and Web pages.
Overall user experience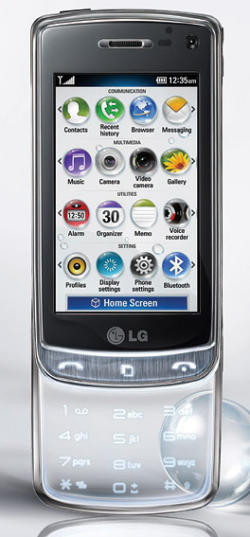 So what of the overall user experience? Is the LG Crystal's S-Class interface good to use?
Happily, yes it is.The LG Crystal isn't a smartphone, but it is an extremely capable (twin) touchscreen phone. It's very responsive, there's minimal delay when switching between screens or apps, zooming into photos or Web pages is smooth, and the 3D user interface is actually rather appealing.
Add to that the novelty of the twin touchscreens, the multi-touch pinch and zoom gestures and all the other things you can do with the clear keypad, and the overall experience is actually fun. Very usable, highly novel, and one you'll love to show off to your mates.
Better still, it all actually works! There's nothing worse than a fancy new interface that's just a novelty, and which frustrates you at every turn even if it impresses your mates. You don't get that with the LG Crystal: you get a fancy new interface that impresses your mates, and which is extremely intuitive, repsonsive, and just plain great to use!
Things you won't like so much
The LG Crystal doesn't do everything well. The camera, for example, could be better, even though it's an 8 megapixel model. As we know, megapixels aren't everything, and the colours from the LG Crystal aren't quite as realistc as they could be.
Of course, if you want the best camera phone, you'd be looking at the Sony Ericsson Satio or Vivaz, or the Samsung Pixon 12, though, not the cheaper LG Crystal. For nights out, day to day photography, or other point and shoot pics, the LG Crystal is plenty good enough.
Another niggle is with the lack of 3.5mm headphone jack. Although you can buy adaptors, you shouldn't have to. It's not a deal-breaker, but it is a bit of a niggle.
LG GD900 Video Reviews
The best way to get a feel for the novelty of the LG GD900 Crystal is to see it in action. So here it is!
LG GD900 Crystal specifications
Specs now. Here they are in full:
Messaging
Basic Specifications
Full Touch Slider (with Crystal Touchpad)
Connectivity: HSDPA 7.2 Mbps, WEDGE, GPRS, UMTS 2.1G, 900 (or 2.1G/850), GSM( (850/900/1800/1900), EDGE
Dimenions: 105 * 52.5 * 13.5mm
Standard Battery, Max (mAh): 1000mAh, Li-ion
Stand-by Time, Max (hrs): Up to 300 hrs
Talk Time (hrs): Up to 6 hrs(2G), Up to 4hrs(3G)
Display
External LCD (pixel)
3″ TFT touchscreen
16Mcolors
Haptic with Vibration Alert
Touch Screen Capacitive / Multi-touch/ 3D Active flash UI(S-class UI)
Internet
WAP 2.0
Browser xHTML 1.1, HTML 4.01 / Internet Full Browsing
Data Connectivity
IrDA
USB/PC Sync
Wi-Fi 802.11 b,g
Bluetooth (A2DP Ver. 2.1)
Applications
PIM
Scheduler/Alarm
Phonebook (1000 names)
Personalization
Wallpaper/Screen Saver
Picture/Ringtone Downloading
Document Viewer: MS office, PDF, Text
Advanced Features
Video Telephony
Java (version): MIDP 2.0, CLDC 1.1
MIDI (polyphonic): 64
2 touchscreen friendly built-in games
Video On Demand/Audio On Demand
Internal Memory: 1.5GB
External Memory: MicroSD slot (TransFlash), up to 32GB
Camera: 8.0 Mega Pixel AutoFocus
Multi-Media Players
Audio codec: MP3, AAC/AAC+/E-AAC+/AMR-NB/WB/WB+, WMA/WMAPro, Ogg-Vorbis, AC3, MIDI
Video codec: H.263: 4CIF(704×480@30fps, 704×576@25fps, upto 10Mbps), H.263+/MPEG4/H.264/WMV9(VC-1): D1(720×480@30fps and 720×576 25fps, upto 10Mbps)
FM Radio
Speaker Phone Mode
Accessories
Summary
The LG GD900 is one of those rare phones that manages to combine genuine ease of use, practicality, a huge set of features, novelty, and above all, fun, all in one smart looking package. It is, above all, unique – no other phone offers twin touchscreen interfaces, with one of them being completely clear.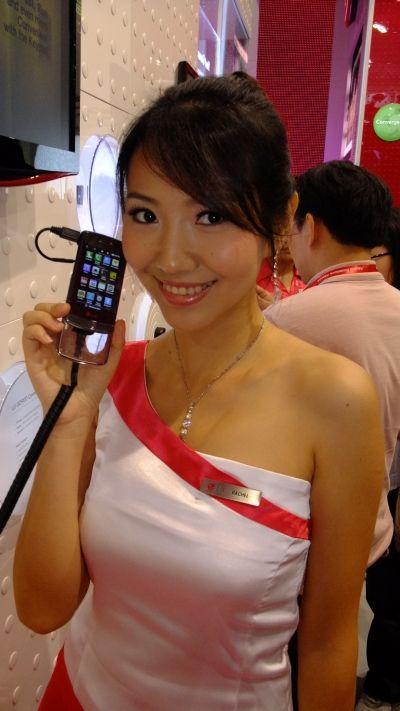 And it's not just a novelty – the LG Crystal's clear keypad actually helps, rather than hinders, when it comes to navigating the phone.
Add to that its great 3D user interface, cracking set of features, and tonnes of fun quirky features such as the video camera's slow motion and time lapse modes, and you've got yourself a phone that's guaranteed to keep you entertained and your mates green with envy. You can guarantee they won't have anything like it.
Strongly recommended.
Update: The LG GD900 is now on sale from just £20 a month, making it the cheapest 8 megapixel cameraphone on the market. Pay an extra £5 a month and get some cracking free gifts, including an iPod Nano.
[Pics courtesy of GSMArena]