Fujitsu have been showing off a touchscreen phone prototype at Japan's CEATEC show this week. I say touchscreen – Fujitsu's latest technical marvel is actually a clamshell phone with two touchscreens, each of which is in sync with the other.
So, for example, when you swipe downwards on one touchscreen, the content moves down with your finger on both.
It's a neat idea, if not all that useful, but one of the big disadvantages is that it shows off Fujitsu's own Operating System, which is just horrendous!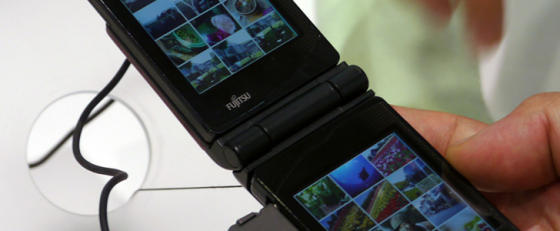 The return of the Origami phone
In addition to the dual touchscreens, the Fujitsu prototype had another trick up its sleeve – its clamshell opens in both landscape and portrait modes.
The reasoning behind it is that you'd open the phone up in portrait mode when you need to see lists of items (messages, contact details, etc.), and landscape mode when you need to look at media, maps or web pages.
Although a novel concept, what intrigues me most about this phone is just how old fashioned it looks. Japanese phones seem to have stagnated since their status as the most advanced phones in the world a few years ago. The smartphone craze seems to have escaped them entirely, leading them to focus on novelty phones like this while the rest of the world goes nuts for the iPhone and Android.
[Source: Akihabara News]