Google's latest version of Android is getting very close to being launched. The search giant just put up a new giant Gingerbread character at its Googleplex HQ, which is a sure sign that the release date for Gingerbread is very soon indeed.
There's been some speculation as to how much of an improvement Gingerbread will be over Froyo, and whether it'll represent Android 3.0 or just Android 2.3 (FroYo is Android 2.2).
In my opinion, I think it'll be a big jump, at least in terms of user interface, simply because Google stated that Gingerbread would include a new UI, would support 3D much more, and will only work on phones with a 1GHz+ CPU.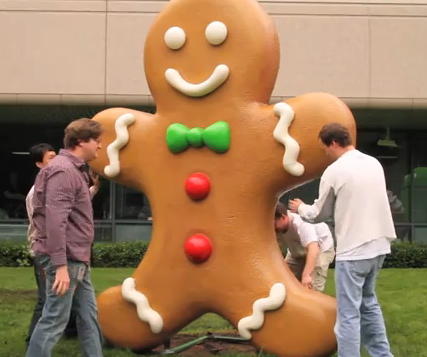 What's in a version number anyway?
And whether it's version 2.3 or version 3.0 really shouldn't make any difference. Android 2.1 was much better than 1.6, but 2.2 was arguably an even bigger leap forward than 2.1.
So version numbers aren't necessarily a reliable predictor of what's to come.
What to expect from Gingerbread
So what can we expect from Gingerbread? Here's just a few rumoured features:
Support for new Google-based technologies, including Google TV and Google Music
Media streaming from your PC
Support for video calls, WebM video playback, and WebP image files
New 3D games support
Improved copy-paste and social networking features
In other words, a lot of new functionality that helps Android connect out to the wider world even more than it does at the moment. Factor in the rumoured new user interface, and you've got a tasty new version of Android to look forward to, whatever its final version number.
And if Gingerbread does fall a bit flat, never fear – any feature that doesn't make it will go into the next version of Android called Honeycomb, which will be released early 2011!
[Source: UnwiredView, Wikipedia]