News of Samsung's flagship phone for 2011 has surfaced, and you'll be delighted to know it makes the Galaxy S look like an old Motorola StarTac! Not only does the feature-set read like a wishlist of every Android fanboy, it's actually been confirmed as being the real deal.
This really will be the Galaxy S of 2011, and is set to be released around February next year.
This is brilliant news, but there is a but – I've just ordered an HTC Desire HD, and this new Samsung flagship kicks its butt already!! Grrr!
OK, on with the specs!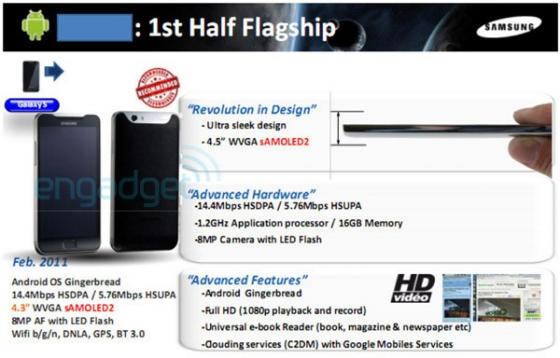 Samsung Gingerbread phone's features
Are you sure you're ready for this? You might need to sit down first! This is the list of features you can expect from Samsung next gen flagship phone:
4.5″ WVGA sAMOLED2 screen
14.4Mpbs downloads
5.76Mbps uploads
1.2GHz CPU
16GB memory
8 megapixel camera with LED flash
WiFi b/g/n
DNLA
GPS
Bluetooth 3.0
Full 1080p HD video capture and playback
Universal eBook reader
Android Gingerbread
Ultra sleek design
Phew! I've looked at this feature-set and tried to think of one thing that's not the best-in-class, and the only thing I can come up with is the camera's flash. Dual LED would have been better, Xenon absolutely perfect, but that's such a minor thing that it's really inconsequential.
It's safe to say that Samsung have well and truly raised the bar with this beauty, which looks set to trounce every other phone on the market.
It's super fast with a 1.2GHz processor and amazing download and upload speeds. Its screen is a second generation Super AMOLED (and the first generation Super AMOLED, as seen on the Galaxy S, is already the best in class). It's got a cracking camera and full 1080p video capture. And with DLNA it can stream photos and movies around the house to and from your PC and TV.
And of course, let's not forget Android Gingerbread on board. We've not seen Gingerbread in action yet, but we're already excited, and seeing it running on a machine like this is simply mouth watering!
It's rare that I get this excited about a new phone these days (part of the hazards of writing about them every day!), but Samsung really have created something special with this new flagship.
Can't wait to see how it performs in real life!
Now, what should I do about my Desire HD? Ah, dilemmas, dilemmas!
[Source: Engadget]