Motorola is officially launching the Motorola Atrix 4G now – literally as I type! the Atrix 4G was first mentioned earlier today, but now we're getting the full details on this superb dual-core NVIDIA Tegra2-powered Android phone.
As its name suggests, the Atrix 4G supports 4G connectivity for super-fast downloads. It's also got a huge 1GB of RAM, a fingerprint reader for smart unlocking, full HD 1080p video capture and playback – and, most intriguinugly of all, a complete browser-based dekstop called Web top, which works in conjunction with Motorola's new Laptop dock.
Let's take a closer look at the Atrix 4G's laptop dock.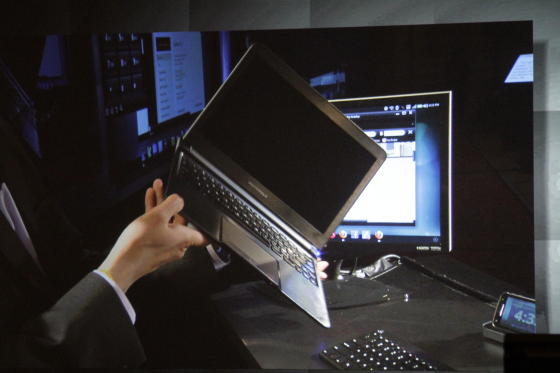 The Motorola Atrix 4G Webtop
The Webtop is an intriguing idea. It uses a full Firefox 3.6.13 browser, which is rendered full screen on the laptop's display. Similar in operation to Google's Chrome OS, I guess, but ironically using Firefox on top of Android!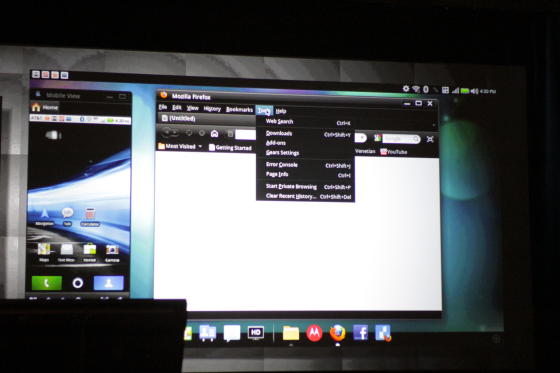 This gives it the ability to use multiple windows and tabs, along with a full Flash 10.1 experience. It'll be interesting to see how well this compares to Google's Honeycomb (Android 3.0), which, esentially, is designed to do exactly the same thing! It also makes you wonder why motorola went down this route, rahter than using Android 3.0 from the start.
With the Webtop app, other apps that you open – you know, productivity apps such as Angry Birds – open exactly as browser pages, which, essentially, is exactly what they are.
The webtop will let you use all the features of your phone, including the ability to dial out, and lets you use every aspect of the Atrix 4G, but from the laptop.

The Motorola Laptop dock
The Laptop dock itself is 13.9mm thin with an 11.6″ display, touchpad, 8 hours of battery life, stereo speakers and keyboard, so it really is a proper laptop in everything except its innards! There's no processor, no hard drive, not even a fan, making the whole thing just 1KG in weight.
This is an extremely novel approach to smartphone and laptop convergence, and it's going to be intersting to see how well it works. We'll get more details, and hopefully some video for you later.
[Source: Into Mobile]