HTC has been teasing the mobile tech bloggers with news of a press event on April 12th where the company will show off…well I'm not exactly sure! Currently we know that HTC has just launched the HTC Evo 3D in the US, and that it will be coming to Europe in a few short months. Equally, we know that HTC has been working on the HTC Pyramid with a very distinctive diagonal stripe on its back, and with similar specs to the Evo 3D minus the 3D.
Finally, the company also has the HTC Flyer tablet, which it first unveiled at MWC 2011, but which hasn't actually launched yet. So just what will HTC be showing off on April 12th?

Predicting HTC's news
My guess is that HTC will be showing off all three. The HTC Evo 3D has already been confirmed as coming to Europe, with France definitely getting it, and the UK most likely to get it as well. The Pyramid (just a codename at the moment) is a different phone with a very distinctive diagonal stripe across its back.
As I said, its features are very similar to the Evo 3D: it's got the same 1.2GHz dual-core Qualcomm chip powering it, 768MB of RAM, an 8 megapixel rear camera, 1.3 megapixel front-facing camera, 1080p video recording, a 4.3″ qHD screen, and runs Android Gingerbread 2.3.2.
But it doesn't have 3D, and it's back is very definitely not the Evo 3D, so despite the similarity in features, it's an all-new phone.
My guess, then, is that the Pyramid will be branded as the HTC Desire HD2, with the Evo 3D being sold separately. This makes perfect sense for HTC, as it gives the company a chance to see how well 3D sells, while still selling another, similarly-specced phone that should sell by the boat load if 3D bombs.
Both of these phone will most likely be on display in April, as should the HTC Flyer tablet, as that's very nearly ready for sale.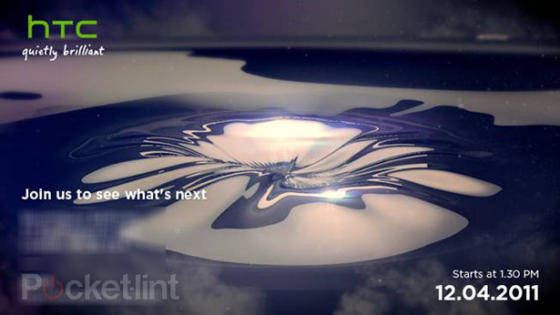 These three devices represent the cutting edge of where HTC – and, for that matter, the smartphone industry as a whole – is at the moment, and so seeing them in all their glory on April 12th should give us a real insight into HTC's magic for 2011.
Can't wait!
[Source: Pocket Lint, XDA-Developers]