HTC bucked the Android tablet trend earlier in the year by announcing the HTC Flyer, an Android tablet that not only featured Android Gingerbread rather than Honeycomb, it was also distinctly smaller than its rivals, being just 7″ rather than the more typical 10.1″.
Now HTC seems to have moved closer to its rivals with news of the HTC Puccini, a 10.1″ tablet that should also feature the same nifty capacitive stylus as the HTC Flyer.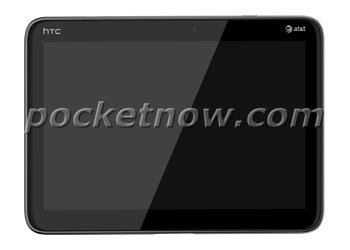 Size isn't everything
Very little is known about the Puccini right now, other than it looks like it's coming to AT&T. As far as looks are concerned, it looks like every other touchscreen tablet, but then that's not exactly surprising.
Of more interest is what the Puccini's user interface will look like. HTC is apparently hard at work adapting its glorious Sense User Interface onto Android Honeycomb, so we should get the best of both worlds when the Puccini is finally launched.
By this time, the Flyer should also have Android Honeycomb, too, so your choice will come to down to whether or not you want a 7″ tablet with the Flyer or a 10.1″ with the Puccini.
Size isn't everything, remember, but at least it's good to have the choice!
[Source: GSMArena]