Have you ever put off buying a mobile phone because you knew there was a better one just around the corner? I know I did. I nearly bought the HTC Desire, but waited until the Samsung Galaxy S came out, but then waited again because I knew the HTC Desire HD was just around the corner! And if the latest rumours are true, it seems that Samsung is doing a similar thing, as it's delayed the launch of its new Galaxy S II as it knows an even better processor is just around the corner!
Yes, not content with the original 1GHz dual-core Exynos processor that Samsung was going to drive the Galaxy S II with, the latest rumours suggest it'll now come equipped with a 1.2GHz dual-core Exynos processor instead.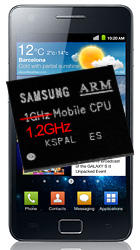 The World's Most…
The reason for the delay is presumably because Samsung loves its "world's most…" boasts, and the Galaxy S II was going to be the "world's most powerful" Android smartphone. Except it wasn't, as HTC beat it to the punch with the Evo 3D, which uses Qualcomm's new 1.2GHz Snapdragon processor.
So Samsung has decided that it too needs a 1.2GHz dual-core processor, and because the Exynos processor is also made by Samsung, the company is in the fortunate position of being able to specify whatever speed its processors run at. The downside is that the Galaxy S II now won't ship until May 6th at the earliest, but more likely some time in June.
However, this move will clearly put the Galaxy S II right at the very front of the Android pack, and takes it a step beyond the Motorola Atrix and LG Optimus 2X, which is exactly what Samsung wants. I'm really looking forward to this thing shipping as it should be one beast of a phone!
[Source: GSMArena]