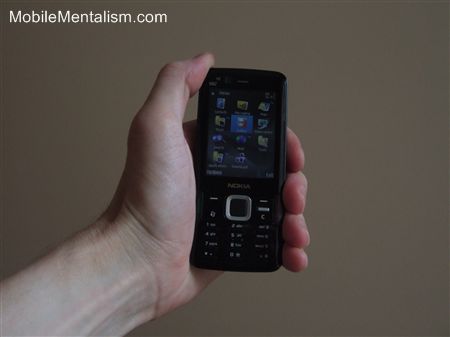 Continuing our Nokia N82 review, here's a review of the N82's software.
A phone can have all the features in the world (and the N82 nearly does have all of them!), but if its user interface and application software are poor, the features will be just unusable. How does the N82 fare?
N82 User Interface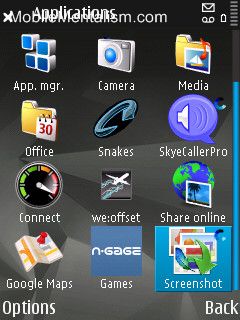 The Nokia N82 is based on the Symbian S60 platform, and so its user interface will be familiar to peope who've used other Nokia S60 phones, such as the N95 and the E90. Indeed, the interface is so similar to the E90's that I was able to use it without consulting the manual once.
Given that the E90 is an extremely well-specified smartphone, I was surprised at just how similar both the N82's interface and software was, when it's not designed as a smartphone. If you hook a keyboard up to it (and maybe a larger screen), the N82 would be just as functional as the E90.
The user interface, then, is good. Not iPhone good, of course, but then it doesn't set out to be. Rather, it's clear, easy to navigate, attractive, and makes it easy to access the features you want.
Productivity Apps
The N82 comes with almost as much software as your average smartphone. There's a complete calendar and ToDo list app, PDF reader, and QuickOffice, which enables you to read and edit Microsoft Office documents.
Multimedia Apps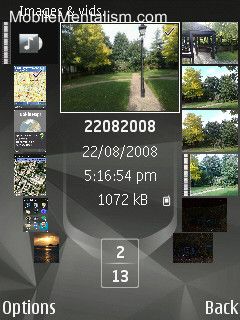 Of more interest are the Gallery and the Video Centre. The Gallery displays all your photos and videos in a neat carousel format, with the current photo or video displayed prominently at the top of the screen and smaller thumbnails of other pictures and vids displayed around it.
Scrolling through your content is extremely easy and the pictures and videos scroll through quickly without any fuss. Better still, there's a dedicated gallery button on the side of the phone that gives you instant access to the gallery, so no more fumbling to find the gallery in a darkened club.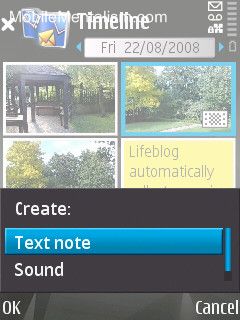 And if the gallery doesn't it for you, Nokia also includes its LifeBlog app, which lets you view all your pictures, videos, recordings and notes in a time line. This is a great way of providing photos and other content in context with your life. Better still, you can upload all of your lifeblog to an actual blog with just a few clicks.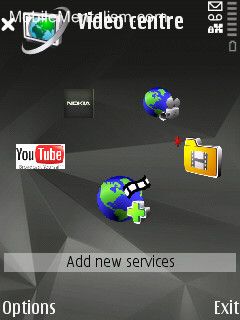 The video centre, meanwhile, not only lets you watch your own videos, it also lets you download or stream videos from other sources. Nokia have made it incredibly easy to log into other video Web sites such as YouTube, and you can then easily browse and view whatever video you want to watch.
Although nearly every phone has the ability to take pictures and videos, Nokia's gallery and video centre make the process of watching them so easy, it really enhances the experience and encourages you to take more pics and watch more videos.
No more will your photos lie languishing in some obscure folder on your phone – now you can see them all literally at the touch of a button. There's even a neat slide show feature, which smoothly fades images in and out.
Messaging Apps
The N82 comes with the usual array of messaging apps, including email,SMS, MMS and Instant Messenger, and these all work as you'd expect.
Nokia Apps
Nokia also loaded some of their free software onto the N82 in order for me to play around with. Although these apps don't come as standard, they're available via free download from Nokia's site, and they show the power of a phone with built-in GPS connection and fast Internet connection. The apps that were installed were:
We:Offset – an odd sounding application that lets you offset your carbon footprint automatically. The phone determines its new location when you've arrived at your destination, and calculates how much carbon you've used. You can then pay to offset your carbon automatically. It's a clever use of the N82's location awareness, but I'm resolutely brown not green, and will go to great lengths to increase my carbon footprint, so the app was kind of wasted on me!
Psiloc Connect – a nifty utility that will automatically connect to any network it can find according to your preferences. For example, you might set it up to connect to your own WLAN first before trying your mobile network if you're not in range of your home. It's an extremely useful utility, as whenever an application asks you to connect to the Internet, Psiloc just does it. No configuration, and no passwords either, as it stores the appropriate ones for you. Hpwever, it's not free, there's no indication of how much it will ultimately cost (the Web site simply says "try for free"), and you can't help but feel that this should have actually come as part of the phone rather than as a paid extra.
SkyeCaller PRO – not to be confused with Skype, this is another app that you have to pay for, but one that I'd never use. It lets you customize your phone by downloading images, videos and tunes, and then assign them to incoming calls. Think of it as an enhanced ringtone app. Given that you can already do most of this with the N82 out of the box, I've no idea why you'd want to pay for it!
Summary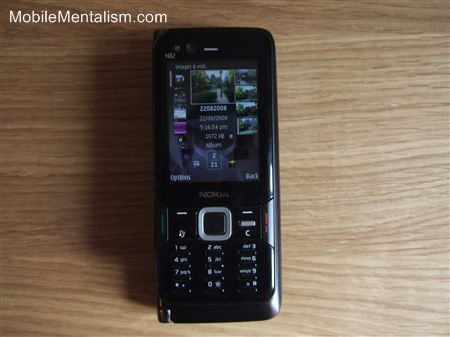 I was extremely impressed with the Nokia N82. It's small, slim, good looking, yet packs in a huge number of features that would shame your average smartphone. Better still, the features aren't just added as a way of filling out the spec sheet: they really work, and work well. The GPS works quickly and smoothly, the camera is fantastic, and the user interface slick and extremely easy to use.
It'll connect to virtually every type of network available, from WiFi to HSDPA, even to GSM, and as it's based on the Symbian S60 platform, there are already tonnes of applications and games you can download for it.
You really can see where Nokia are coming from when they say the N82 and other N-Series phones like it are multimedia computers. Multimedia is clearly at the heart of the N82, and with its easy integration with Web-based video and picture sites, it's a fun phone to use.
The only downside is the fiddly size of the keys, which makes playing games and browsing the web a little tricky. However, at just £25 a month, it's yours for free on O2, so it's incredibly cheap for what it offers. This, combined with the great range and quality of its features, means it fully deserves 9/10.
Strongly recommended.
Buy the Nokia N82
The Nokia N82 is a high-end phone with a budget price. We've found the best deals include:
From £20 with FREE goodies bundled in, including iPod Touch, Wii, or HDTV.
Unlocked SIM-free for just £299.99
Read the rest of this review