At last, the world's first Google Android phone, the T-Mobile G1, is finally here! The blogosphere is far more upbeat about the G1 than it expected to be, and personally, I think it's fantastic!
I know exactly what I want from a smartphone, having had a Nokia E90 for the past year and having tested several Windows Mobile devices, and the G1 seems to have got everything right.
So without further ado, let's see what exactly the T-Mobile G1 brings to the smartphone world.

T-Mobile G1 Specification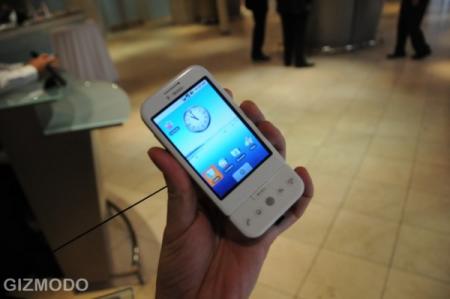 The first thing you'll want to know about is the G1's features, so here they are:
Novel Android user interface
Responsive 3.17″ touchscreen display
Trackball for navigating one-handedly
Smooth, simple and fast finger-based navigation
Full-QWERTY keyboard that slides out from underneath
Full WebKit-based HTML Web browser, with the ability to zoom into pages just by touching on them
3.1 megapixel camera
MP3 player with support for M4A, AMR, WMA, MIDI, WAV and OGG Vorbis formats
1GB SD memory card pre-installed, with support for up to 8GB memory cards
Bluetooth
GPS
Voice-recognition
GSM/GPRS/EDGE and HSDPA connecitivity
Wi-Fi
Compass
Battery life of 130 hours standby, with 5 hours talk time
Dimensions: 4.60″ x 2.16″ x 0.62″
Weight: 5.6 ounces
Few! But that's only scratching the surface. The real beauty of the G1 is how well its applications work, and how well they integrate with the Web.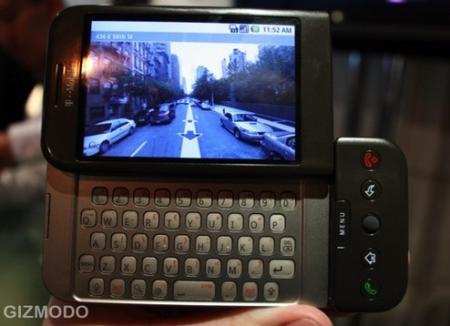 In other words, like the iPhone, the G1 isn't just a phone with a shopping list of features, each of which works (to some degree) in isolation from the others; rather, it's a complete integrated device, with applications aware of each other, able to share data between themselves and a host of Web services.
The T-Mobile G1's Google applications
Take, for example, the range of Google apps that are built-into the G1 (which you can see more of in the video above):
GMail
Fully synchronized with your Web-based GMail account. Whatever you do with GMail on your G1 is automatically synced with your GMail account on the Web, and vice versa. Read and reply to your emails, add a contact – whatever you see or do on your G1 is the same as you see on the Web.
Not only is this hugely useful in its own right, but it also means all your contacts are automatically backed up online for you. Indeed, if you lose your G1, simply get another one and all your contact details, emails, etc., are automatically pushed to the new device. You'll never need to re-enter your contact details again.
Better still, your GMail email is pushed to the G1, so whenever an email comes in, it's automatically sent to the G1, which will alert you to the new email.
Google Calendar
Similarly, Google Calendar on the G1 is synced with the Web-based version, so any event you add to your calendar on the G1 will be automatically synced to your Web-based calendar – and vice versa. Again, this is pushed to you, so if someone else adds an event to your calendar from the Web, you'll be notified immediately on your G1.
Google Maps and Streetview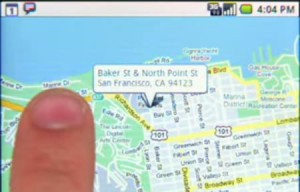 With a built-in GPS unit and compass, it should come as no surprise that the G1 comes with Google Maps. However, the whole experience has been improved. Click on an address in one of your contacts, hit the Google Maps button and you're instantly taken to Google Maps.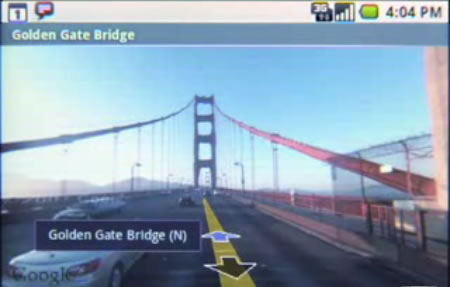 Change to StreetView mode and you can see the place where your contact lives. Better still, with the compass, you can rotate the phone and the StreetView view actually rotates with you, letting you look all around the area by turning the phone.
Google Maps also offers driving directions, satellite imagery and local business information
Instant Messaging
The G1 comes with Instant Messaging out the box. You'd expect this to be just Google Chat, but no – the G1 suports Google Chat, MSN Messenger (or Windows Live Messenger as it's called these days), AOL and Yahoo! Messenger, meaning you should be able to IM anyone on any IM network.
YouTube
YouTube is integrated tightly into the G1, enabling you to browse through its millions of videos easily. Oddly, there's no video recorder, though, so you can't shoot your own videos and upload them to YouTube,which is a shame, but not a show-stopper.
The G1's Pre-installed Apps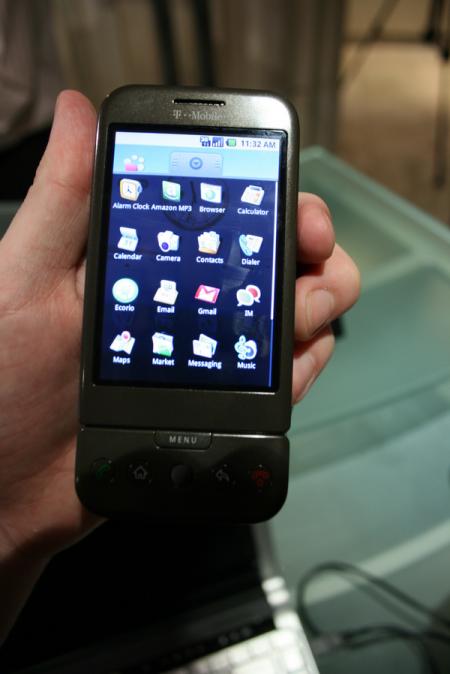 Of course, what makes the G1 so special is that it's a Google Android phone – and that means it's completely open for developers to play around with to their hearts' content. This in turn means you can expect thousands of new applications to come rushing to the new platform – well, at least once it's gained traction and developers are convinced the market is big enough to justify them investing in it.
Until then, you'll have to make do with the pre-installed applications and the few apps that are already provided on Google's Android Marketplace.
Coming pre-installed with the T-Mobile G1 are the following applications:
ShopSavvy
Originally called GoCart, ShopSavvy lets you do comparison shopping on the go by taking a photo of a product's barcode, and then returning details and the price of the product from a variety of local and online stores.
As you can see from the video below, this application is worth the price of the G1 alone. As if the list of online stores that it returns wasn't good enough, it's the local stores that are returned that really highlights the power of the Android platform. Using the G1's GPS unit, ShopSavvy recognizes where you are and returns a list of the shops that sell the product you just scanned within mile or so radius of your current position.
Better still, because it also contains the address of these shops, you can then go to Google Maps and get directions to the store from your current location – you even switch to Street View mode to see where the shop is on your highstreet.
Ecorio
Less interesting than ShopSavvy, Ecorio is for the new-age Catholics who no longer worry about Hell-fire and Damnation, but still need something to feel guilty about. That something, of course, is carbon, and so Ecorio lets you keep track of your daily activities and calculates your carbon footprint.
You don't pay in Hail Marys, just in cold hard cash to soothe your conscience.
BreadCrumbz
Lets you create your own route using a combination of pictures taken form the G1's camera, GPS locations and Google Maps. Seems a bit overly complicated (particularly when Google Maps already gives you directions), but might find a use for some people.
Amazon MP3 Store
Pre-installed on the G1 is the Amazon MP3 store, specially redesigned just for Android. The Amazon MP3 store lets you search through over 6 million DRM-free full-track MP3 tunes. You can listen to samples of the tunes and then buy and download the ones you like to your G1(though curiously you can only download them over Wi-Fi, not over T-Mobile's network)
The T-Mobile G1's smartphone features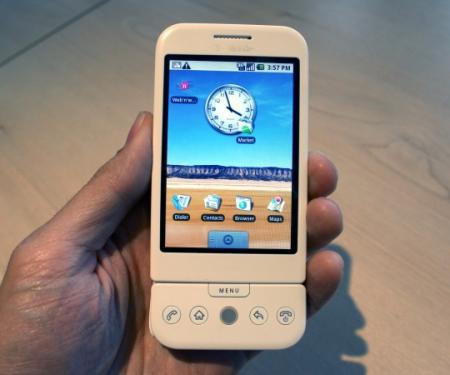 Having owned and used many a smartphone, I know the features to look for in a smartphone, and I reckon the G1's just about got them all covered.
Connectivity
The G1 supports a wide range of connectivity options, including quad-band GSM and EDGE, 3G UMTS and 3.5G HSPDA and Wi-Fi. More impressively, the G1 will switch between Wi-Fi and 3G automatically, ensuring your data connections are never lost.
Keyboard
Not only has the G1 got a full QWERTY keyboard ( anecessity in my eyes), it's also an extremely usable keyboard. Dedicated number keys and two Alt buttons for accessing the punctuation marks helps typing no end, and a dedicated @ key is genius!
Web browser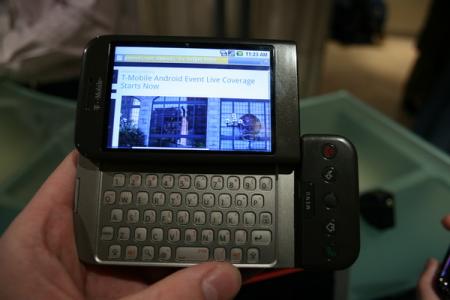 You can't browse the Web properly on a poor browser or poor screen. Fortunately, the G1 has neither. The browser is based on the same WebKit technology used by Google Chrome and Apple's Safari, and so is first rate and super-fast. The screen is a 3.1″ touchscreen that switches seamlessly from portrait to landscape mode whenever you turn the phone.
Better still, the screen's touchscreen, meaning you can touch hyperlinks with your finger, rather than having to scroll down to them.
Web browsing, in other words, should be first class on the G1.
Price
Almost forgot – the price of the T-Mobile G1 is a superb $179. Unfortunately, this locks you into a 2 year contract with T-Mobile, but for just $25 a month, you get an all-you-can eat data plan.
Summary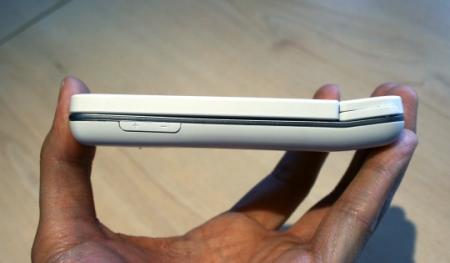 The T-Mobile G1 is the first Google Android phone on the market, and other Android devices are in development I write, waiting for an early- to mid-2009 roll out.
The G1 isn't perfect – there's no video recorder, no stereo Bluetooth or A2DP, and it can't cut and paste between applications.
As the first device of its kind, though, the T-Mobile G1 is superb – it's everything you need from a smartphone, with superb applications, fantastic integration with the Web and Google, and a brand new application ecosystem that can only get better over time.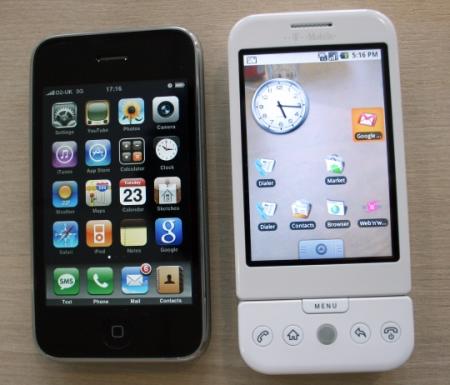 More importantly, it's quite possibly the closest to being an iPhone killer that any other phone has managed since the iPhone launched last year. Its user interface might not be as polished as the iPhone's, but it comes damn close, and with its open environment, it's set to enjoy far more innovation than the iPhone.
If I had to choose between the two, I'd take the G1 without a second thought. It's download speeds are 10 times quicker, its integration with the Web is so much better, its camera is better and its potential is much greater.
You know, I might just get me one for Christmas!
[Sources: BusinessWeek, Google, Gizmodo, T-Mobile, Crave]