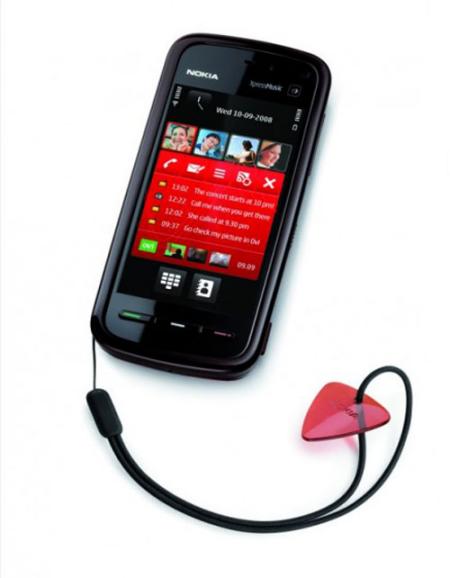 Nokia have finally announced the Nokia 5800 XpressMusic phone. Unofficially called the Nokia Tube, the 5800 is Nokia's latest and fanciest music phone, and has been touted for some time as Nokia's answer to the iPhone.
The iPhone, of course, has been with us for over a year now, so their response has been a bit late in coming – indeed, they're the last mobile phone company to release a touchscreen phone – but it's here now, and there's been a lot of hype around this phone, so it's time to take a look at some of its features.

Nokia 5800 XpressMusic overview

Firstly, the name.
"Nokia 5800 XpressMusic" is generic, bland, and conveys nothing of what Nokia are aiming for with this phone.
"Nokia Tube" was so much better, so I can't help but feel they've missed a marketing trick by insisting on following their branding scheme of naming their phones using an obscure numbering system.
You can tell they're engineers at heart!
That said, CruchGear have an interesting take on the name:
"Clever marketing on Nokia's part because they don't want to draw direct comparisons to the iPhone and the XpressMusic line is quite popular in the low end, at least in the U.S."
The main selling point of the 5800 is its touchscreen.
Based on the Symbian S60 platform, there's a new touchscreen-oriented user interface, and no physical buttons on the phone other than call accept and cancel, and a menu button.
The screen itself is huge – 3.2″ with 640 x 360 resolution, and with widescreen proportions, it's designed above all for watching movies.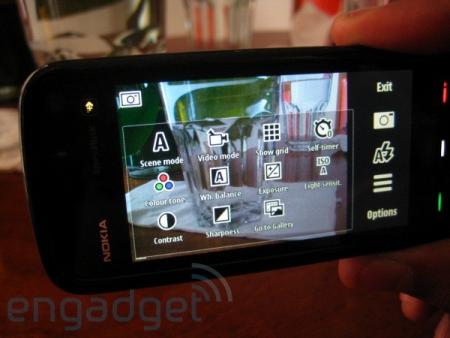 This should give you some idea of the main focus of the Nokia 5800 – multimedia. It's not a powerhouse phone like Nokia's N-Series monsters, so it's not quite all-singing all-dancing, but it features virtually every kind of multimedia feature you'd expect, and all of extremely good quality.
Nokia 5800 Specifications
The main feature is obviously the touchscreen. It's not quite as easy to use as the iPhone's (for example, tapping on it isn't quite as responsive), but it's good enough that you can use it without a stylus; although there is a stylus if you want one!
The reason for the stylus is that as well as a gigantic virtual QWERTY keyboard that you can use (and which apparently works really well), the 5800 also sports handwriting recognition. Personally, I've never been a fan of handwriting recognition on any device, let alone mobile phones, but the 5800 is going to sold around the world, and some countries have languages that are more suited to such input than a keyboard.
In addition to the touchscreen, you also get the following:
3.2 megapixel camera with Carl Zeiss lens
aGPS
HSDPA
Double LED flash
Loud speakers
3.5mm headphone jack
Web browser with support for Flash
8GB memory, expandable to 16GB
Accelerometer
DVD quality (30fps) video playback and recording
Single-touch content uploading to sites such as Ovi, Flickr or Facebook.
In addition, there's also a brand new user interface that Nokia have developed specifically for the 5800. Actually, they had no choice, as this is the first S60-based touchscreen phone, and the classic S60 interface didn't support touchscreens.
Fortunately, Nokia haven't wasted all that extra software development effort on the 5800 alone – apparently there will be many more Nokia phones coming our way next year with the same user interface (and so, presumably, with a touchscreen).
Nokia 5800 XpressMusic video previews
OK, I know there's only so much writing you can absorb before terminal boredom sets in, so here are some videos of the Nokia 5800 to keep you going!
Nokia 5800 Reviews
Although it's only just been announced, there are already a few Nokia 5800 reviews out there.
Engadget, for example, got their hands on a Nokia 5800, and overall they like it. It's not an iPhone killer – the two phones, although similar in features, will operate in very different markets. Given Nokia's market share of the mobile phone market, the 5800 will more than likely match the iPhone for sales, but it won't take anything away from the iPhone. People who buy the 5800 would never have bought an iPhone anyway.
Why? Because the iPhone is more a status symbol and style icon that just happens to be a really good music phone, whereas the 5800 is just a really good music phone. If it's music you're after, you'll go for the 5800, as it's much cheaper. If you want a bit of bling, the iPhone wins hands down.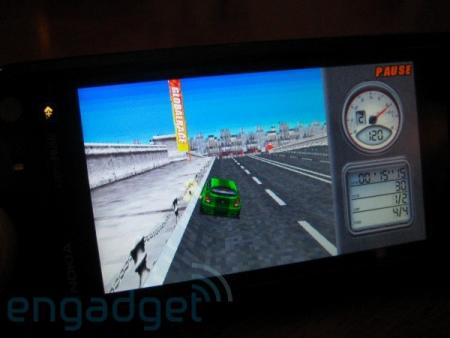 But I digress. Engadget liked the 5800 overall, but not all of it. They noted the price point, too, and reading between the lines, you can tell that if were more expensive, they'd have panned it. But it's not, and other music phones at a similar price point are going to have a real battle on their hands.
CrunchGear, in contrast, were less enthusiastic about the Nokia 5800. They write "We saw the Tube last night and neither of us came away impressed. I thought the accelerometer was quite responsive, but we were sorely disappointed in the Web browser. The menu system was overcrowded and wasn't simple like the iPhone's. S60 devices are just a big mess of menus and sub-menus and this was no different."
Nokia 5800 Price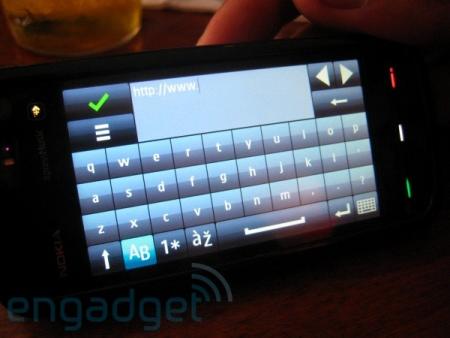 Here's the key thing about the 5800, though – its price. The Nokia 5800 will be on sale for just £218 ($227 or 279 Euros) when it's released, and that's the unlocked price, not the operator-subsidized price.
Think about it – a touchscreen phone with GPS, super-fast 3G (ten times faster than the iPhone's), 3.2 megapixel camera, brand new interface, 30fps DVD quality playback on a huge screen, and all for just £218 (Note: not the £129 that CrunchGear are quoting!).
Nokia have been criticized for not releasing any spectacular phones this year, but it's clear now what theyve been up: focusing on driving down the costs of the components they use rather than developing brand new (and expensive) technologies, in order to release high-specced phones for bargain prices, just when the credit crunch happens! Genius!
Nokia 5800 release date
The Nokia 5800 XpressMusic release date is scheduled for the fourth quarter of 2008, which roughly translated, means any time now!
Nokia 5800 XpressMusic Summary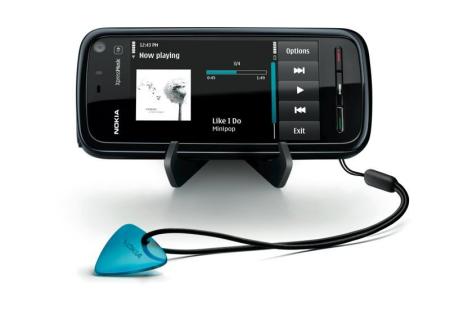 The Nokia 5800 is an odd phone to summarize. It has its faults, not the least of which is that as Nokia's first touchscreen phone, it's massively overdue, and seriously underpowered. The company's "iPhone killer" (god I hate that phrase now!) should be an N-Series phone, and not a mid-range phone.
But therein lies its appeal as well. It's absurdly cheap given the features it has on offer, and this thing should fly off the shelves before Christmas.
It also means that there's still powder in Nokia's arsenal for finally taking on the iPhone at its own game, by releasing a monster N-Series phone with a touchscreen early next year. Look at the 5800 as a dry-run then – a phone to iron out all the creases before the real Nokia touchscreen monster that we've all be expecting is released.
And in the meantime, think of the 5800 as like a Nokia N82, but with a touchscreen interface and a poorer camera. If you like the look of the N82, but would prefer a cheaper phone, then buy the Nokia 5800. I really can't see you regretting it!
Update: The Nokia 5800 is nearly available now, so I've put together a Nokia 5800 review featuring the finished product.
[Source: CrunchGear, Engadget]