The Samsung i8910 Omnia HD in this review is a superb combination of high-end feature phone and slick touchscreen smartphone. If you demand the very best features from your phone, but you don't want to lose the ease of use of a touchscreen, the Omnia HD is quite possibly the only phone you need to consider.
At its heart, the Omnia HD is all about video – and high-def video at that. Capable of recording and playing HD video at 720p, the Omnia HD gives you the best quality video of any mobile phone on the market, and shows it off in superb style with a super-clear 16 million colour AMOLED screen.
That's not the end of its talents, though – not by a long shot. With superb 8 megapixel camera, GPS and slick touchscreen interface, the Omnia HD is perfect if you can't decide between a high-end feature phone or a touchscreen smartphone – the Omnia HD gives you both!
Read our full Samsung i8910 Omnia HD review to see just what this mighty phone can offer you.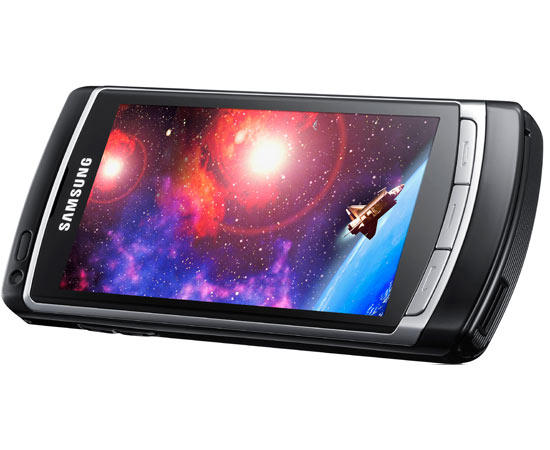 Samsung i8910 Omnia HD Overview
Imagine having a phone with the best video recording features of any phone on the market in your hards right now. Imagine not just watching HD videos on a glorious crystal-sharp AMOLED touchscreen, but recording HD videos as well – again, right from the phone in your hand.
Couple that with a tonne of other superb features, serious power and storage, and a slick touchscreen interface, and you've got some idea of what it's like to own the Omnia HD
It's based on the same Symbian S60 Fifth Edition platform as the Nokia N97, yet it's better than Nokia's phone in so many ways. Its interface, for example, is based on Samsung's TouchWiz interface that's used in most of its touchscreen phones, but it's been jazzed up a bit to cope with the Omnia HD's enhanced set of features.
And it's this feature set – combined with its ease of use thanks to the touchscreen interface – that really sets the Omnia HD apart from the competition.
That's the promise of the Omnia HD. Our mission is to see how well it lives up to it!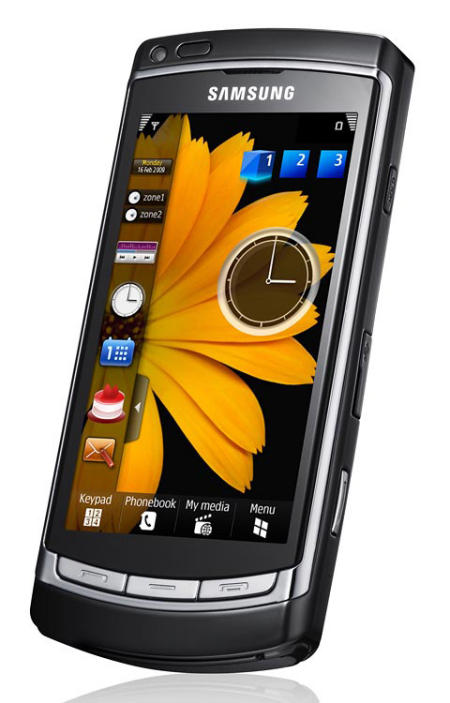 What you'll like about the Samsung i8910 Omnia HD
The first thing you'll love about the Omnia HD is the screen, simply because it's so clear, with stunning colours and superb contrast. It's a 3.7″ AMOLED touchscreen display, which is perfect for showing off video – which is just what Samsung intended, as the Omnia HD, as its name suggests, is all about video.
Remarkable 720p Video
Not just playing back video on its gorgeous screen – the Omnia HD can also record 720p HD video at 24 frames per second as well, which, although maybe not quite up to the standards set by your average Blu-ray player, is still better quality than that of any other mobile phone on the market.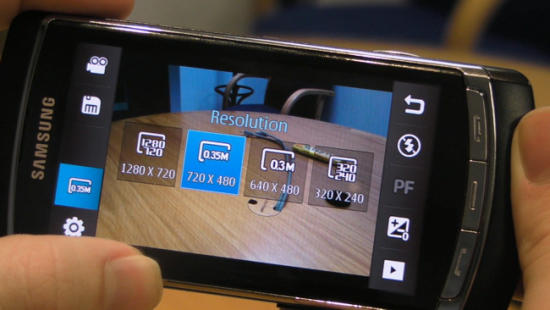 The video player will also playback HD video in tonnes of different formats, including MPEG-4, WMV, H.263, H.264, XVid and DivX. It's processor, an ARM Cortex-A8 CPU running at a storming 600 MHz, is more than up to the task of playing the videos back without any jitter as well, even at bit rates of up to 8Mbps, which is stunning.
With 16GB of storage built-in, and a further 32GB available if you plug in a microSD card, you can play pretty much any video in any format – just upload it onto the Omnia HD and watch it in seconds.
If it's the best video of any mobile phone you're after, look no further – the Samsung i8901 Omnia HD is the best in class, so you might as well buy it now!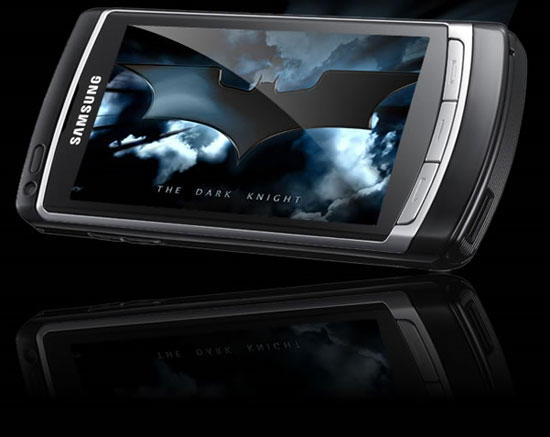 High-end 8 megapixel camera
Samsung haven't just given you a great video phone, though – they've also equipped the Omnia HD with a tonne of other features as well.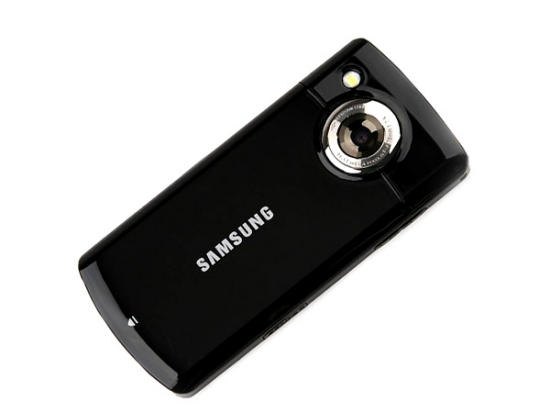 If it's the camera you're more interested in, for example, you'll find an 8 megapixel camera on the back of the Omnia HD, complete with the following features:
auto-focus
LED flash
geo-tagging,
face detection,
Smile Shot
exposure compensation
large range of adjustable ISO settings
adjustable sharpness and contrast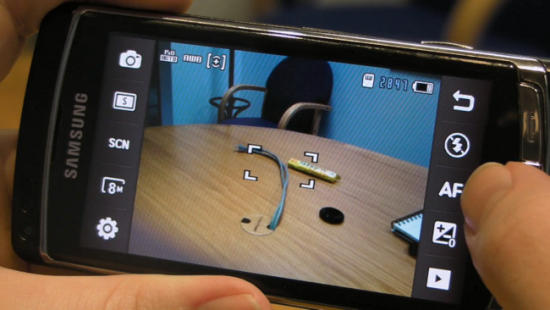 The camera's so good because it uses the same unit found in the Pixon 8, which was one of the best camera phones on the market when released, and still beats many mobile phones on the market today.
So again, if the camera is important to you, the Omnia HD's camera tops every other smartphone's camera unit on the market today. So again, stop reading, if it's a great video and camera phone you need, go buy an Omnia HD!
Share your media
If you love not just capturing media such as video and photos, but sharing it as well, the Omnia HD is perfect for you. Not only is it equipped with 7.2Mbps HSDPA for super-fast downloads, and HSUPA for fast uploads, it also supports DLNA and UPnP.
What are these, you ask? Technologies that let you share your pics and videos across any other DLNA-equipped device. For example, you can see your Omnia HD's pics on your DLNA-equipped HDTV or digital photo frame, swap videos from your PC to your Omnia HD, or even browse all the media on your Omnia HD from your PS3 or XBox 360.
Just plug your Omnia HD into any DLNA-equipped device via the included video-out cables, and whatever's on your Omnia HD can be seen on the attached device.
Music, maestro!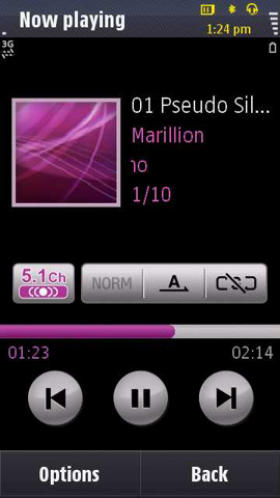 The Omnia HD uses Symbian S60 Fifth Edition, which is also used by Nokia's 5800 XpressMusic. Because of their shared roots, both phones have exactly the same music player, which has a great set of features and is extremely easy to use.
In fact, because of the Omnia HD's bigger and clearer display, and its much better user interface, the whole music experience on the Omnia HD is much better than on the Nokia 5800, despite the 5800 being a dedicated music phone.
The Omnia HD will play music in loads of different formats, including MP3, AAC, AAC+, Enhanced AAC+, MIDI, and XMF. It also comes with 5.1 channel sound, various sound effect, an equalizer and visualizations. There's even a CoverFlow-like display of album art for when you're choosing your tunes.
Blending feature phone features with smartphone smarts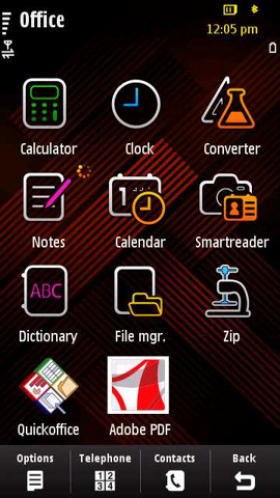 One of the great benefits of the Omnia HD is that it blends feature phone features with smartphone smarts.
So not only do you get aGPS built-in, for example, you can also use mapping applications like Google Maps exactly as you would on any other touchscreen phone. The Omnia HD's touchscreen is capacitive, so moving maps around and zooming in and out is super-slick and ultra-responsive.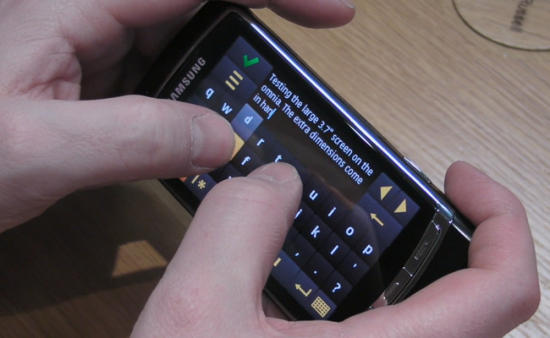 The same is true for the Web browser. It's the same Web-Kit-based browser found in most Symbian-based phones, such as Nokia's N-Series. On the Omnia HD, though, it's even easier to use thanks to the stunning clarity of the screen and the super-responsive touchscreen.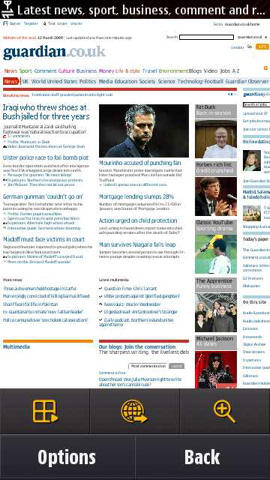 Add to all this the plethora of smartphone apps that are bundled into the Omnia, inlcuding the ability to read and edit Microsoft Office documents via the QuickOffice app (though you have to pay extra to get the app's full features), and the Omnia HD can deservedly be called a smartphone – particularly when compared to the Nokia N97, which it trounces!
What's not so good
The Omnia HD has a few minor quiblles, largely focusing on its user interface. Although it's a version of Samsung's TouchWiz, it's still based on Symbian S60, which is getting a bit long in the tooth. Equally, the TouchWiz tinsel isn't quite so polished (or intuitive) as other recent smartphone interfaces, such as those from HTC or Motorola.
That's said, it's leagues ahead of the Nokia N97's, so it's not exactly a bad user interface. You just wouldn't buy the phone because of the interface, which is pretty much the direct opposite of the iPhone. But then, you'd never buy the iPhone because of its features, and you most certainly would the Omnia HD!
Video of the Samsung Omnia HD
See for yourself the power of the Omnia HD's video capabilities, and just check out the quality of that screen:
Think your mobile phone's good with video? It's not even close to the Omnia HD!
Summary
The Samsung i8910 is a superb phone that blends the best of the feature phone with the touchscreen slickness of the smartphone, with no compromise between the two.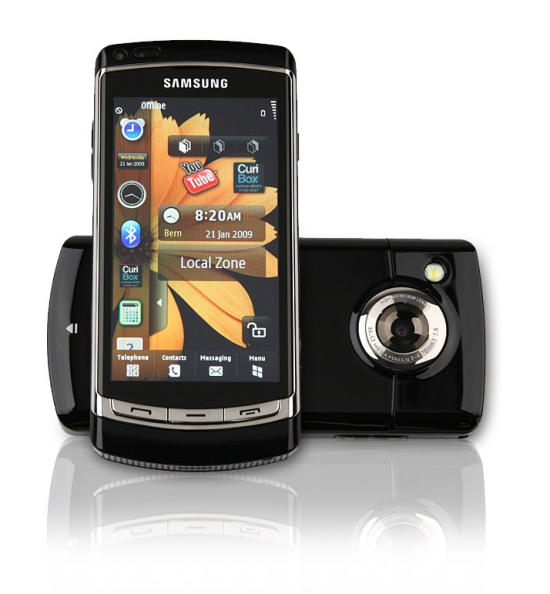 Whereas most smartphones offer you a slick interface with weak features (such as the 3 megapixel camera of the iPhone 3G S), while most feature phones do the exact opposite, the Omnia HD gives you the best of both worlds – a slick touchscreen user interface, powerful processor, glorious display and the best video capabilities of any mobile phone on the market.
If you're looking for a superb multimedia phone with unbeatable features, complete with the wow factor and with no compromises, then put the Samsung i8910 Omnia HD at the top of your list.
See full details, specification and current prices of the Samsung i8910 Omnia HD.
[Pictures courtesy of AllAboutSymbian]