As promised, here's my full hands-on LG GW620 InTouch Max review. The LG InTouch Max is a new Android phone from LG that's aimed firmly at the budget end of the market. Competing with the likes of the T-Mobile Pulse and HTC Tattoo, it's got no end of competition.
To help give it an edge, LG have endowed it with a slide-out QWERTY keyboard and a 5 megapixel camera.
Is it enough though? Is the LG better than the competition, or has its cheap price rendered it useless?
Find out after the jump!
(Disclosure: LG loaned me this handset for review. My opinion's unbiased, though, as you can see from a previous review I did with the Nokia N97, which Nokia sent me last year)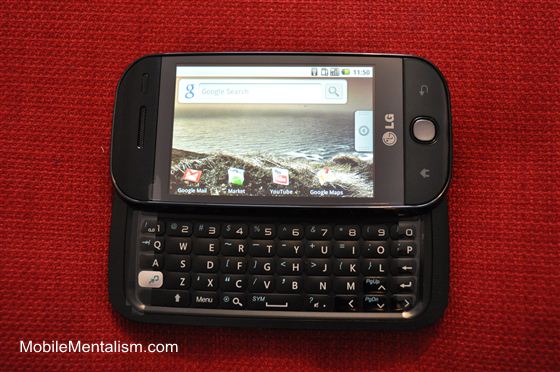 LG GW620 InTouch Max Overview
The InTouch Max looks nothing particularly special from the outside. It's a standard touchscreen smartphone, and looking at the outside reveals the USB slot, microSD card slot, 3.5mm headphone jack and 5 megapixel camera with LED flash.
On the front are three buttons – a home button, a back button, and a navigation pad. Its overall shape is nice and smooth, and should fit into your pocket perfectly easily.
One nice touch of the InTouch Max is the slide-out QWERTY keyboard. This is extremely usable, with keys that are big enough to use comfortably with your thumbs, with enough room between keys to stop you hitting the wrong key accidentally. All the keys are where you'd expect, and there's nothing to get in the way of your thumbs while typing.
Indeed, although the InTouch Max is a budget smartphone, its keyboard is much more ergonomic than many smartphones costing a lot more.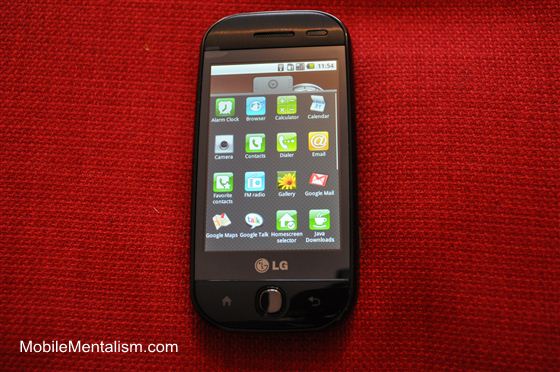 What you'll like about the LG InTouch Max
The LG GW620 InTouch Max has a lot going for it. True, at its heart it's just a standard Android phone that hasn't been altered all that much, but for the price, it's a cracking bargain.
Here are just some of the reasons why the InTouch Max is the perfect budget smartphone.
Decent 5 megapixel camera beats other smartphone cameras
Physical QWERTY keyboard makes text entry a breeze
Pre-loaded QuickOffice lets you view Microsoft Office documents, while the keyboard makes editing them a snap
Super-fast 7.2Mbps HSPDA makes the mobile Web come alive
Pre-Loaded Moxier apps sync with your work's Microsoft Exchange server, letting you view your Outlook email on the InTouch Max as easily as your GMail
LG's SNS app integrates Facebook and other social networks into your contact manager
Fast, responsive touchscreen means you can do whatever you want without getting frustrated
Small and slim, the InTouch Max will fit into your pocket without leaving a conspicuous bulge
In short, the InTouch Max does pretty much everything you'd want from a smartphone. It's not the prettiest phone in the world, and its user interface certainly hasn't had a lot spent on it, but it does everything you need it to do very well indeed.
And did I say it's a bargain?!
What's not so good
Due to its budget price, the InTouch Max has cut a few corners. Its touchscreen is only resistive, for example, rather than capacitive, and so isn't quite as responsive as some other touchscreen phones. That said, it's an extremely good resistive touchscreen, and so responsive that you don't need a stylus, unlike the Nokia N97.
In addition, the video recording of the InTouch Max is a bit poor, while the user interface is pretty uch the stock Android interface.
None of these downsides are deal breakers, though, particularly if you're looking for a workhorse smartphone that does the job exceptionally well for a bargain price.
LG InTouch Max's multimedia features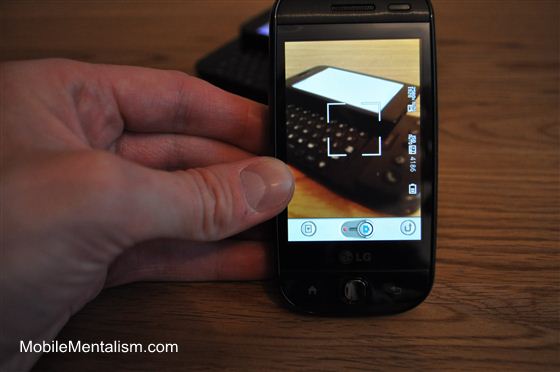 The InTouch Max features both a 5 megapixel camera and a video recorder. The camera works well and comes with a variety of settings, letting you adjust things such as white balance. The pictures it takes both indoors and out look godd, though the LED flash won't work too well in dimly lit surroundings.
LG have tried to add a bit of flair to the gallery app, but frankly, they needn't have bothered! You can slide between images easily with your finger, but the transition effects are a bit poor, the overall user interface is just the standard Android interface, and with only a 3″ screen, you can't make out all that much detail anyway!
In addition to the camera and video camera, there's also an MP3 player, but again this is nothing special. LG also threw in an FM radio, but you'll be using the InTouch Max more for its smartphone features than its multimedia features.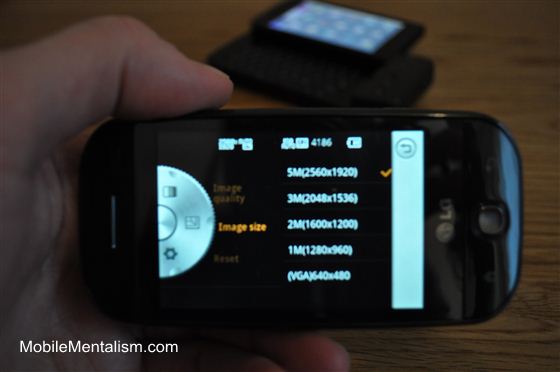 The LG InTouch Max's smartphone features
It's with its smartphone features that the LG InTouch Max really shines. Its fast and responsive, its physical QWERTY keyboard really is excellent to use, and with both QuickOffice and the Moxier app built-in, you can work on your documents and stay in touch with your works email no matter where you are.
So whether you're making last minute changes to your presentation or simply writing urgent blog posts, the InTouch Max is the perfect tool for the job.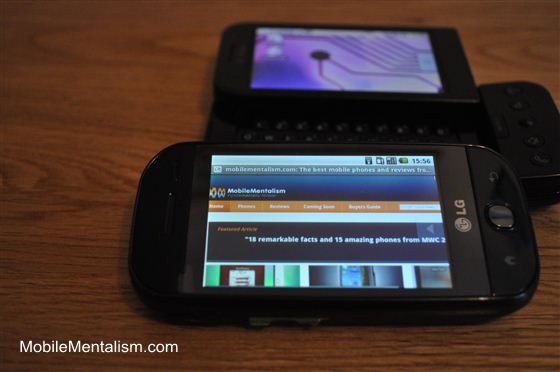 LG GW620 InTouch Max video review
Enough with the waffle – here's my video review of the InTouch Max (apologies for the dodgy editing – YouTube have recently restricted their videos to 10 minutes in length, but I only found this out after I'd sent my review copy back!)
LG InTouch Max vs T-Mobile G1
In many ways, the InTouch Max shows how far the Android platform has come since the first Android phone, the T-Mobile G1, was launched in 2008. Not in terms of features – both phones offer up pretty much the same in terms of hardware and software – but in terms of the actual device itself.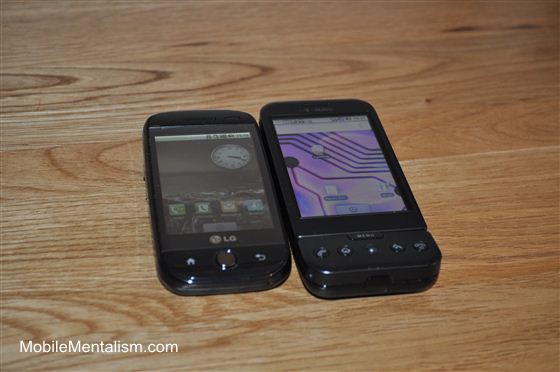 Just take a look at these side by side photos of the InTouch Max and G1, and see for yourself just how much smaller the InTouch Max is compared to the G1. Both phones are just as usable as each other, but the InTouch Max has the better keyboard, better camera, is faster, much lighter, much smaller overall, and doesn't have the ridiculous chin of the G1!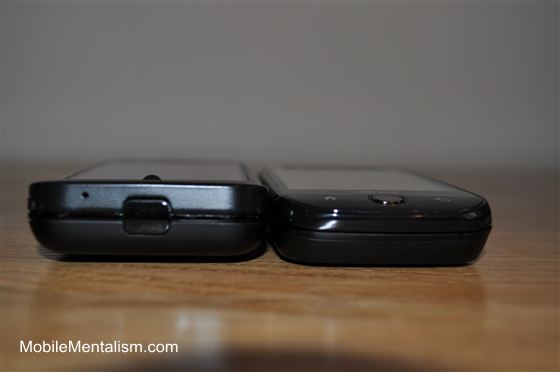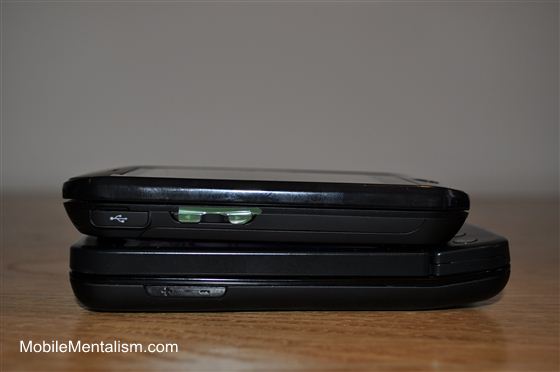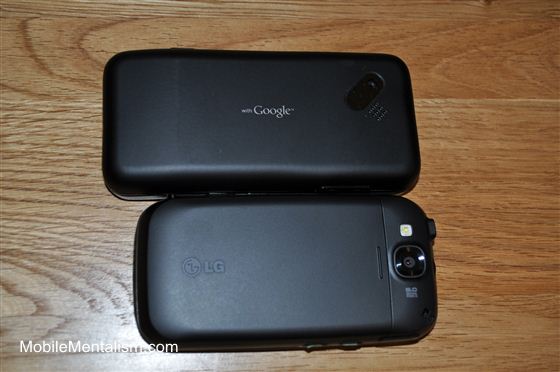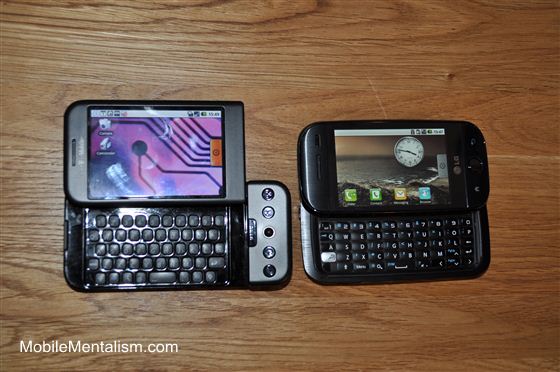 Oh, and the InTouch Max is also much cheaper!
Should you buy the LG InTouch Max?
So is the LG InTouch Max the phone for you? Well, it depends what you want from your smartphone. If you're looking for red-hot hardware, the best specs and more gadgetry than the Gadget Show, you should look elsewhere. Equally, if you're looking for a beautiful user interface, then the HTC Tattoo would be perfect.
But the killer feature of the InTouch Max is, without doubt, its combination of its low price, its cracking responsiveness and ease of use, and its physical QWERTY keyboard. This combination makes the InTouch Max the perfect smartphone for you if you're looking for a no-nonsense phone that'll let you work without getting in your way, and all for a budget price.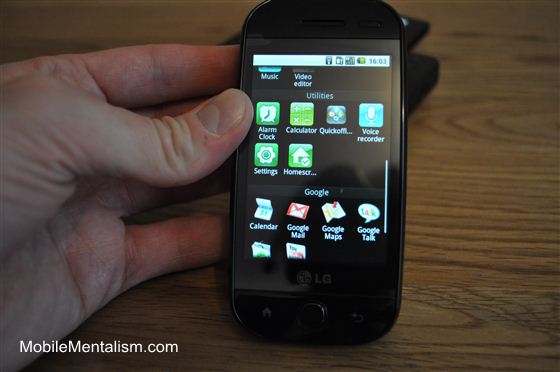 In other words, the InTouch Max is not a fashion statement, but as a cracking smartphone that's genuinely usable – and for a superb low price – it's hard to fault.
Highly recommended for smartphone users on a budget.
You can buy the LG InTouch Max now can for free from just £20 a month. Or for a bit more, choose from loads of free gifts, including a Nintendo DSi and XBox 360.