OK, now I'm getting really confused! This is the new Smasung Galaxy Tab, a new iPad-beating tablet from Samsung that's based on its Galaxy range of phones, and which uses Android 2.2 FroYo. It is, to all intents and purposes, a Samsung Galaxy S phone, but in tablet form.
What this means is that instead of a 4.3″ touchscreen, you get a 7″ one instead. That's 3″ smaller than the iPad's, but 2″ larger than the Dell Stealth, which itself doesn't quite know whether it's a phone or a tablet.
So now we have phones/tablets that run pretty much the whole range from 2.5″ for the cute Sony Ericsson Xperia X10 Mini, through 4″ for the HTC Desire and its ilk, up through 5″ for the Dell Stealth, 7″ for the Samsung Galaxy Tab, and 10″ for the iPad.
And they're all touchscreen devices! So which is a smartphone and which is a tablet? Where's the cut-off point?!
It's making my head hurt!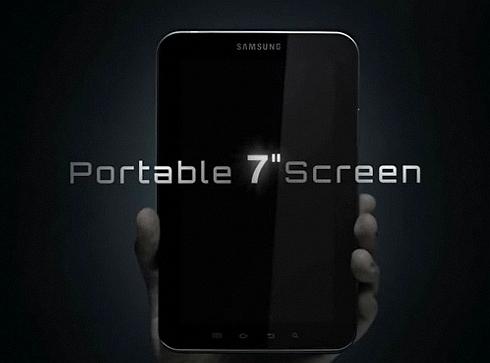 Videos of the Samsung Galaxy Tab
OK, on with the Galaxy Tab. Not too much is known about it at the moment, but apparently Samsung will be showing it off on September 2nd at the IFA consumer electronics show in Germany, so at least we own't have too to wait.
We do know, though, that it will come with a 3.2 megapixel front-facing camera, a Swype virtual keyboard, and that its screen will use AMOLED technology, so should be really clear.
If it really is just a Galaxy S in tablet form, though, then we can pretty much guess what it's going to like!