LG had a very poor 2010. So bad, in fact, that they almost wrote the year off in terms of trying to compete and focused instead on releasing cutting edge phones for 2011. At least, that's what it seems like as fresh from announcing the world's first dual-core mobile phone, the LG Optimus 2X, we now get these leaked pics of a new, unidentified LG phone, codenamed the LG B, which appears to have a superior screen than any other phone on the market.
With a brightness of 700 nits (a nit is a unit of light approximately equal to an average candle), the LG B's new screen is more than twice as bright as Samsung's Super AMOLED, and nearly 50% brighter than an iPhone 4.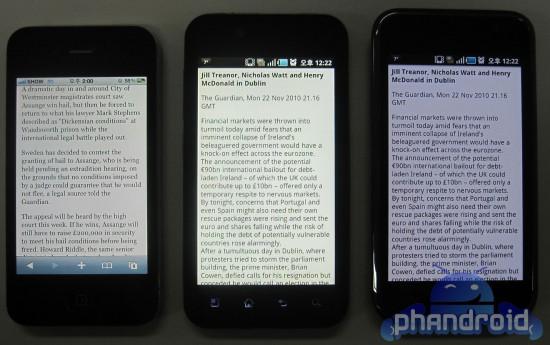 More details of the LG B
The great thing about this rumour, though, are the pictures that back it up. As you can see, this is no leaked bit of info, this device acutally exists. It's super-thin, as well, easily beating the iPhone 4 for thinness.
So with the LG Optimus 2X easily trouncing the competition in terms of horsepower, and now the LG B sporting the best display on the market, it seems we've reached yet another new benchmark for smartphones to aspire to. 2011, it seems, has LG coming out of the gates the fastest and setting the standard the other manufacturers need to beat.
LG's phones should be on display at CES2011 in a few weeks' time, and it's going to be mighty interesting to see what the likes of Samsung, HTC and Motorola come up with to challenge LG's new-found confidence.
So far for 2011, we've already had dual-core phones, super-bright curved screens, huge cameras with optical zoom, NFC and full 1080p video confirmed – and it's still 2010!
[Source: Phadroid]