Microsoft has just announced its new update to Windows Phone 7.
Called Mango, the new update apparently includes 500 improvements over the existing mobile OS. Clearly not all of these will be huge improvements – in fact, some are so minor, they're simply typo corrections!
But some also represent a huge improvement over the first version of Windows Phone 7.
But is it enough to move WinPho7 closer to the iPhone4 and Android Gingerbread? Can Microsoft's latest efforts help WinPho7 compete more effectively and actually become a credible third alternative?
Judge for yourself with this list of the best of the improvements to WinPho7 that were announced today.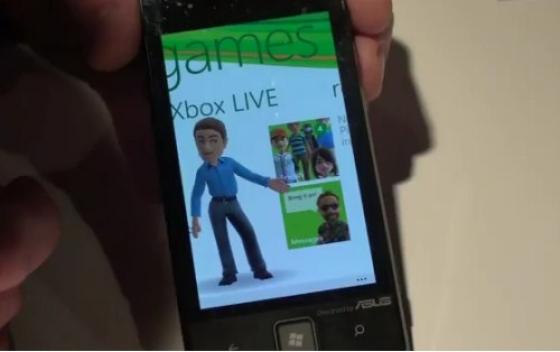 Mango's core features
With Mango, Microsoft focused on improving three core areas of Windows Phone 7:
Communications
Applications
Internet
Improving Communications
Microsoft has put a lot of effort into making WinPho7 an integrated communications experience, letting you communicate however you want, whether it be via SMS, email, IM or Social Network, and tying it altogether in one application. Mango takes this concept even further, embedding the integration even tighter into the OS, and enabling new ways of communicating.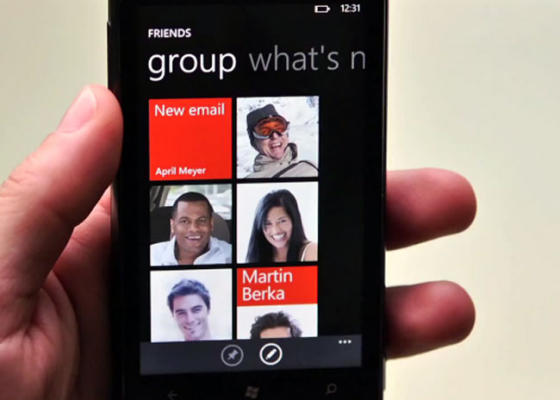 The key new communication features of Mango include:
Email – new Outlook app that threads your messages in a way that the desktop Outlook always should have! Delete an entire thread at once (finally!)
Personal email – you can choose which email accounts are your personal email accounts, and then access them all through a single tile
Groups – group together all of your friends or colleagues into different groups (that you define), and then see all of a group's activities online in one place. Not just Facebook – Twitter and Linked In are now built into the OS and show up on the People Hub as well, so you can see at a glance what your friends and colleagues are up to from whatever social network they're using.
Group broadcast – an excellent idea that lets broadcast a message using whatever network you want (even SMS!) to each member of your group with a simple click
Threads – identifies who's currently online through messenger (MSN Messenger or Facebook chat on either phone or PC) and brings them all together in a single app, so you can see at a glance who you can chat to. Threads also lets you switch seamlessly to communicating via SMS if your contact goes offline.
Radically improved support for applications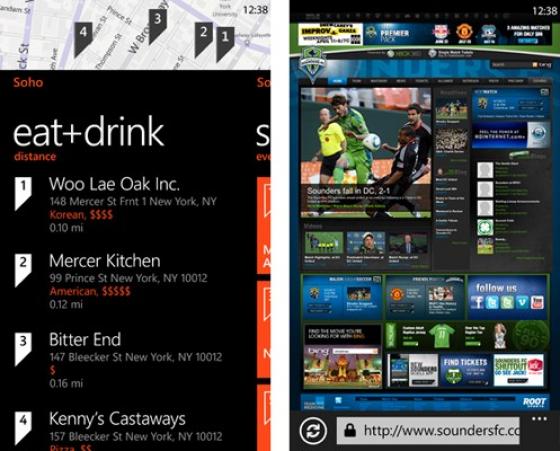 The second core update for Mango focuses on improved applications – both the applications themselves and their tighter integration with the OS itself. The key new features include:
Improved Games Hub – New 3D avatar and deep integration with XBox Live now built directly into the Games Hub
Multitasking – press and hold the task button and you'll see all the applications that are running, and you can switch between them instantly. This works especially well on games, as it'll freeze the game mid-action when you switch away to another app, and will let you resume play where you left off when you switch back. This is particularly impressive when you have two or more games frozen in this way, switching between each of them seamlessly.
Application pinning – you can now pin certain apps to the homescreen and they'll update in the background, showing any updates to you by changing the look of the tile.
Bing – much more integrated into the phone. Instant Answer searches for things near you. For example, search for movies and it'll tell you the latest movies that are on near you.
Quick Cards – an attempt at super-personalized search, Quick Cards present info that's tightly focused on your search and what's around you, all presented on one screen. When you search for an object, such as a product or an event, a Quick Card will appear with as much info that's related to that object, including any relevant apps that installed on your phone.
App Connect – applications can now integrate into search results, so for example, an IMDB app will show up in the Movies results to give you more info on the movies if you need it.
SkyDrive cloud storage support for Documents as well as photos, with tight integration with the Office Hub
Smarter keyboard that predicts next words as well as the word you're currently typing
Social Calendar, which integrates with Facebook events
Voice recognition – if you're listening to music and a text comes in, the phone will read the text to you. You can respond via voice as well and the phone will translate it for you.
Glorious new British Airways app lets you choose – and even see in 3D – the seat you want on your next flight
Photos – as well as greater support for Flickr, Mango also features face recognition, which can help you tag your photos much more easily
Better Zune support, including the ability to search for podcasts directly from your phone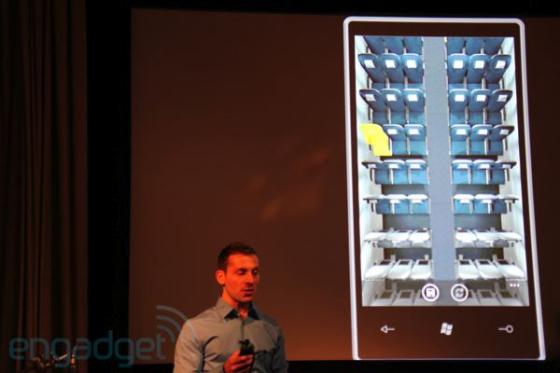 Internet beyond the browser
Microsoft wanted to make the Web experience go beyond the browser, and so provided a way for many web-based apps and service to permeate through the phone, rather than just be available from the browser or specific apps. Examples include tight Twitter, Facebook and Linked In integration, as well as special hooks for apps to connect to Bing search results.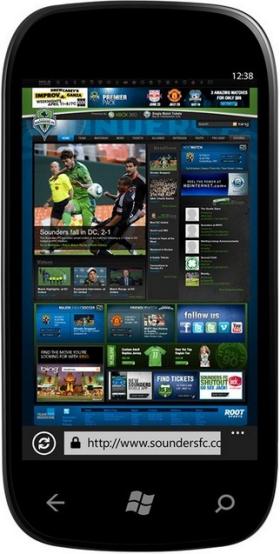 The key features include:
Internet Explorer 9 – brings HTML 5 to Windows Phone 7 complete with hardware acceleration to make browsing the Web as fast as possible
Local Scout – Microsoft's version of Google Places, it shows you all the things you can do and all the places you can eat etc., within your immediate location
Bing Vision – Google Goggles for Bing, Bing Vision lets you aim the camera at a product (at least for books and music) or its QR code or barcode, and will then instantly bring in information about that product, such as where you can buy it from (online and offline). Bing Vision is now built into the OS rather than downloadable an external app. One neat feature of this is that it works really quickly – just point the phone at the product and the info automatically jumps out at you. It can also read signs and translate them into different languages.
New device manufacturers announced
As well as Microsoft's existing manufacturing partners (HTC, LG, Samsung and Dell), the company also announced that ZTE, Acer and Fujitsu will be releasing new Mobile Phone 7 devices. Plus Nokia, of course, but that's support that Microsoft has had to pay billions for (and $80 billion more, if rumours of Microsoft buying Nokia are true)
Too little too late?
Although a huge improvement over the current generation of WinPho7, Mango still has some significant problems to overcome if it wants to compete effectively with Apple and Android. Chief among these include:
The hardware – a big one this, the next generation of Windows Phone 7 devices will all be single core, and they won't be out until Autumn 2011 at the earliest. By then, Android handsets will have moved to dual-core processors running at 1.5GHz (they're already running at 1.2GHz) and NVIDIA are promising quad-core devices by then – and that's before we even get to what Apple's planning with the iPhone5! Qualcomm has stated that its providing the processors for the range of new hardware, but its single-core Snapdragons all the way.
The range of manufacturers – although Samsung, LG and HTC are all on-board, they've all stated that Android is their primary focus. The new manufacturers – ZTE, Fujitsu and Acer – are all second-tier handset developers that are hardly likely to push Windows Phone 7 hardware forward, and will more likely bring forward a set of cheaper mid-range devices. More worryingly for Microsoft, it shows a lack of support by the big device manufacturers, with Motorola and Sony Ericsson notable by their absence, and Nokia only joining the party thanks to Microsoft's billion-dollar bribe
Time to market – this is the real killer. Mango won't be available until Autumn 2011 at the earliest, and that's if everything goes according to schedule. Currently, Mango is on a par – roughly – with Android Gingerbread and iOS4, although in some areas it's still got some catching up to do. By the time it's released, though, it'll be competing with Android Ice Cream Sandwich and iOS5, both of which will be major improvements. Worse, Microsoft's release schedule is a new update every year, meaning that the OS will always be a year behind its competitors.
Bing – whatever you think of Google, Bing is simply horrendous, being much less accurate as a search engine, particularly outside of the US. Making Windows Phone 7 tied so closely to such a bad search engine renders the whole mobile Web experience next to useless.
Bing Vision – although useful, it's not as rich as Google Goggles, as it will only recognize books, CDs, QR codes and bar codes, not objects (it also won't complete Sudoku for you like Google Goggles can!)
Too few applications – currently there are only 18,000 applications for Windows Phone 7. Compare this to the 200,000 for Android and 500,000 for iOS, and you can see how big a mountain Microsoft has to climb to get the all important developer support
No Flash or Silverlight support in the browser. This may not be a deal-breaker (certainly Apple doesn't think so), but it makes the browsing experience much less rich than Android's.
No tethering – whereas Android phones can be mobile WiFi hotspots for up to five devices, tethering for even a single mobile device still isn't supported by Mango.
Microsoft's official Mango video
See for yourself what all the fuss is about with Mango:

Summary – does Mango make Windows Phone 7 a credible alternative?
Make no mistake, Mango is a huge improvement over the original Windows Phone 7 and brings Microsoft's mobile OS bang up to date. It looks as good as it always did, but now features much of the kick-ass magic that makes the iPhone and Android devices so compelling.
With Mango, Windows Phone 7 is finally a credible alternative to the two smartphone powerhouses. But there's a huge but (as it were!).
Windows Phone 7, even with Mango, is behind the curve. With an annual release cycle, it's destined to stay one step behind Apple and Android, at least until 2012, as Mango has still not overtaken iOS or Gingerbread, and still has another 5 months to go before its released. In addition, because of Microsoft's decision to lock the hardware down, the hardware features of the device are also behind the curve, while the company's stubborn decision to stick with its own – deeply flawed – search engine makes the whole mobile Web experience frustrating.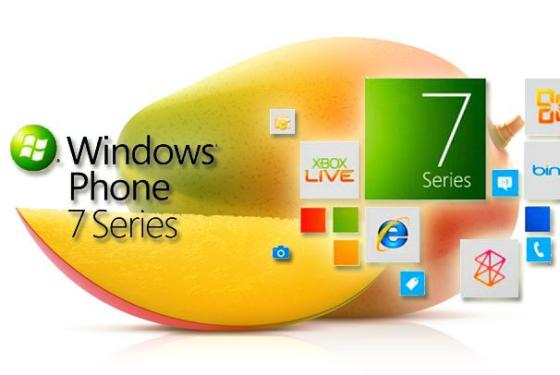 Worse, Windows Phone 7 only has 18,000 applications at the moment, barely a tenth of the competition's, and the first generation of the devices sold poorly. The last thing it needs is to be seen as a phone OS that's not quite at the cutting edge. That's what happened to Nokia's Symbian, and look how that turned out!
Windows Phone 7 still has promise and it's a fascinating alternative to the encumbents, but Microsoft is effectively hobbling its OS with these poor decisions.
[Source: Engadget Mobile, PocketNow]