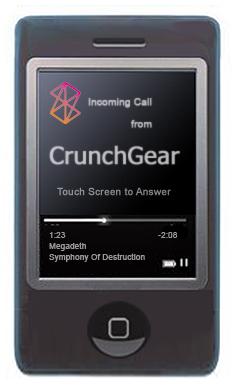 Mmmmm, don't you just love juicy rumour?
We're all bored of the Apple iPhone now that it's finally emerged from the (not particulalry dark) shadows, and although the Google phone is starting to garner a little interest, there's still not enough known about it or Google's presumed intentions to make for interesting reading…yet!
However, another new rumour has just jumped straight into the limelight: Microsoft are set to go head to head with the iPhone with a new Microsoft Zune phone!
Can Microsoft make a good mobile phone?
Microsoft is not exactly starting from the best of positions if it's to build a successful phone. The current Zune MP3 player was meant to take on the iPod, but has ended up becoming just another MP3 player, with harsh DRM software that stops its peer-to-peer WiFi tune-sharing feature being of any use, and a style and interface that isn't exactly Apple-elegant.
Add to that Microsoft's often-criticized foray into mobile phone Operating Systems with Windows Mobile (now currently up to version 6.0, and still hardly used by anyone – indeed, it won't even be used by Microsoft in the Zune phone, which is not exactly a ringing endorsement for the software!), and it doesn't seem Microsoft has much in its armoury to compete with existing phone companies, let alone the iPhone.
Tight integration with the Zune Phone and XBox 360
According to the rumour, however, the new Zune phone will integrate with the XBox 360, enabling users to stream data to and from the games device. This presumably means you'll be able to stream your tunes to the XBox for output through your HiFi or home cinema set-up, and watch videos from your XBox on your Zune phone. You'll also be able to connect to XBox Live and Zune Marketplace for ready access to content.
Indeed, the XBox 360 connection is a strong one, with the phone's interface rumoured to be based on a mix of the XBox's and the current Zune's. This makes sense for Microsoft, as building the Zune arund the XBox 360, which is increasingly becoming a monster hub of home entertainment, gives the Zune an interesting edge over its competitors – one it'll certainly need.
If we assume that the future of home entertainment is digital, with content freely streaming between multiple devices, then a media hub of some form is crucial. Microsoft already has one of these in the shape of the XBox 360, which now has its own HD-DVD add-on, and will even let you download films as well as games.
Integratring the Zune phone with all this media hubbery will let you control your media through your phone (with the phone effectively acting as a remote control), watch or listen to your media no matter where you are in your house, and even take your media to your office or mate's house with you.
Of course, all this is only of any use if you actually own an XBox 360, and there are similar media technologies such as DLNA currently being worked on by the mobile phone manufacturers, but tying in with the XBox 360 is a smart strategy that at least gives the Zune phone something with which to differentiate itself from its competitors. Let's just hope Microsoft do a better job of the Zune phone that they did with the original Zune and with Windows Mobile (all six version of them!)
As for the authority of the rumour: both Gizmodo and CrunchGear have both had the rumour confirmed from two independent (and reliable) sources, so it looks pretty strong. 2007 really is shaping up to a golden year in mobile phone land!
[Source: Gizmodo, CrunchGear]