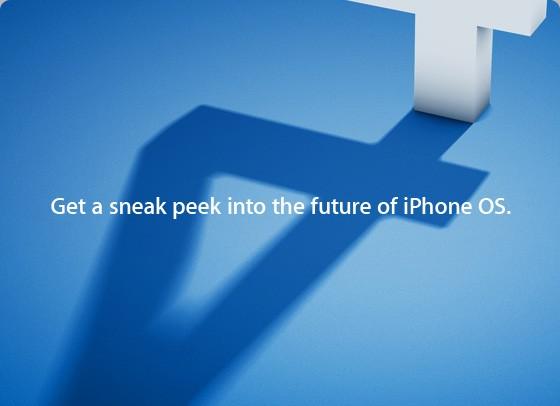 After all the hype of the Pad's release last week, attention has now shifted to the Apple iPhone 4, details of which will apparently be announced in 20 minutes time at 18:00 GMT.
So I thought I'd live blog the event as it happens. And by live blog, I mean blogging remotely, as I'm not actually at the event! So think of this as a live, as it happens, real time opinion!
Oh, and I'm not sophisticated enough to have automatic updates, so you'll have to keep on hitting refresh, or else follow me on Twitter.
All the coverage after the jump.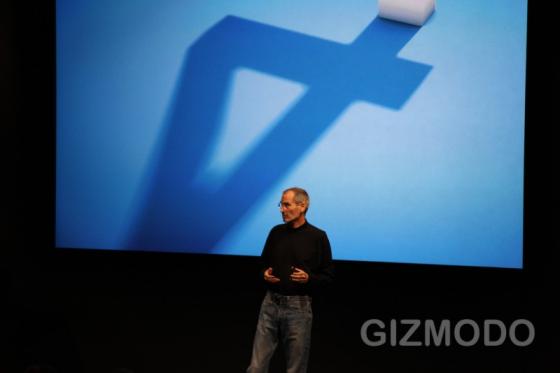 And we're off Steve's on stage strutting his stuff!
Steve's waxing lyrical about the iPad. Interesting – wonder how he's going to tie the iPhone 4 in with the iPad?
4 billion apps now downloaded onto millions of different iPhones. Yeh yeh, get on with it!
Hmmm – he's now talking about the 3,500 iPad apps. Does he not know this is meant to be an iPhone event? What are you up to Mr. Jobs?!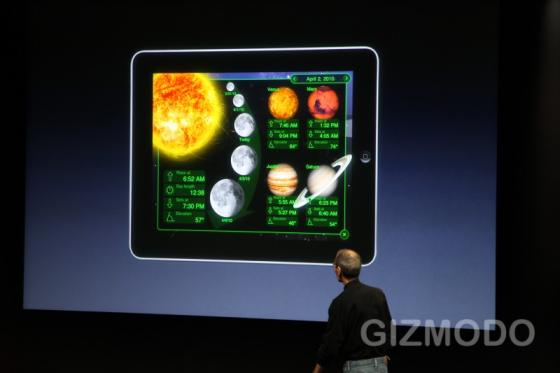 Steve's showing off iPad apps at an #iPhone event. Hmmm – is the new iPhone 4 going to be the same size as an iPad, with a scrolling screen?
Ah, here we go – iPhone news now!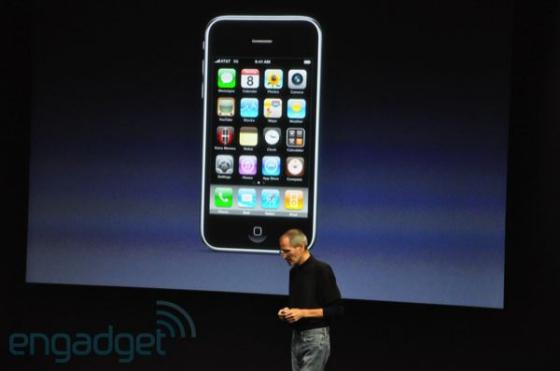 Blimey, Android has captured 19% of mobile browsing already – Nokia really need to be worried about that! Check out this graph Steve's showing – none of the top 5 are there at all!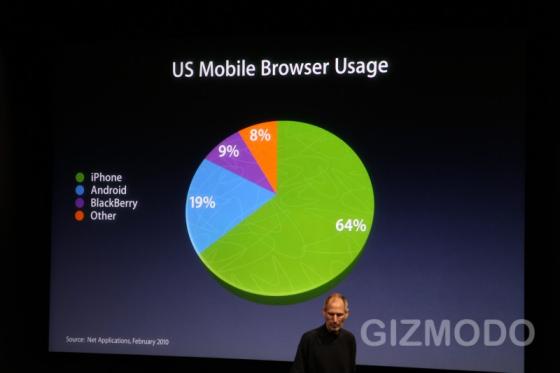 iPhone 4 OS will ship this summer. Here's a pic of what's coming: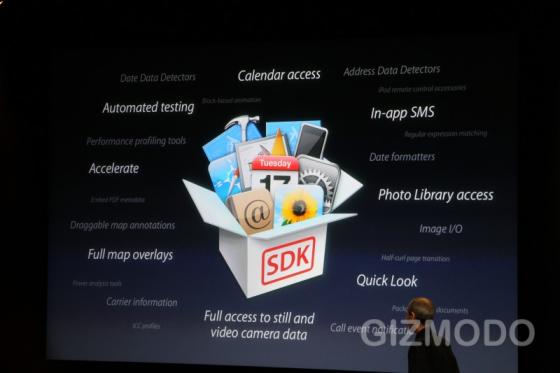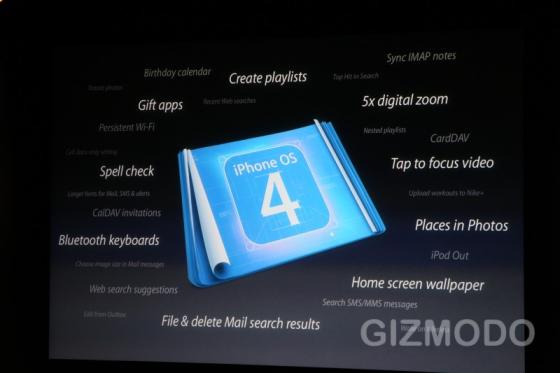 Tentpole 1: Multitasking
And multitasking! Jobs claims they didn't include multitasking before because it drained the battery too much, but now they've figured out how to do it without draining the battery. Which makes you wonder why they didn't bother with multitasking on the iPad then! Or why it doesn't drain the battery overly in Android phones!
Other things you can do with the iPhone 4:
gift apps to your friend and family
5x digital zoom (big whup!)
add places to Photos
add homescreen wallpaper
iPod Out
Web search suggestions
Bluetooth keyboards
In other words, some small tweaks.
However, there are, apparently, 7 "tentpole" features, and Multitasking is the first. Ooh, wonder what the other 6 are?
A few demos now, showing off multitasking. Guy form Pandora is talking about you can play Pandora, then use another app, and still Pandora will keep on playing.
Yeh, forgive me for not being overly excited, but this is just multitasking at work. I know about multitasking, thanks – had it on my G1 for nearly two years now. Come on, show us something new!
Having to stop myself from ranting. Apple are still showing off multitasking like the world has never seen it before. Nokia did this at the N900 event last year. Companies annoy me when they do this. They basically introduce a feature that the competition has had for years, and then start talking about it like you've never seen it before in your life. Very patronising, and all it means is you've caught up with the competition at last – like, big whup!
Now they're talking about background location, and how the iPhone 4 will be able to notify apps of the phone's location in the background – another advantage of multitasking!
Intriguing – Makes me realize that the iPhone had fallen behind Android without anyone (me included!) actually realizing. Curse Jobs & his reality field!
Also a few more notifications being pushed out to you and available to apps:
push notifications
local notifications
task completion notifications
OK, that's the end of tentpole 1 – now, onto tentpole 2!
Tentpole 2: Folders
Folders are the second tentpole feature of the new iPhone 4 OS. Fodlers let you group apps into different folders

Makes sense – rather than having a screen filled with hundreds of icons, you can create a few key folders, such as Games, apps, social, pics, etc., and group related apps into those folders. Makes things much more organised!
Tentpole 3: Enhanced email
OK, tentpole 3 now – enhanced email. There's a unified inbox, and you can optionally organize your emails by thread.
Tentpole 4: iBooks
OK, so tentpole 3 wasn't particularly interesting, but tentpole 4 is: iBooks!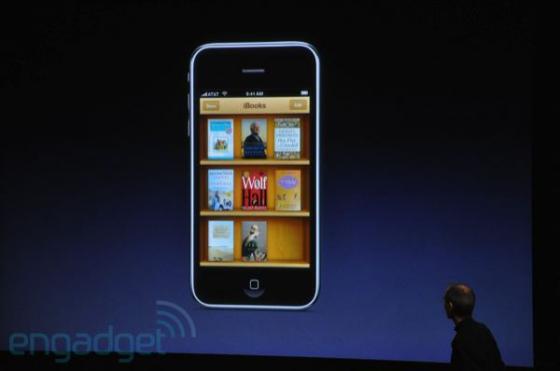 It's exactly the same as iBooks for the iPad, just obviously a lot smaller!
Tentpole 5: Enterprise features
Tentpole 5 is where Apple goes after Blackberry with some enterprise features, including:
data encryption
remote app distribution (IT departments can push apps to their workers' iPhones)
multiple Microsoft Exchange accounts and Exchange Server 2010 support
mobile device management
SSL VPN support
Tentpole 6: Game Centre
Tentpole 6 looks much more interesting – the iPhone Game Centre.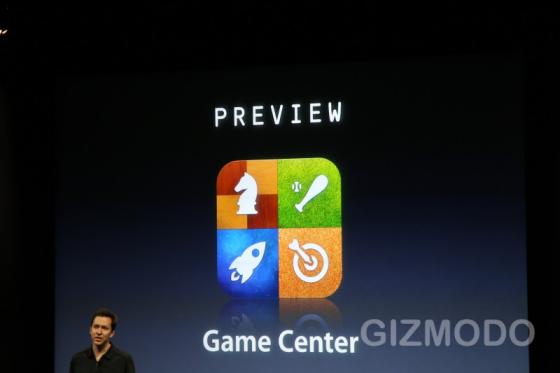 This looks pretty neat – Apple are launching a new social gaming network with everything you'd expect if you've ever played XBox Live: leaderboards, matchmaking friend invites, etc.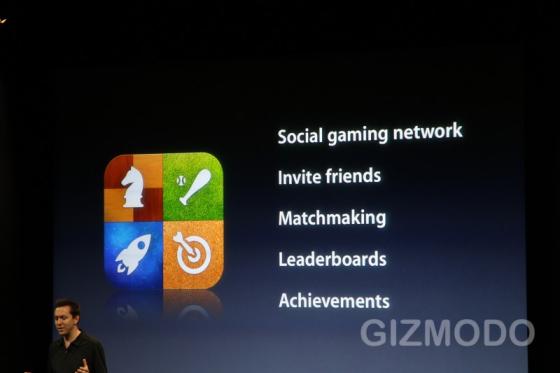 Tentpole 7: iAd Advertising
Finally, the last tentpole is what Steve's calling iAd – mobile advertising built into apps, rather than just included in search results.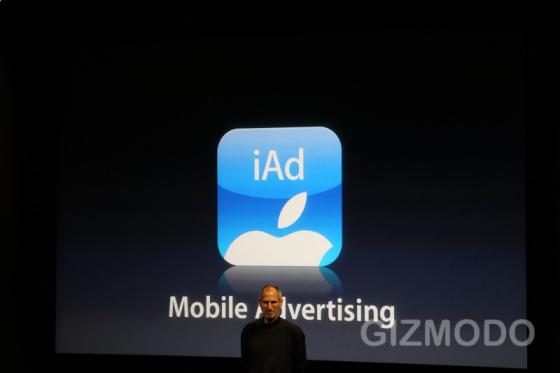 The ads, apparently, will be similar to those on the Web, but with more emotion and interactivity?
The ads are inside the app, with Apple controlling them and giving the app developer 60% of the profits.
Hmmm – so Apple are providing a platform in which all the apps you've ever downloaded can suddenly start springing ads on you (yup – even the ones you've paid for!) – and those apps are all controlled by Apple?! Yikes, talk about Orwellian!
Here's an example. It's an entertainment app site with a banner ad for Toy Story 3 at the bottom of the screen. Click on the banner and the whole screen is taken over by the ad. The ad can include its own game, photos, pretty much anything the advertiser wants – it's effectively an app in its own right (all written in HTML 5) – and you as a user can close it any time.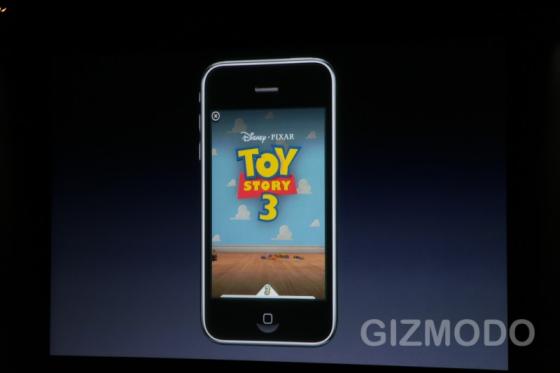 This, Steve thinks, is going to be a completely new way of viewing and connecting with "emotional" ads. In reality, it's an iPhone version of the pop up!
Another ad example, this time from Target, where you can custom design a dorm room.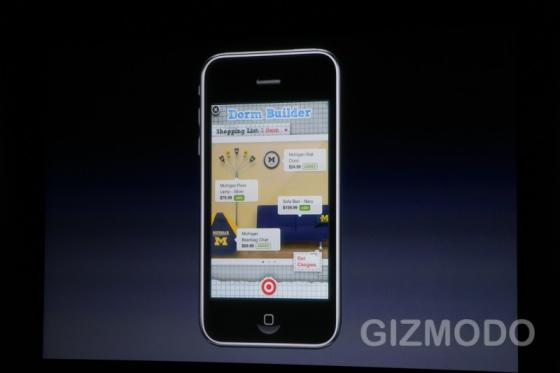 To be fair, this is pretty innovative stuff, with the iAd technology deeply embedded within the iPhone 4's OS. But I just can't help but feel it'll be hugely abused by lame ads. If you think about it, all of this could be done on the Web. The fact that it's not is because no advertiser could be bothered to go to these lengths as the ROI just isn't worth it. So we're left with crap Flash ads at best.
Can't see why the iPhone 4 and iAd will be any different?
Conclusion
OK, that's all folks! iPhone OS 4 is coming to an iPhone 3GS and iPod Touch 3rd generation this summer, so all that you see here (including iAd!) is heading your way real soon if you've got an iPhone in your pocket.
It's been an interesting session. Nothing amazing was announced. In fact, everything Steve mentioned simply made the iPhone as good as the other smartphones on the market today (principally the Android phones from the likes of HTC and Sony Ericsson). It won't be long before these phone manufacturers fight back with something even tastier, and we may just have seen the tipping point at which the iPhone loses its crown.
These new features are good, but they're not earth shattering. And iAd has the possibility of being Apple's biggest mistake as it could potentially alienate existing users and put off new ones.
One thing's clear though – Apple's stopped innovating, at least for now!
[Source and much thanks to: Gizmodo]