The iPhone 4S is here! OK, so that's not exactly what the world wanted to hear as we were all waiting expectantly for the iPhone 5. And just like its name suggests, the iPhone 4S is merely an evolutionary update over the iPhone 4, rather than the revolutionary update we were all hoping for.
In fact, the iPhone 4S seems ot offer no major new features at all. There's a faster processor, bigger camera, better video recording and faster data downloading, but these only put it on a par with its competitors. They certainly bring nothing new to the table.
More promising, though, is Siri, a voice recognition app that lets you control your phone (and potentially even your life) just by talking to it. The demo of this was certainly very impressive, but just how good it works in real life, we'll have to see.
OK, let's take a look at the iPhone 4S in detail to see what's really on offer.
<!-more-->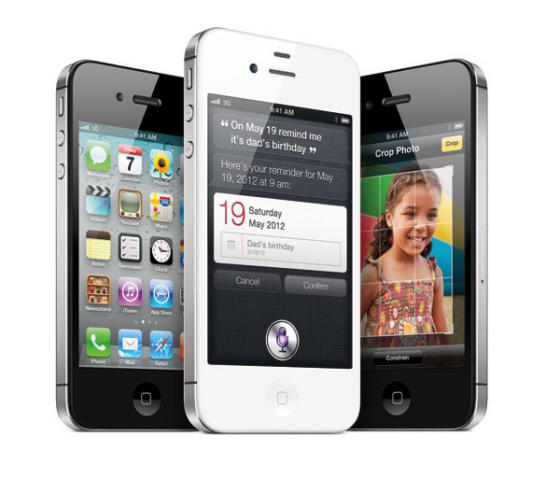 10 headline features of the iPhone 4S
1. A faster iPhone
The iPhone 4S uses the same A5 chip found in the iPad2 which apparently makes the iPhone 4S twice as faster as the iPhone 4. Couple that to a dual-core graphics processor and the iPhone 4S makes games "scream" (apparently!).
Sounds good, but unfortunately, you'll have to play your games through the same 3.5″ screen as the iPhone 4, as the physical dimensions are exactly the same – they even share the same screen tech.
Fortunately, the iPhone 4S comes with HDMI mirroring, meaning you can hook it up to your HDTV and play your games on that (wirelessly, if you have AirPlay, or wired if you plug it into the HDMI port using a cable). That helps, but it's still not ideal. The iPhone 4S still has a screen that's too small.
2. A cracking new camera
The camera's been updated, now coming with 8 megapixels and a raft of tech that Apple promises will make the iPhone 4S take pictures that are better than any other smartphone's camera. That's a bold claim, and one that I'm sure Nokia will be paying close attention to.
To help it back up its claim, the iPhone 4S has a larger f2.4 aperture and can take sharper pics thanks to a hybrid IR filter. It's also faster between shots as well, so shutter lag and taking many pics in a row shouldn't be a problem.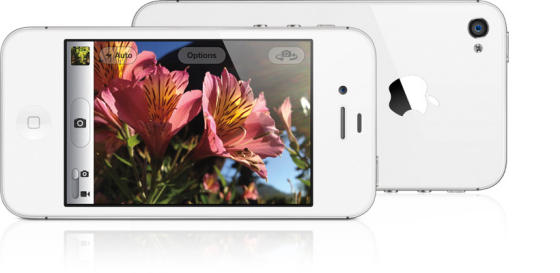 One nifty feature is the integration with iCloud, which lets you upload your pic to iCloud, which will then push it to your iPad, Mac and Apple TV devices (in Apple world, everything everywhere is Apple – there are no non-Apple devices!).
3. 1080p video capture
Video has been uprated too, as you'd expect, and now supports 1080p video capture with image stabilization. You can share your videos easily using Apple's iMessage service (but only with other iPhone users – remember, there are no non-Apple devices!)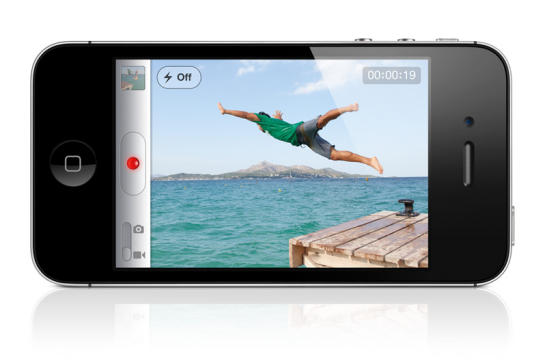 4. Better battery life
Using some technical wizardry involving the antennae (yes, there are two), the iPhone 4S offers better battery life than its predecessors, with 8 hours of 3G talk time and 10 hours of video. It's even good for up to 9 hours of WiFi Web browsing before giving up the ghost, which is exteremely good.
5. A True Worldphone
The iPhone 4S uses both CDMA and GSM, meaning you can use it anywhere across the world, and across the US (which, just look in American Football, are two very different entities!)
6. Available on multiple carriers
The iPhone 4S will be available on over 70 carriers across the world, including AT&T, Verizon and Sprint in the US. Expect it to be picked up by multiple carriers in pretty much any market its sold in (which is pretty much every country).
7. Faster downloads
The iPhone 4S can now offer 14.4Mbps downloads, which is twice as fast as the iPhone 4 – but that's no faster than its competitors, though, so it's not exactly a major feature.
8. Siri, the new voice recognition app
So far, everything that's been announced has helped the iPhone 4S keep pace with its competitors. It's now got a processor, camera, video camera and download speeds that are as good as the likes of the HTC Sensation XE, Samsung Galaxy S II and the Motorola Atrix.
Crucially, though, it hasn't leap-frogged them. Unlike previous iPhones before it, the iPhone 4S is no longer leading the pack, it's running with it, and so is, to some degree, at risk of being out-done by the likes of Samsung or HTC (hmmm, perhaps that's what the patent wars are all about?!)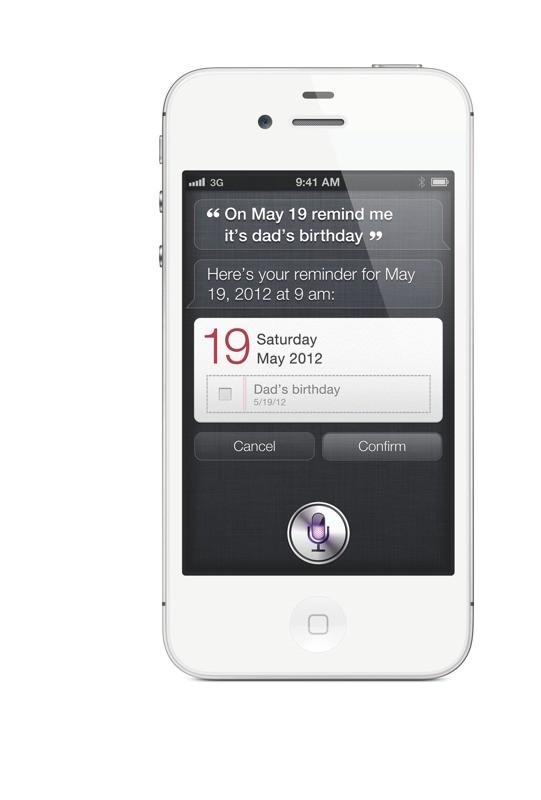 Where Apple hopes to rise above the competition is with an innovative new voice recognition app called Siri.
In a nutshell, Siri lets you control your phone by speaking to it. More than that, though, it lets you control your life by speaking to it. Want to phone your mum? Ask Siri. Want to know what the weather is? Just say "Siri, what's the weather going to be today?".
Add an entry in your calendar, edit your ToDo list, find restaurants in your area – even get definitions of words via Wikipedia and Wolfram Alpha – Siri will do all of these things for you.
It was an extremely impressive demo that Apple gave, and really made you wonder whether the iPhone 4S is the first incarnation of Arthur C Clark's HAL.
However, there are a number of reasons I'll be reserving judgment on its usefulness:
How well does Siri work with accents?
How long does it take to recognize your voice?
How fast does it operate?
How much better is it than Google's Voice Actions for Android, which does pretty much exactly the same thing?
My first two reservations are common to all voice recognition technologies. Google's Voice Actions for Android, which has been out for just over a year, has no problem with my accent, nor that of my friends, and has a very high success rate. How well does Siri compare?
[pullquote_right]If Siri works as well as Apple claims it'll be as big a leap in Computer Science as Google's original search algorithm. But that's a big if…[/pullquote_right]
Perhaps the biggest reservation I have, though, is with the speed and overall usefulness of Siri. One of the reasons I rarely use Google's Voice Actions for Android is the length of time it can take for it to return proper results.
For example, to use Voice Actions, you click the "voice" button and wait for the input screen. You talk and the Voice Actions software sends your voice to Google's servers, which then process your voice. Here, your voice is converted to text, which is then sent back to the Voice Actions app, which then has to interpret your command and act on it.
The delay isn't huge – in fact, given what's being accomplished, it's nearly miraculous – but it's long enough to prevent me from using Voice Actions. If Siri suffers the same fate, it'll be just another novelty, and certainly not enough to nudge the iPhone 4S ahead of the competition.
Apple's video of Siri certainly makes it look amazing, as you can see below.
But then, take a look at this video of Voice Actions from Google:
Not all that different, certainly in concept. Siri is far more friendly in the sense that it actually seems to talk to you, but in terms of what it does, the difference is minimal.
However, Google's Voice Actions, while working perfectly for asking about the weather, is just too clunky and slow to use for everyday use. I just tried speaking a message into the phone, and it couldn't understand all Ii was trying I was trying to send. My only option was to manually edit the text after several failed attempts, but this took longer than just typing the text in the first place.
Users, generally, prefer the easy option when it comes to input, and if you keep having to retry your input, it's no longer the easy option.
If Siri works as well as Apple claims it does, I'll take my hat off to it – it'll be almost as big a leap forward in Computer Science as Google's original search algorithm was. But I'll stay sceptical, I'm afraid, until I've used it myself (as should you!)
9. Cards
The first new feature that was announced at today's event was a somewhat bizarre new app called Cards. This lets you send an iPhoto to Apple, who will then print it out for you and physically post it for you to someone anywhere in the world.
It's a novel idea for instant postcards, I guess, but it hardly seemed worthy of an event that had been hyped up this much.
10. Friends and Family
Another new app was Friends and Family. This is pretty much Apple's answer to Google Latitude, letting you see on a map where your friends and family. According to Apple "no more losing your family at Disneyland." However, that's only if your entire family has an iPhone!
iPhone 4S release date and price
Now for the good news – the iPhone 4S release date will be October 12th and you can preorder it from this Friday (7th October). The 12th is also the date that existing iPhone 4 owners can download the new iOS5 as a free update, and effectively turn their iPhone 4 into a 4S.
You won't be able to use Siri, but pretty much everything else you can do on the 4S, you'll be able to do on your iPhone 4.
As for the iPhone 4S price, well – it's not cheap:
16GB for $199
32GB for $299
64GB for $399
The iPhone 4 has now come down to $99 while the iPhone 3GS is now free. All of these prices are with a two year contract on top. Told you it wasn't cheap!
Is the iPhone 4S the phone the fanboys craved?
There was a lot of hype riding on this event – more so than normal for even an Apple event. Apart from the speculation about whether Steve Jobs would show up in a cameo appearance, or how well new CEO Tim Cook would do as a replacement (answer: poor!), most people were hoping to see the iPhone 5, which would be a new revolutionary phone that would stand light-years ahead of Android once more.
[pullquote_left]Despite its many excellent features, the iPhone 4S simply doesn't offer enough above the existing iPhone 4 to warrant the upgrade.[/pullquote_left]
Instead, we got the iPhone 4S, an excellent phone in many ways, but certainly not leagues ahead of the competition. It was an evolution over the iPhone 4, rather than a revolution, which I think disappointed many.
You can't have a knockout new phone every time, I guess, but comparing the iPhone 4S to the iPhone 4 really feels like comparing the HTC Desire S to the HTC Desire – it's an improvement, but not one you'd upgrade to.
I have a feeling many people with an iPhone 4 will wait until the iPhone 5 is released and upgrade to that. Despite its many excellent features, the iPhone 4S simply doesn't offer enough above the existing iPhone 4 to warrant the upgrade.
One More Thing
One thing that was sorely lacking from today's announcement was "just one more thing." After the iPhone 4S was revealed in detail and summarized by Tim Cook, everyone expected him to say those hallowed words.
But he didn't. What he almost ended up saying was "That's all folks!" which couldn't have been a bigger contrast from his predecessor!
Life after Steve will be different, it seems. At least that should help turn down the hype machine a bit!