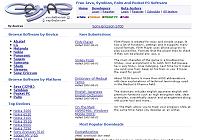 If it's Java downloads you're after for your mobile, then you might want to spend some time at the www.getjar.com web site. Be warned though – you could very easily find yourself spending hours here, as the site makes it so easy to pick from an endless variety of mostly free Java J2ME midlets. These apps will run on most phones, but just to be sure, you can even filter the huge list according to your phone.
I tried some of these gems out on my SonyEricsson S700i, and most worked without a hitch (though some didn't, principally those that needed to connect to a server. This may be because a specific server was down, though, as most of the midlets needing Internet connection worked fine). Downloading onto the phone was simplicity itself, as the site provides the Java .JAR and .JAD files for downloading onto your PC (and then, of course, subsequent uploading onto your mobile), or lets you download directly onto your handset via WAP.




The apps aren't all great, some of the games in particular border on useless (I mention no names…certainly not 'Future Force', the game in the picture there…it's just a little, er, slow on my S700i, with very poor collision detection…and shaky game play…and – well, try it for yourself!), but it's just so easy to pick and download to your phone, and the choice is endless, that you'll be there for hours!
In many ways, the applications remind me of the days of the old shareware and public domain software, when lone coders would spend all night crafting a generally-poor C++ app in their bedroom, then try to flog it through one of the many public domain catalogues that you could order from the back pages of a computer mag. Ah, the days before the Internet, how strange life was back in 1992!
But I'm rambling now. If it's apps you want to get your mobile phone to actually do something with Java, try these out. Mostly they're free, and you can download them onto your PC before uploading them onto your phone, so you don't even need to incur unnecessary WAP charges. If you're unsure how to get Java midlets onto your phone, check out our HowTo.
Of course, if it's serious mobile gaming you want, you could do worse than trying the Nokia N-Gage – less like a phone, more like a handheld
games machine. Not so sure this is the future of mobile gaming, and with the Nintendo DS, PSP and million other handhelds coming out, I'm not so sure there'll even be the demand for a mobile phone with this level of power in it…but that's for another article :)