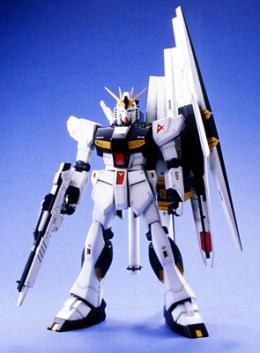 This is the RX-78 Mobile Suit Gundam, piloted by ace pilot Amuro Ray – and they'll both help you sort out your calendars and contacts on a mobile phone! Yes, after news of
Korea's transformer-phones
, Japan has gone one better by launching software that enables mobile phone users to handle data using heroes from the popular anime "Mobile Suit Gundam."
The software, titled "Keikai Denwa 13 Kido Senshi Gundam Tokubetsuban," handles cell phone numbers, e-mail addresses, schedules and other data on personal computers, and facilitates the process of transferring data to a new phone. A total of 5 million units in previous versions of the series have already been sold.
The special Mobile Suit Gundam edition of the software gives users the choice of an "Earth Federation" or a "Principality of Zeon" version, using the characters Amuro Ray and Char Aznable, respectively voiced by Toru Furuya and Shuichi Ikeda, to navigate through installation and other processes.
Make mine a Principality of Zeon, please! Why don't we get this in the UK?
[Source: Mainichi Daily News. See more: Gundam Models, Official Gundam site]