There are dozens of Twitter apps available for Android, each struggling to differentiate themselves from the other Twitter apps that do pretty much the same thing. But some of them must be better than others, surely?
The only way to find out is to try them all, which is boring, laborious and annoying. Fortunately I put myself through that pain in the interest of customer service (i.e. helping you!), and this is what I found: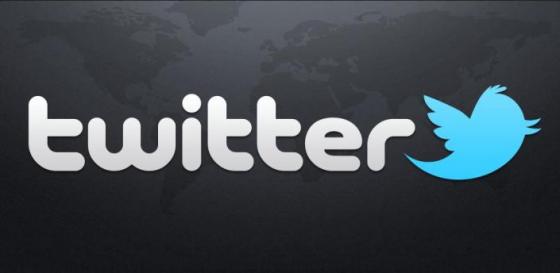 The official Twitter app
You'd think the official Twitter app would be the standard the 3rd-party apps would have to beat. And it is – it's super smooth and offers a professional-looking user interface. That doesn't mean it's the number one killer Twitter app though.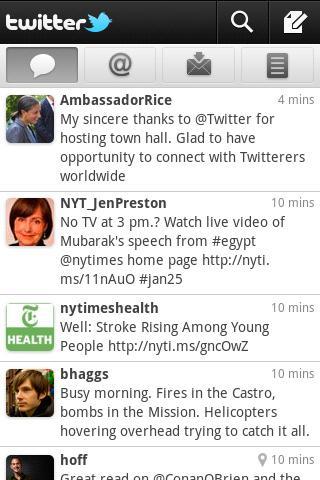 Pros
Clean fresh look with good usability
Easy to navigate
Handles Twitter lists well
Nice use of sounds and gestures to update your tweets
Good integration with Maps, media and your Android phone's pics
Cons
Only supports single accounts
Only supports Twitter – no other social network (which is excusable for the official Twitter app, I guess!)
Summary
For single account users, the official Twitter app is really good. Its user interface is extremely slick and it integrates well with your Android phone, as well as with pulling in Google Maps and other media when required. It's just a shame it has no multi-account support, as that really is a deal breaker.
Seesmic
Seesmic is one of the most well-known Twitter clients and has an app for virtually every device you can imagine.
Pros:
Supports multiple accounts
Good retweeting and retweeting with comments features
Easy to read
Easy to navigate
Supports Twitter, Facebook, SalesForce Chatter and Google Buzz (why?!)
Cons:
Switching between accounts is a pain. You have to click menu->accounts, then choose the account you want to switch to. In Twidroyd, you just swipe to the right or left!
You can't tweet using a different profile. If, for example, you see a tweet from one account, you have to reply to it using the same account. Often I'll see a tweet in my personal account (@mike20) that I'll want to retweet or comment on from my @mobmental account. Alas, Seesmic won't let you do this, which is a major deal-breaker.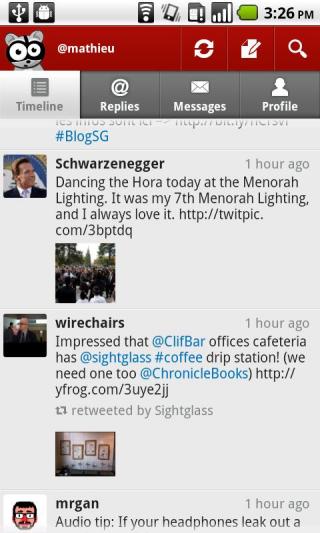 Summary
Seesmic is the perfect Twitter client for single accounts. For multiple accounts, it's way too clunky, which is a shame, as in every other way, it works really well. It's just that, for me, good multiple account support is a must.
HootSuite
Hootsuite offers a cracking desktop Twitter client that manages all of your social media streams in a really easy-to-use web app. I use it daily, and was really hopeful the Hootsuite Android app would give me what I needed on my Desire HD.
Pros
Great multi-account support. You can reply to a tweet using any account you like, or even reply to it or share it via Facebook.
Easily switch between views (Twitter, stream, mentions, Direct Messages, Sent messages) by swiping from one view to another
Good retweeting and retweeting with comments features
Supports Twitter, Facebook and FourSquare
Cons
Clunky interface. The profile pics are too big, forcing the tweets to be squeezed into a tiny space that makes for uncomfortable reading.
Sliding up and down your stream of tweets is very jerky, which is annoying to say the list.
Swiping to new views (e.g. from the main Twitter stream to your mentions) is even worse. It's really slow to react, often doesn't recognize your swipe your gesture, and swipes over in a way that would shame a ZX Spectrum – and this on a 1GHz HTC Desire HD!
Consumes twice as much memory as Seesmic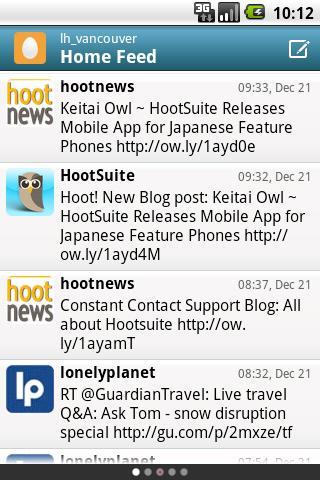 Summary
HootSuite offers all the functions you'll need, but it's let down by a lousy interface. You'd think it would be difficult to design a bad Twitter interface when all you have to do is show a list of 140 character messages and let people scroll smoothly from screen to screen, but HootSuite has managed it. A real shame, as it's more functional than Seesmic, but so much worse to use.
TweetDeck
TweetDeck has always been a stylish Twitter client and they've kept on adding features and innovating. The latest version of the app looks like it has it all.
Pros
Great user interface
Extemely easy navigation
Great customizability – you can even choose what font size you want to use
Smooth and easy scrolling with none of the lags or jerkiness evident in HootSuite
Great multi-account support. You can easily swith between accounts by swiping the screen, and you can reply to any tweet using any account you have set up.
Supports Twitter, FaceBook, Foursquare and Buzz
Syncs with the Web app version of TweetDeck
Cons
Dark grey background may not suit everyone
Er, that's it!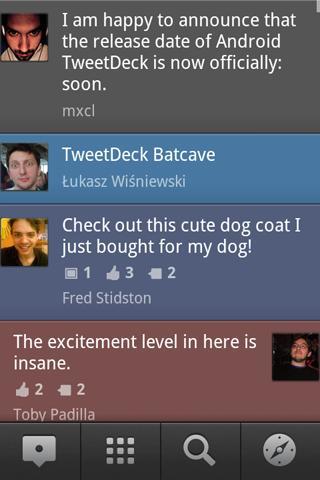 Summary
TweetDeck has really upped its game in the past year or so and has produced the sleekest Twitter app that combines great multi-account support with an extremely fluid and easy to use user interface. It's easy to see why Twitter recently bought TweetDeck as it's by far the best Twitter client available. Thoroughly recommended, and my new favourite Twitter Client!
Twicca
Billing itself as Yet another Twitter Client for Android, Twicca is just that – but an exceptionally stylish one that looks much better than your average Twitter client. With a super-smooth and sexy user interface and a raft of plug-ins available to add to its functionality, Twicca is definitely one to consider if you fancy something a little bit different from the norm.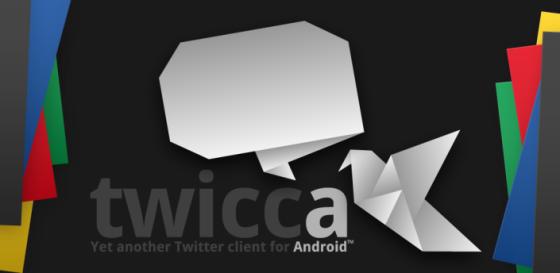 Pros
Novel, super-sexy interface
Extremely fluid, intuitive navigation
Stylish alternative
Extensible, with different plyug-ins avaailable that integrate with other Web apps such as Flickr
Cons
Only supports single accounts
Menus can be a bit overwhelming with their list of options
Summary
Looks great, but the lack of multi-user support is a real deal-breaker.
Twidroyd
Twidroyd was my very first Twitter client on my old T-Mobile G1, until UberMedia, the developer, started adding many features to it that effectively broke it as a usable client! UberMedia then attracted the wrath of Twitter by doing a few things against Twitter's terms of service (which led to the app being banned), and more recently has started to annoy Twidroyd's users by leaving too many bugs in the app, leaving ads in the paid-for version , and then releasing a free version of the app that offers all of the features of the paid-for version, leaving many people feeling ripped off!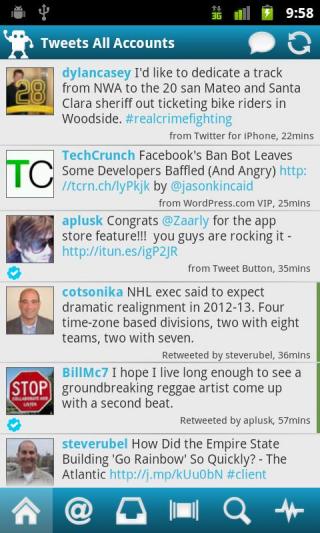 So, with all of that as a back history, no matter how good Twidroyd may be (and Lifehacker recommended it as their best Twitter client for Android), I really can't recommend it as somewhere down the line, you'll be sorely disappointed at best, or feel ripped off at worst.
The best Twitter app for Android is…
So the award for the best Twitter app for Android goes to….TweetDeck! This app not only looks great with a super-smooth fluidity to its user interface, but it offers all the power features you need for tweeting from multiple accounts across multiple social networks, and all the features are easily accessible.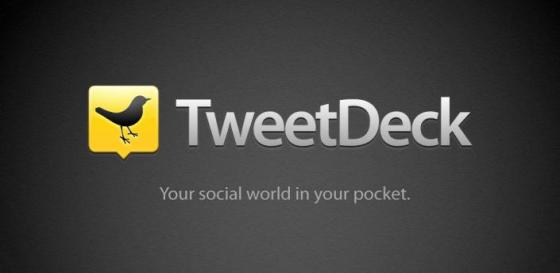 TweetDeck is my new Twitter app of choice. I was an ardent Seesmic user until I started this review, but I grew tired of switching between accounts when I wanted to retweet from one account to another. If Seesmic makes this process easier then I might be tempted to go back, but in the meantime, TweetDeck offers everything I need and more in a great looking app.
And it's free, too, so install it and give it a whirl!