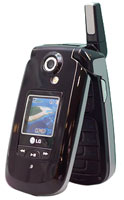 LG Electronics have announced the launch of the CL400 mobile phone. Not content with the usual connectivity options (you know – bluetooth, GSM, 3G, email, SMS, IrDA, etc., etc.), LG have added on WiFi connectivity as well. Better still, it's UMA-compliant (Unlicensed Mobile Access), a technology that had until now slipped under my acronym-radar.
UMA is an access technology that allows a seamless handoff of mobile voice and data from a wide area cellular network to a wireless local area network (WLAN). The UMA standard defines how mobile operators can turn home, office, and public wireless LANs into seamless extensions of their cellular networks. In English, this means that the LG CL400 can communicate over the mobile phone network or a WiFi network, with the phone switching between the two ("handoff") mid-call without the user noticing ("seamless").
This is a very interesting development for a number of reasons:
it enables the user to use the phone even in places where there's no mobile network signal;
the phone can replace existing landline phones, as UMA relies on Mobile Voice over IP (VoIP), a variant of Internet telephony used by Skype, and now available by the UK's B ;
it's a standard that can act as the enabling technology for MobSharing to become a reality;
it's difficult to see how mobile networks can charge for calls made on a mobile phone that are routed over a user's own Wireless LAN
These issues, and more, explored after the link….

The LG CL400
First things first, LG's new phone is heavily feature-packed but a bit short on style, as you'd probably expect from LG. It's a camera/MP3 phone that offers GSM/GPRS and tri-band (850/1800/1900) capabilities for global operation with Wi-Fi (802.11b/g) connectivity. In the future, the CL400 will also support Voice over IP (VoIP), based on Session Initiation Protocol (SIP) standards.
LG have done a deal with Kineto Wireless, a company specialising in Mobile VoIP and UMA. Intriguingly, Kineto have also done a deal with Samsung, meaning that now at least two manufacturers will begin to support the standard. From a MobSharing perspective, this is great news, as it means any UMA-compliant device should be able to transfer files as well as calls with any other device over a Wireless LAN. Indeed, Kineto make great play of the fact that people will be able to make calls on their mobile phones at WiFi HotSpots, such as airports and cafes. But standards alone aren't enough – what's also needed are devices that support the standard, and with Samsung and LG doing just that, it looks as though UMA will actually take off, and with it, the potential for MobSharing. If music execs thought the MP3 standard was a disruptive technology, just wait and see what happens once it's mixed with mobiles and WiFi.
UMA and the Mobile networks
All of this talk of UMA has its roots in the great convergence of fixed and wireless networks, and voice and data networks. Long heralded as a dream of telephony, it now seems finally to be becoming reality. From a user's perspective, it means you can use the one device to make all your calls, and have them routed through your company's LAN, or your own landline via your home wireless network, or even the mobile network itself. You therefore don't need to worry so much about the cost of your mobile calls, as the cost will be the same as landline calls when you're at home, and presumably the same cost as Skype VoIP calls (currently free to other Skype users, 1p a minute when calling to non-Skype terminals, and on average 10p for international calls) when you're within a WiFi hotspot.
What about the 'poor' mobile network operators though? Think of all the money they'll be missing out on if your call is not being routed through their network. Worse, think how hostile they'll be to UMA if they think it's going to cost them a packet. Fortunately, it's not all bad. Mobile network operators don't just operate a network – there are all sorts of network services they provide as well. For one thing, there's you mobile's identity (what you think of as its phone number). When you register a phone (or more specifically, it's SIM) with a network operator, the operator places the unique number within a database. When somebody calls you, the call is routed through to that database so that your operator can determine your phone's identity and so transfer the call to your phone (it's obviously more involved than this, but you get the point). With UMA, your phone still needs to retain the same identity irrespective of whether it's using the mobile network or a WLAN network. And, given that it's your mobile network operator that's responsible for maintaining your phone's identity over their own network and any WLAN network you may be calling over, they're still involved in the call, and so can legitimately charge for it. This should, therefore, keep the operators quiet!
Even better for us users, though, UMA offers the potential for a whole host of new services. UMA doesn't just provide seamless handover of voice call: it can also manage data. Which means the data service you access can run at broadband speeds if you access it over a WLAN. Suddenly, your grainy video clips streamed over GPRS can be transformed to high quality, high resolution movies as soon as you move into the range of a HotSpot. Email services can be enhanced to enable large file attachments ot be downloaded. And, of course, large numbers of music files can be downloaded. With download speeds 3 times that of 3G, any broadband service you currently take for granted at home is suddenly possible on your mobile phone, but with the added advantage that the service can be accessed anywhere there's a hotspot. In fact, all of the claims that were made for 3G will actually be provided by UMA. Better still, it's not being over-hyped, and so should not fall foul of the same fate that befell 3G (nor cost billions to operate). UMA really is a technology to keep an eye on. Finally, after a stalled start at the turn of the century, the mobile phone services we were promised are about to be delivered.