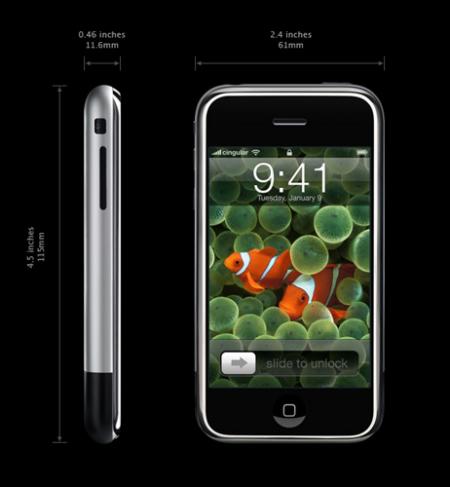 Apple have finally announced the Apple iPhone, and the whole frustrated blogosphere has finally been given the chance to vent forth its opinions on Apple's new wonder in a torrent of wide-eyed expectation.
So, seems only fair that I throw in my own fourpenneth's worth!
Read on for details and pictures of the Apple iPhone.
Apple iPhone Overview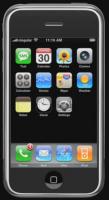 Apple's iPhone is a glorious-looking super-thin beast, measuring 115mm x 61mm x 11.6mm (yes, 11.6mm thin). At heart, it's a wide-screen iPod with a touch-sensitive large screen (3.5 inches, offering a resolution of 320 x 480 at 160 ppi), so music is obviously integral to the device.
Indeed, it even comes with Apple's CoverFlow technology, enabling tunes to be browsed by flipping through 3D thumbnails of album art in what must be the most intuitive way of searching for music yet devised.
Of course, it's also a phone (no, really!), with quad-band GSM, EDGE, Bluetooth 2.0 and WiFi connectivity (disapointingly, though, no 3G, making music and video downloads unrealistic unless you're in a WiFi hotspot).
Being a phone, it also comes with a 2 megapixel camera – after all, what self-respecting phone doesn't come with a camera these days?
Being an iPod at heart, its storage capabilities are excellent, and it'll come in either 4GB or 8GB variants.
But unlike most of today's phones that simply offer the features without any thought going into making them usable, Apple, unsurprisingly, have spent a lot of thought into the phone's interface and usability. And I mean a lot of thought – the interface alone should be enough to make the iPhone stand head and shoulders above all other phones.
Nokia's Pekka Phjakillio admits that "it's not a threat, although of course it's hard competition, but that usually makes you perform better yourself."
Apple iPhone's music features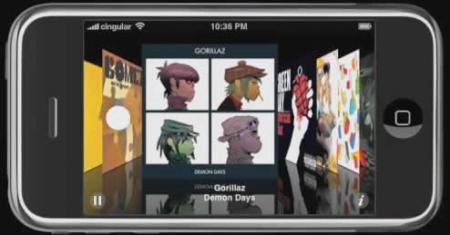 OK, so on with a more detailed look at the iPhone's musical abilities.
It's an iPod, so obviously it focuses heavily on music. The way you access your music is one of its party tricks. You simply touch your finger onto the screen to use the user interface, your finger effectively acting as a mouse pointer.
You can then either select your tunes from a list, sorting either by song name, artist or playlist, or use Apple's CoverFlow technology to thumb through 3D screenshots of your tunes' coverart.
Honestly, you have to see this interface in action for yourself to really appreciate how much of a quantum leap it is above existing phone interfaces. In fact, why not see it for yourself in the video below, courtesy of Gizmodo.
See the way you can thumb through your albums, as you would with a real CD collection. Glorious! And check out the speed with which it operates as well – like I said, Apple spent a lot of time making this interface usable.
Video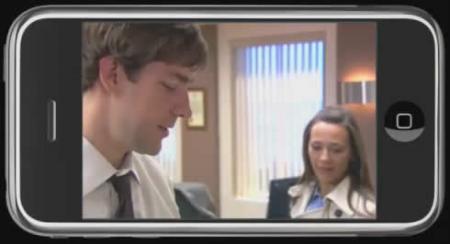 Of course, any phone worth its salt these days has more than just an MP3 player into it (albeit with a fancy interface). You need at least a video player as well, and the iPhone doesn't let us down.
Its 3.5 inch screen makes watching videos a pleasure. You can watch any movie or TV show that's available on its iTunes store.
iPhone Phone features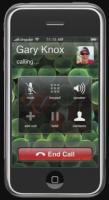 Even the way you make a phone call has been dramatically improved on the iPhone. Rather than the cumbersome clicking through 100 menus that you normally have to do to make a call, you simply click on the name of the person in your contacts list, and it'll call that person automatically.
You even get random access to your voicemail messages, with your finger again being used to simply click on the message you want to hear, letting you access your messages in a similar way to email.
Better still, if a call comes in while you're already talking to someone, you can merge the two (or more) calls and create a conference call, all with simple clicks of your finger.
None of this is rocket science, but the sheer simplicity of use makes existing phones' interfaces look like they're from the stone age.
iPhone SMS texting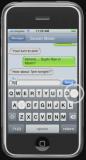 Typing anything is a chore at best on most mobile phones, as the interface is usually so poor. But with the iPhone, you get a full QWERTY keyboard displayed on the screen that lets you type your text message, email, or whatever you need. Better still, the touch-sensitive screen is multi-tap, meaning you don't have to use the keyboard one key at a time – you can touch type if you want (or can!).
This makes writing text message or emails and absolute doddle, and again adds to the fact that the iPhone doesn't necessarily offer anything new, but what it does offer is a quantum leap over above its competitors in terms of ease of use and sheer usability.
iPhone camera and photo management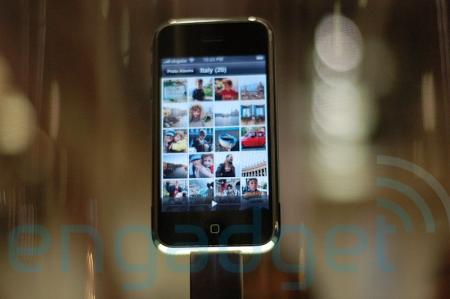 The 2 megapixel camera may not be ground-breaking, but the iPhone's photo management interface if simplicity itself. Sync your pics from your PC or Mac seamlessly, then browse through them by clicking on a pic and then simply swipe your finger left or right to select the next one.
Zoom in on them, scale them, even set them as wallpaper or email them with just one or two clicks of your finger.
Internet connectivity and apps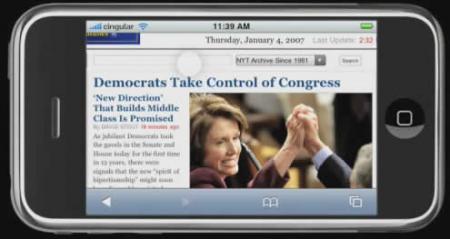 The wonderful user interface extends through to the iPhone's web browser, which looks fully usable on a portable device for what must be the first time ever. Coming from Apple, the browser is Safari, of course, but the way you use it is just glorious. Browse to a web page, and the whole web page is rendered on the 3.5″ screen. Click on any part of the page, and it zooms in (similar to Opera's mobile browser).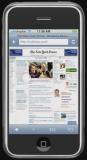 What makes it extra useful, though, is the way you scroll up and down the page or zoom in and out with the touch of a finger. Better still, you can instantly render the page in landscape mode to see its full width just by turning the iPhone on its side. A sensor automatically detects its orientation, so you don't even need to click a menu item!
And with WiFi connectivity, using the Internet on the iPhone makes browsing super-quick – just a shame it doesn't have 3G connectivity for those times when you're outside of a WiFi hotspot (which is often!)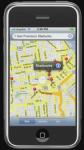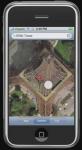 The iPhone also comes with a rich HTML email client, which can download email in the background while you're browsing the web. The iPhone will even sync with your existing email client, providing full automatic configuration at the touch of a, well, finger!
The iPhone also comes with tight integration with Google Maps and Google Earth. Although it doesn't come with GPS, you can use Google maps to search, locate and get directions to a location of your choice, and even view the location's satellite image using Google Earth with just a single click of a finger.
Zoom into a location by clicking on a part of the map or satellite image, and move it around by simply sliding your finger. Now that's a useful user interface!
Apple iPhone Technical Specification
The full tech specs are as follows (though none of these do the iPhone any justice – you just need to see it in action to be convinced!)
Screen size 3.5 inches
Screen resolution 320 by 480 at 160 ppi
Input method Multi-touch
Operating system OS X
Storage 4GB or 8GB
GSM Quad-band (MHz: 850, 900, 1800, 1900)
Wireless data Wi-Fi (802.11b/g) + EDGE + Bluetooth 2.0
Camera 2.0 megapixels
Battery
– Up to 5 hours Talk / Video / Browsing
– Up to 16 hours Audio playback
Dimensions 4.5 x 2.4 x 0.46 inches / 115 x 61 x 11.6mm
Weight 4.8 ounces / 135 grams

Conclusion

I think that'll do for now! There's so much more to talk about, this'll keep me and the rest of the Blogosphere busy for years to come!

Oh, and the earlier image of the iPhone I posted? That was a Steve Jobs joke – which I would have noticed, had I not posted while rushing out of my house to catch a bus!

In short: the Apple iPhone. Formally announced. At last!

The iPhone release date is June for the US (initially exclusively on Cingular), fourth quarter for Europe, and 2008 for Asia. Should be available for $499 on a two-year contract, or $599 for the 8GB model.

For more info and QuickTime demos of the iPhone in action, rush off to Apple's website now (you'll need the latest version of QuickTime, though – I had the previous version installed, and the demos crashed both Firefox and IE).

And to see Steve really whip up the hype some more, check out his iPhone launch speech at MacWorld.

The Apple iPhone: I so want one!!!

(Thanks to Anna for pointing out all the typos in this post – fat fingers, hurried typing and excitement got the better of me!)
[Source: Gizmodo, Apple]