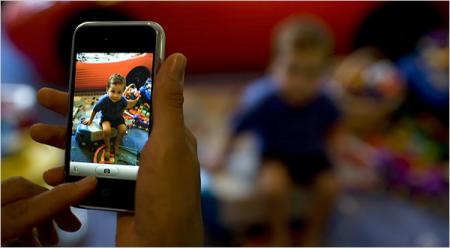 iPhone hype is reaching explosive levels, so what else there to do but stoke it some more? Lucky New York Times columnist has had an iPhone for a few weeks now, and he's created an amusing video showing it off.
He does list some of the drawbacks of Apple's new wonder-phone: the fact that it's tied to AT&T, the battery is sealed and can only be replaced by sending it back to Apple, and there's no external memory; but he also gives a neat demonstration of the iPhone in action.
That said, looking at the iPhone in action, you have to pinch yourself that the device is real, and not just a mock-up of some "future product" concept phone. Everything seems to work so seamlessly, and the user interface is simply glorious.

For me, though, the biggest turn-off is the lack of 3G support, as without that, the superb Web browser is simply useless. Sure, the iPhone has Wi-Fi, but how often are you in a free Wi-Fi hotspot when you're out and about? OK, so I can use Wi-Fi at home, but then I have a laptop at home that's much better at browsing the Web.
With any luck, the rumours of a 3G iPhone hitting the UK in November will be true, and I can then rush out and get one! Until then, I'm hanging back, as no 3G is a bit of a show-stopper.
Oh yes, and the video review. Unfortunately it's not available on YouTube, so you'll have to pop over to the New York Times's site and watch it there.
[Source: New York Times]