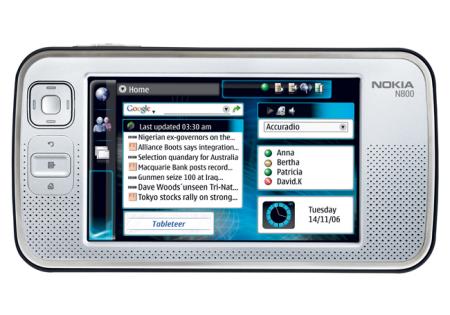 Also at CES 2007 today, Nokia announced their new Nokia N800 Internet tablet. A replacement for its previous Nokia 770 Internet tablet, the N800 has been branded as an N-Series phone, and so is therefore officially a multimedia computer. In fact, its more of a multimedia computer than the existing range of N-Series multimedia computers, which are, at the end of the day, just fancy phones!
And here lies on of the problems with the N800 – in order to get the most out of it, you need to use it with a mobile phone! Not really convergence – more sort of anti-convergence! But as you'll see, the Nokia N800 is actually a glorious multimedia computer, more so than any of Nokia's current N-Series phones that share the same title.
More details and pictures of the N800 after the jump.

The Nokia N800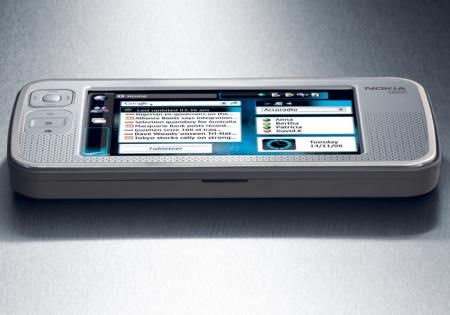 The N800 comes with WiFi and Bluetooth 2.0 support, but that's your lot. No mobile connectivity of any sort. Thus, in order to use the Internet with the N800 when you're away from a WiFi hotspot, your only option is to connect with a Bluetooth-supporting phone that is itself connected to the Internet!
Nokia N800 and a mobile phone – multimedia and computer
In a way, this is the perfect marriage of the phone and the computer. Modern mobile phones, particularly Nokia's N-Series phones, have tremendous connectivity options, with the N95, for example, offering bluetooth, WiFi, HSDPA, 3G, and all manner of GSM options. In short, you can connect anywhere at any time. However, although their connectivity is great, their user input and the size of their displays are poor, owing to their small form factors.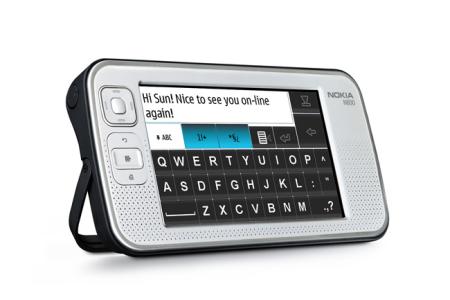 In contrast, the N800 is the perfect size – small and convenient to carry, yet big enough to see the screen clearly (it screen has 800 x 480 resolution), and with a touch screen for user input that lets you use a decent-sized virtual QWERTY keyboard (see pic, above).
So, the mobile phone's great for connectivity, and the N800 is great for actually doing things online once you've connected. Makes perfect sense to use them both, then, using the phone for all sorts of phone-like things (such as talking to people), and the N800 for doing Internetty things (like web browsing, email and instant messaging).
Anti-convergence
However, this doesn't quite fit with Nokia's idea of convergent device, much less the phone as a multimedia computer. A convergent device is one that performs many functions, yet here we have a device that needs another device to operate effectively. Equally, the excellent multimedia capabilities of the N800 (built-in webcam, stereo speakers, media player and glorious screen) give a lie to the claim that a mobile phone is a multimedia computer in disguise.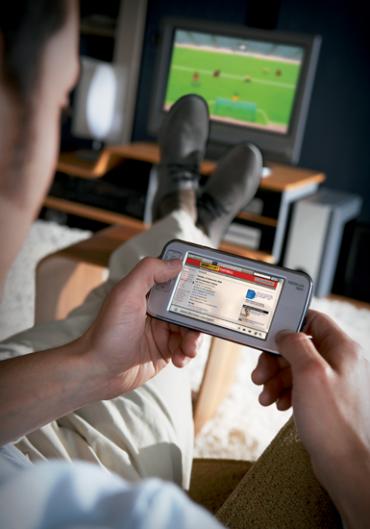 Almost the perfect multimedia computer
So the N800 is almost the perfect multimedia computer, but not quite.
If it came in the same form factor as a mobile phone, and with the same connectivity options, but then expanded in size when you wanted to use it as a multimedia computer, then I'd be convinced that what Nokia are offering us really is a multimedia computer.
Until then, all we have is the implicit acknowledgement from Nokia that to do what we (and they) want to do with our mobile phones, we need two devices.
When almost perect is good enough!
This isn't necesarily a problem, though. Having spent a week in Devon over Christmas without any Internet access, I can certainly see the benefits of a device such as the N800 plus a Bluetooth phone connected via 3's flat-rate X-series tariffs. Having both, I would truly have been able to access the Internet anytime and anywhere, which is exactly what I need. As such, I'm seriously considering investing in both an N800 and an N95 (call it greed, or just pure techno-lust ;) Hmmm, maybe this isn't such a dumb idea after all, certainly as far as Nokia are concerned!
But I won't be truly happy until there really is one device that can do both, and for this to happen, I guess we'll have to wait 'till the plastic foldable LCD screens that have been rumoured for the past few years finally become available. Then we'll truly have a multimedia computer worth the name! I reckon this'll be reality by late 2009.
Nokia N800 Specification
Sorry, waffling on so much there, I forgot to tell you about the N800's specification!
As you can see from the pics, the N800 is thin and small – 75mmm x 144mm, and just 18mm thick, and weighing 206 grams in weight. That really is pocketable. It comes with Webcam, Instant messenger, email, stereo speakers, a media player, UPnP for extra connectivity to other UPnP devices, and a raft of Internet applications, including Opera 8 web browser, Flash 7, RSS reader and email client.
Storage is up to 2GB, while battery life is 3.5 hours of continuous browsing.
I like the N800 a lot. It looks great, it's the perfect size, and it's nearly the perfect multimedia computer. If this was released last month, this surely would have been top of my Christmas list.
The Nokia N800 release date is now, surprisingly, with a retail price of 399Euros (and $399 as well).