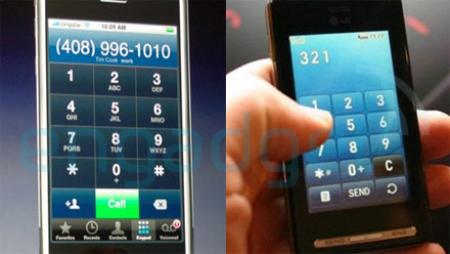 Seems every handset manufacturer has been asked for their response to Apple's iPhone. LG's the latest, but rather than shrugging their shoulders and mumbling "it's alright, I s'pose" in a teenaged way, they've pointed out that the iPhone does in fact bear close resemblance to their own forthcoming LG KE850 Prada phone.
As these pictures show, they do indeed seem to have a point. First noted by Engadget, the LG Prada is a touchscreen phone with a huge display and just 3 buttons at the bottom (as opposed to the single button on the iPhone). More interesting, though, is that even the interface is strikingly similar.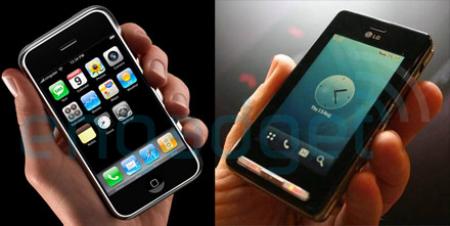 When asked to comment on this, LG spokesman Lee Hyoung-kun said "At first glance, we recognized the iPhone shares many form factors with the Prada phone. We are flattered that other makers follow our design policy."
When asked what action (if any) LG would take, he said simply "We can't say at the moment whether or not we will file a lawsuit against Apple regarding this. It's too early to make remarks on the issues."
Current speculation suggests LG may file a complaint if the two phones share similar features. However, given that the features of the iPhone aren't what sets it apart from its competitors (it's the interface, stupid!), and that LG prides itself on cramming its phones with as many gizmos as the laws of Physics allow, it's doubtful that similar features alone will lead to a lawsuit.
After all, feature-wise, the iPhone comes with 2 megapixel camera, WiFi and an MP3 player of some sort, and what mobile phone doesn't come with these features these days? Besides, LG would surely laugh in the face at such a poorly-specced phone!
If the iPhone's interface is similar in many respects to LG's Prada phone, though, then the sparks could really fly. It's doubtful that LG's Prada phone will feature such innovations as the iPhone's multi-tap touchscreen or the accelerometer that detects the orientation of the phone (and re-renders the web browser in portrait or landscape mode accordingly), but the overall look and feel could indeed be similar, if these pictures are anything to go by.
If they are similar, then LG may well complain, if only because the iPhone will steal all its sales. And if they're not similar, then the LG Prada phone still won't sell unless they cram it with features, as it'll be a similar device with a similarly hefty price tag (can you see a Prada-branded phone sold cheaply?!), but with a much poorer interface.
So of all the phones whose sales could be hit most by the launch of the iPhone, the LG KE850 Prada phone could well be hit hardest. Time will tell.
[Source: Korea Times, Engadget]