OK, here we go – news of the Apple Tablet, and, more importantly for us mobile mentalists, the iPhone 4! Event has just started…
(More after the jump).

Note: keep hitting refresh for updates, or follow me on Twitter.
Steve is saying that Apple is the largest "mobile devices business" in the world now, bigger than Nokia even.
But there's room for one more device between smartphone and laptop. Hmmm, what could that be?!
It's called the iPad!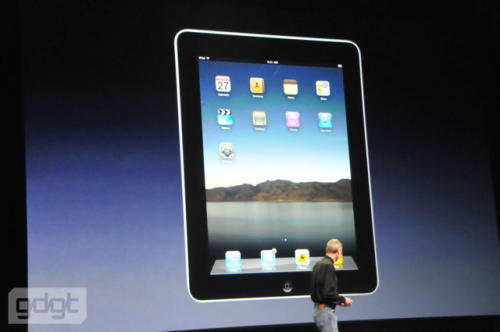 You can browse the Web as you'd expect: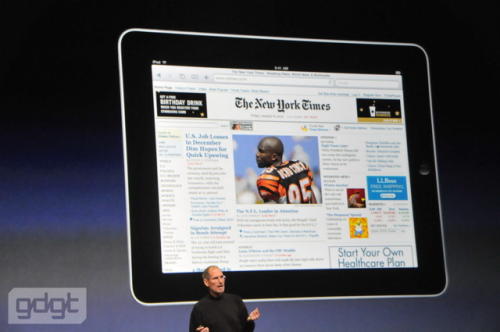 There's a big virtual keyboard: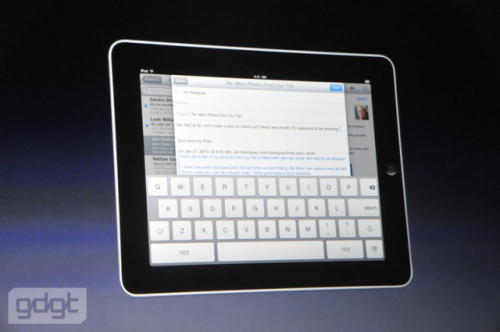 All the Google Maps, Streetview, YouTube, music, coverflow – you know, everything you'd expect to find on an iPhone, just with a giant 10″ screen.
So is it just a huge iPhone? Seems to be!
I'm thinking the iPad has been over-hyped.
Very thin though- 0.5 inch thin, which is incredible.
Hmmm, interesting – it'll run all existing iPhone apps.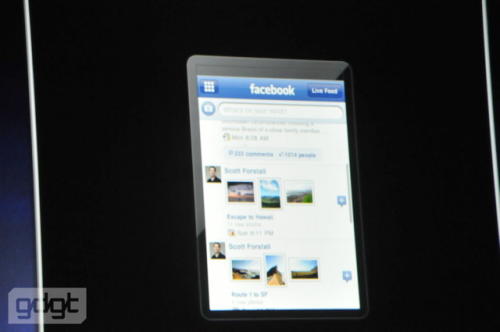 Third party app developers are now talking about developing apps for the iPad.
Come on Steve, we wanna hear about the iPhone 4!
Still on about the iPad. Apple have worked with the New York Times to show off a Times app that features inline video – you know, just like the Web! It syncs with the iPhone as well, apparently.
Steve's back now – hopefully he'll stop talking about the iPad, which doesn't seem that revolutionary.
The iPad comes with 3G as well, but it's with AT&T. Two data plans. One is piss poor – 250MB for $14 a month! The other is the one everyone will use – unlimited for $29.99 a month.
The iPad will go global by June/July 2010, but as it has a new micro SIM and is unlocked, chances are it'll just work on any mobile carrier.
And the price of the iPad:..$499!!
Oh wait – that's for the basic version. The usable version (i.e. the one with 3G and 64GB) is $829. Plus $30 a month to use its 3G data.