The Motorola Xoom was perhaps the most eagerly anticipated new tablet at CES 2011, partly because it had been demoed by Andy Rubin of Google at AllThingsD at the end of 2010, which clearly showed how important Google feel it is, and partly because it's going to be the first ever device to feature Google's new Honeycomb version of Android.
The Xoom should certainly be powerful as it's yet another device sporting NVIDIA's CES-busting Tegra2 chip, the 1GHz dual-core 1080p-pumping behemoth that seems to have leap-frogged Qualcomm's dominance on the smartphone processor market in a single bound.
The Xoom isn't the only Android tablet to feature the Tegra2, though – but it is the sexiest looking tablet, and the one that's attracted the most attention.
So let's see what all the fuss is all about.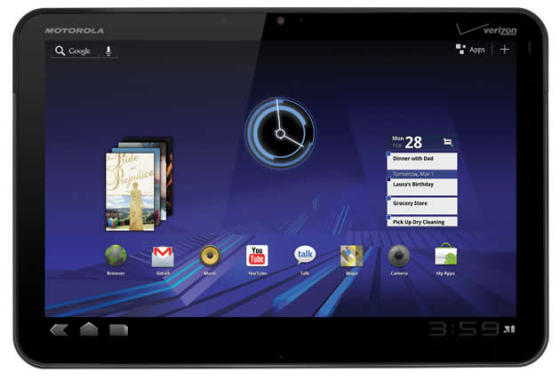 Overview of the Motorola Xoom tablet
The Motorola Xoom is a dual-core Tegra2 powered tablet with a 10.1″ screen, 1GB of RAM, and a 1280×800 display (with widescreen 16:10 ratio) that is easily capable of showing 720p HD videos. The Xoom itself, though, can pump out full 1080p HD videos onto an HDTV either via DLNA or the Xoom's mini-HDMI out.
It also has a mirror-mode option, in which whatever you see on the screen – video, Web pages, apps, etven the entire user interface – is literally mirrored onto your HDTV, meaning you can play Angry Birds in full 55″ HD!
As you'd expect, it also comes with the usual array of features you'd expect from an Android device – GPS, WiFi, DLNA, 5 megapixel camera with dual LED flash, etc. But it also comes with a variety of features you perhaps wouldn't expect.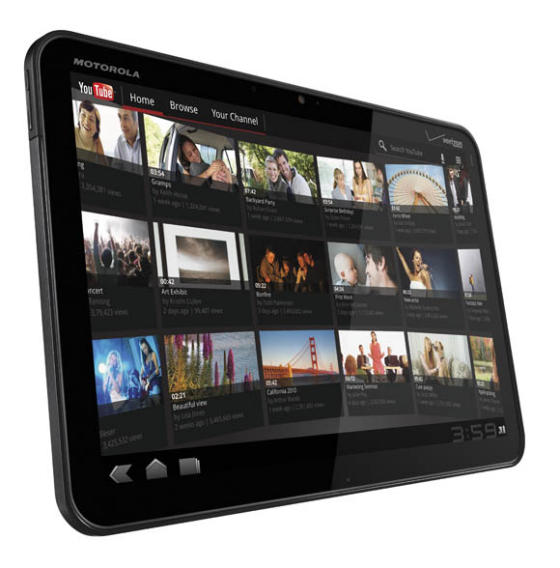 Innovative new Xoom features
First up, the Xoom doesn't just support 3G – it also supports 4G, so when you mobile network upgrades (and in the US this already happening), you can enjoy lightning fast data downloads. How fast? WEll in the US, T-Mobile are claiming their network is capable of up to 42Mbps, but this is obviously over a completely empty network.
More realistic are download speeds in the 12Mbps region – but this stil incredibly fast even for a desktop connection, let alone mobile, and the latency is extremely small low as well, ensuring Web pages and videos start to download almost instantly.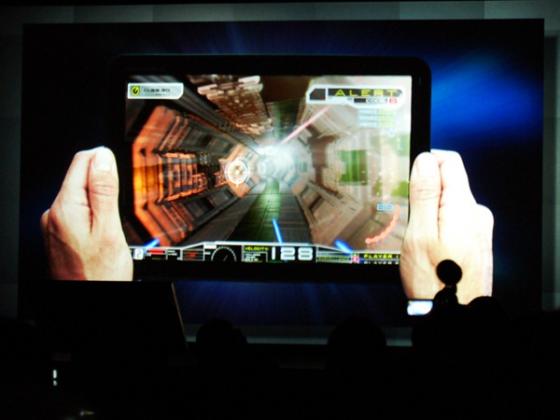 Secondly, the Xoom suports a range of sensors, some of which not normally seen on smartphones or tablets. For example:
Gyroscope
Barometer
Compass
Accelerometer
Adaptive lighting
What use the Xoom makes of some of these sensors (particularly the barometer), we'll have to wait and see until it's released, but it's impressive that it's so rich in sensors, and could lead ot some really innovative apps.
Videos of the Motorola Xoom
To get your first glimpse of the Motorola Xoom in action, check out these videos:
Is the Xoom worth waiting for?
So the Xoom reall yowrth waiting for? Undoubtedly yes, if only because it's the first tablet (or any device, for that matter) that will feature Google's eagerly awaited new tablet-optimized version of Android, Honeycomb. Although we've seen glimpsses of what Honeycomb can do, we haven't actually seen it running on any hardware yet.
And annoyingly, with the Xoom, that's still the case, as all Motorola were able to show was a series of videos running on the Xoom.
That said, the Xoom is a great lookng tablet with a plethora of cracking features, and Honeycomb is undoubtedly a new OS that is genuinely exciting.
Put the two together, and you get a lot of hype and an awful lot of expectation! Let's just hope Motorola and Google live up to the hype. I have a feeling they will!
The Motorola Xoom release date hasn't been set yet, but it's expected to be sometime in February or March.