ASUS had a raft of new tablets on show at CES 2011 featuring a variety of different form factors and sizes. In fact, so diverse were the different types of tablet, it's quite obvious that ASUS isn't exactly sure which type will be the most popular, and so rather than focus on just one specific type (such as the ubiquitous slate type, popularized by the iPad, for example), they've tried a smorgasbord of different variations.
Which one would you choose?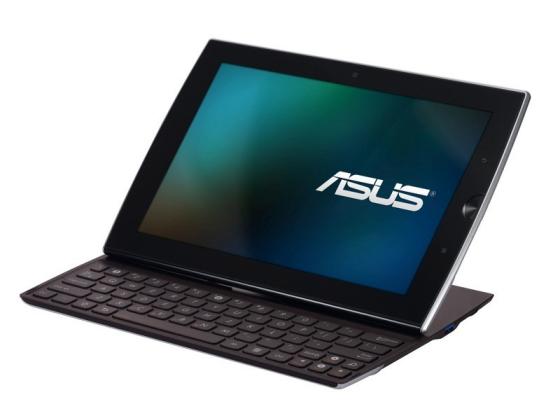 ASUS Eee Pad Slider
The ASUS Eee Pad Slider is everything its name suggests. It's made by ASUS, it's part of its Eee family of tiny netbooks, it's in pad format, and it comes with its own slide-out QWERTY keyboard. In every respect, therefore, its name is both highly accurate, and genius!
The Eee Pad Slider is an interesting approach to weaning people off their laptops and onto the concept of a touchscreen tablet. In many ways, it's like the missing link between a laptp and a tablet as the slide-out QWERTY keyboard literally turns it into a laptop!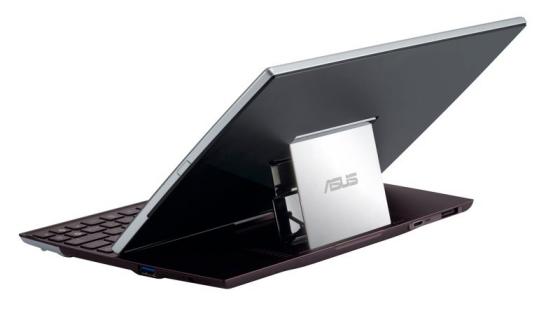 The keyboard slides out from underneath the pad in much the same way as a QWERTY phone, but given that the screen in this case is 10.1″, there's a lot more sliding to do, and the sliding mechanism is just a little more awkward than you'd expect (though the final production version should have rectified this by the time it goes on sale). You can see what I mean in the video below.
Under the hood is the by now ubiquitous dual-core Tegra2 chip running a 1GHz and powering Android honeycomb. It also comes with a mini HDMI port, miniUSB and microSD card slot, and two cameras – a 1.2 megapixel front-facing camera and a 5 megapixel rear facing camera with LED flash.
The Eee Pad Slider release date is scheduled for May 2011, priced between $500 – $800.
ASUS Eee Pad Transformer
The very excellent-sounding ASUS Eee Pad Tansformer is even more of a laptop/tablet hybrid than the Eee Pad Slider. Rather than having a slide-out QWERTY keyboard that you always take with you, the Transformer takes the detachable keyboard route. The tablet part of the Transformer simply slots into the QWERTY keyboard at the hinge creating a laptop in one easy move.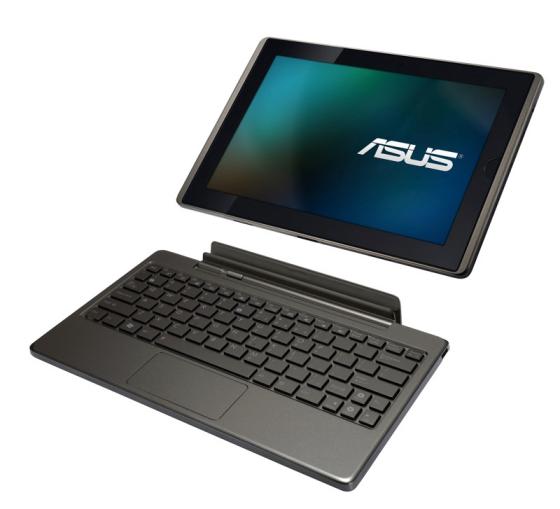 For existing laptop users, this is perfect, as it means you don't need to wean yourself off your physical QWERTY addiction. For tablet users it's pretty perfect as well, as you don't have to wory about the extra bulk and weight that a slide-out keyboard brings with it.
In this sense, then, the Transformer might be the best option of all. Better still, the keyboard part comes with its own integrated battery, which, when combined with the tablet's own battery, will give you 16 hours of continuous use (the tablet on its own will give you 8 hours).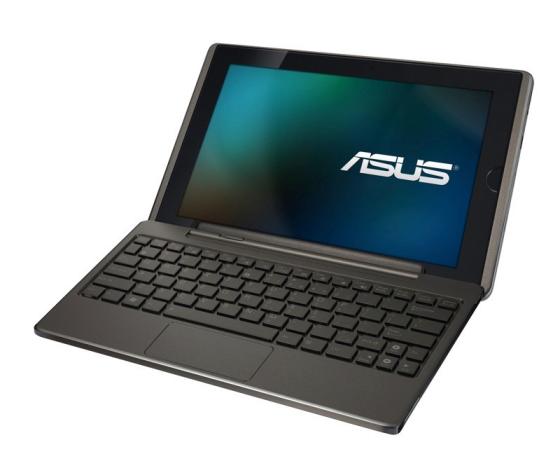 Under the hood, the Transformer is identical to the Eee Pad Slider, so it really will come down to whichever form factor you prefer as to which option you'd choose.
For me, I'd probably go for the Tranformer, as I much prefer my portable computer devices (i.e. my laptop!) to be as light as humanly possible.
The Eee Pad Transformer release date is expected to be around April 2011, and should cost between $400 and $700.
ASUS Eee Pad MeMO
Third in the line up is the ASUS Eee Pad MeMO, a smaller 7″ tablet that rivals the Galaxy Tab in terms of dimensions and features. The Eee Pad MeMO comes with a 1GHz Snapdrgaon processor, 5 megapixel camera on the back, 1.2 megapixel camera on the front, and it can also make and receive phone calls via a Bluetooth MeMic accessory.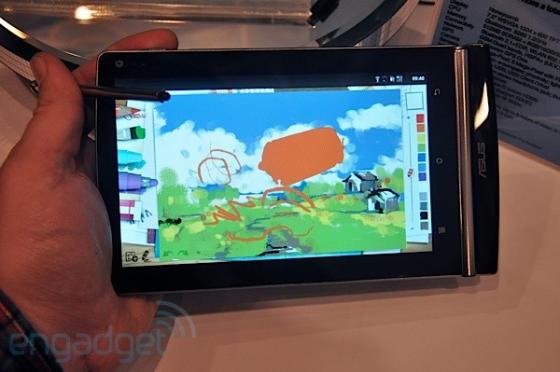 So in nearly every respect it's nearly identical to the Galaxy Tab; every respect that is, except one. Not only does the Eee Pad MeMO feature the usual capacitive touchscreen display, it also comes with a stylus, which has been especially designed with a rubberized tip to work well with a capacitive screen.
The Eee Pad MeMO release date is set for June 2011, priced between $499 – $699. At those prices, ASUS will need network operator support if it wants the Eee Pad MeMO to take on the Galaxy Tab as it doesn't really offer anything different to warrant buying one over Samsung's existing (and widely acclaimed) tablet.
ASUS Eee Pad Slate EP121
The final tablet in ASUS's armoury is the Eee Pad Slate. At first glance, you'd be forgiven for thinking this 12.1″ keyboard-less tablet is simply the tablet part of the Transformer and Slider being sold on its own and with a bigger screen. Look again, though, and you'll find the Eee Pad Slate EP121 is actually running Windows 7 rather than Android.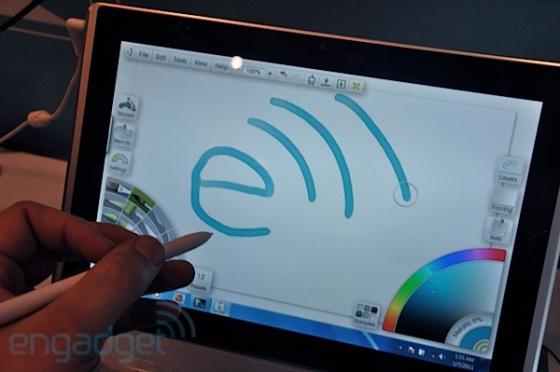 To me, this immediately renders the Eee Pad Slate this side of useless, as Windows 7 is horrible when used with finger input. ASUS have tried to make things better by including a powerful Core i5 processor and a Wacom digitizer for superb pen input, but surely the whole point of tablest is that you don't need styluses any more?
The Eee Pad Slate EP121 is available from January 2011 priced between $999 – $1099, so if you want a Windows netbook for without a keyboard for an exorbitant price, it's available to buy now!
[Source: Engadget]