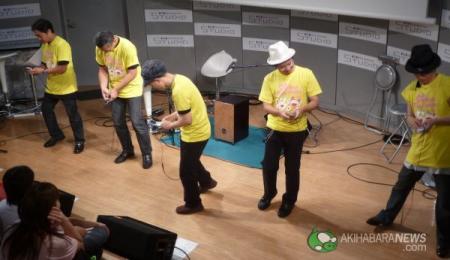 Remember the Yamaha Music Phones that I blogged about a few days ago? They're a series of concept phones made by Yamaha for Japanese mobile operator KDDI, each of which combines the humble mobile phone with a musical instrument. There was the Trumpet Phone (or TrumPhone, as someone suggested!), drum phone, synth phone, and three others.
Interesting concept, I bet you were thinking, but these phones are just concepts – there's no way you can produce any real music on them.
Oh really? Just check out the video taken by Akihabara News. I thought the sounds they made were going to be OK, but not much more than you get from an old 16-bit arcade machine.
Boy was I wrong!
Check out the video after the jump.

This is the single most impressive new concept I've seen from a mobile phone in ages! These musical phones are genuine musical instruments, and the music you can make with them is seriously impressive. Toys they most defintely aren't.
Sure, you look a bit odd playing them at first, but when you think of the success the Nintendo Wii and Guitar Hero have had in getting the general public to play vitual guitars (not to mention shedding their inhibitions), it's crystal clear that people will have no inhibitions playing these phones.
Furthermore, these phoens could actually usher in a new wave of music. It was cheap electronic musical instruments from Japan, such as the Roland TB-303 baslline, TR-606 drum machine and SH-101 synth unit, that helped create a whole new music genre back in the early '80s: electro, from which spawned hip hop, house, acid house, and eventually every electronic musical genre since the days of Rave.
Not everyone has a musical instrument, so kids with an interest but not enough money have little incentive to get one. But if your mates suddenly have a musical phone and your mobile's contract is up soon, what are you going to buy? A new phone with an MP3 player on it, or one that lets you jam with your mates?
This concept has the potential to take over the world, and create a huge surge in new musical innovation. Yamaha and KDDI, you'd be nuts not to turn these phones into production models. And if you do, please ship them over to the UK!
[Source: Akihabara News]