I didn't think I'd be writing a Nokia X6 review so soon after its announcement, but Nokia have obviously been working furiously to get their flagship music phone out in the shops in double quick time!
Is the Nokia X6 worth buying though? Is it a better music phone than other music phones on the market, and how good is it compared to other Nokia phones?
Read our full Nokia X6 review after the jump to find out!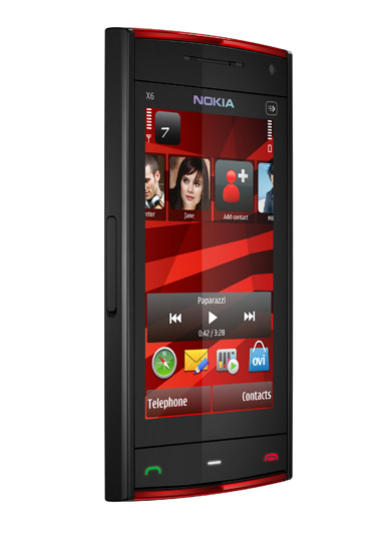 Nokia X6 Overview
The Nokia X6 is Nokia's flagship music phone, and so comes with a huge range of features, an extremely responsive touchscreen, new user interface, and Nokia's "Comes With Music" music download service, which lets you download unlimited tunes onto your phone.
And I do mean unlimited. A Comes With Music phone like the X6 gives you a year's free subscription to the service, and during that year you can download as many tunes as you want from the millions available, store them on your phone or PC – and even keep them once the subscription ends.
Or, if you want to keep on using the Comes with Music service, you simply take out another subscription.
That's a pretty good deal in its own right, particularly with the millions of tracks on offer and the 32GB of storage that the X6 has. But that's not the half of it.
The X6 is the first in a new range of Nokia multimedia phones that effortlessly blend the best bits of high-end feature phones with the social connectivity and touchscreen goodness of the latest smartphones.
The Nokia X6 is, in other words, a cracking music phone with a glorious touchscreen interface, great social apps and high quality features such as a 5 megapixel camera.
And it's here – now – at a new lower price!
Nokia X6 in more detail
Nokia's original music phones, such as the old Nokia 5800 XpressMusic, were traditional phones, with keypads and buttons. They offered good sound quality and a good range of features, but were, well, just standard phones at heart.
2009, though, has seen a raft of smartphones with sexy touchscreens and superb user interfaces. The whole market has shifted away from wanting the best features towards wanting the best user experience.
So Nokia has adapted to these shifts in tastes and the X6 is the result, providing great features that Nokia phones have always had with a great touchscreen interface that the market now expects.
Nokia X6 Features
Nokia has done a great job with the X6. It's got a great user interface and a tonne of cracking features, each of which has been designed to provide excellent results, and to trounce the competition. For example:
Brilliant widescreen display
Not only does the 3.2″ screen offer 16:9 widescreen viewing, it also uses capacitive touchscreen technology – which makes it super-responsive, responding to the lightest touch of your finger. The X6's touchscreen is leagues ahead of the N97's.
Throw in 16 million colours, and the 3.2″ screen is perfect for viewing pictures and video.
Music, maestro!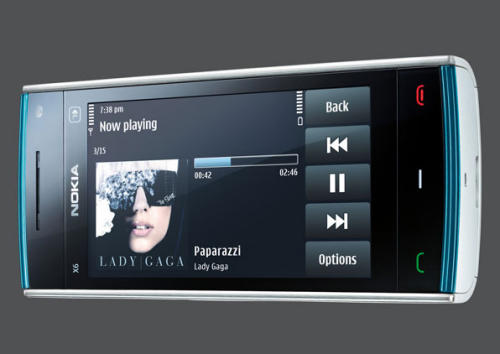 Perhaps most important is the X6's superb music features. The X6 is Nokia's flagship music phone, and so it really goes the extra mile to produce outstanding results, either from its stereo speakers, or its built-in 3.5mm standard headphone jack.
It'll play music in MP3, AAC+, eAAC+ and WMA format, and also comes with a built-in FM Radio if you get tired of the thousands of songs you've downloaded!
With thousands of tunes on board, and an unlimited number of tunes available for download, finding what you to listen to can be tricky. Nokia have thought of that, too, and provide a nifty app that lets you play your tunes according to what mood you're feeling.
You can swipe a few sliders up or down to tell the X6 how happy, sad or energetic you're feeling, and it'll suggest a playlist based on your mood.
GPS and mapping features that go the extra mile
Many phones have GPS. The Nokia X6 goes one better and also adds a compass, as well as automatic photo geo-tagging and Ovi Maps. You can also use Google Maps if you'd prefer, and both now offer turn by turn Sat-Nav navigation.
Top-end camera that works in light and dark conditions
No crappy camera for the X6. Nokia have kitted it out with a 5 megapixel unit with Carl Zeiss optics and autofocus, and then thrown in a Dual LED flash as well, for superb low-light pic taking. You can also record video at 30 frames per second.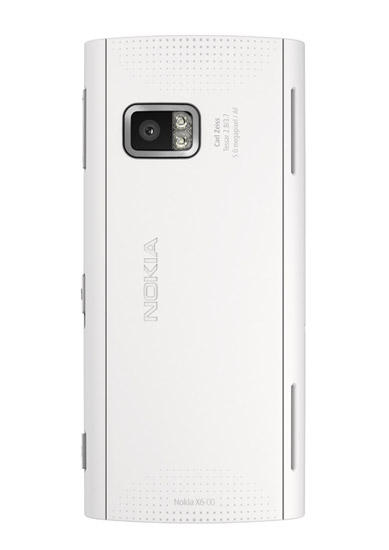 Desktop-like Web browsing with Flash
Nokia's Web browser is based on Web kit, the same technology used in the iPhone and Android phones. As a result, you get a desktop-like Web browsing experience with the bonus of Flash videos, such as YouTube, being displayed within the Web browser itself. In other words, if you can view a Web site on a desktop, you can view it on the X6.
The X6's browser has also been tweaked a bit, so you can now zoom into a Web page simply by double tapping the screen (triple tapping will zoom in even further).
Download hundreds of apps with Nokai's Ovi Store
Although the X6 isn't a smartphone, that doesn't mean you can't have apps – you can extend its features with hundreds of apps, all readily available from Nokia's Ovi store. Whether it's social network apps, picture, video or music apps, or a wealth of games, they're all just a touch away.
Super-connected Email supports lets you sync with virtually anything
Most phones support email, but the X6 also offers built-in support for Yahoo! Mail, GMail, Windows Live Hotmail and virtually all standard desktop email services via POP3 and IMAP. In other words, the X6 will connect to virtually any email service you choose to use, and connect to it with the minimum of fuss.
Superb connectivity
As you'd expect from a Nokia feature phone, the X6 is packed with connectivity options, including Wi-Fi, HSDPA, TV-Out, and an FM radio.
Ridiculously large storage built-in
A music phone is no good if it can't store many tunes. That's why Nokia endowed the X6 with 32GB of storage, which is good for thousands of tunes, and a load of videos as well – which is good news, as with a 16:9 widescreen display, the screen is begging to show videos and films!
Gamers delight – Spore on the X6
Nokia see the X6 as a multimedia entertainment phone, and so have thrown in some pretty good graphics hardware and a variety of games to take advantage of it. Top of the list is EA's Spore, one of the most eagerly awaited games of all time, which isn't just available for the X6 – it actually comes ready loaded, ready for you to play it the instant you buy the phone.
You can also download hundreds of other games from Nokai's Ovi Store.
Class leading battery for 35 hours of continuous music playing
Phones with this many features tend to drain their battery quickly. Not so the X6. Nokia have made the X6 super-efficient, giving you 35 hours of continuous music playing, 420 hours of standby time, and over 8 hours of talk time between charges.
That's immense, and makes other phones look greedy in comparison!
Social networking for social butterflies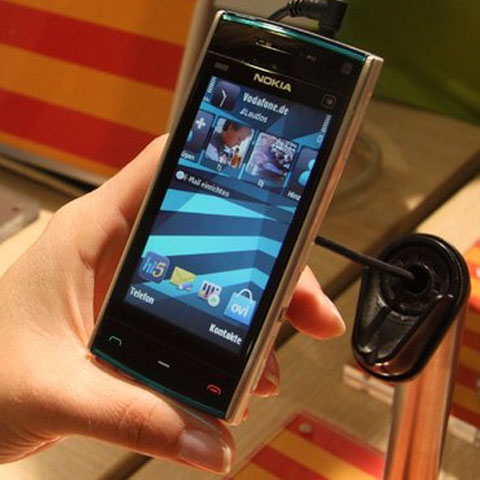 Nokia have seen how important social networking is to people these days, and so have included apps for the X6 that pull in your friends' statuses and tweets,and show you them directly on the homescreen. Your Facebook friends' pictures are also synchronized with your contacts, so you can see who's calling at a glance.
You can also upload your own status to sites like like Facebook and Twitter directly from the homescreen, making the X6 perfect if you can't live without your social network fix.
Is the Nokia X6 right for you?
The Nokia X6 is without doubt Nokia's best touchscreen phone yet. After the disappointment of the N97, it's great to see Nokia back on top of its game again. Every feature has been designed to work brilliantly, and be just that little bit better than the competition.
If music's important to you, you'll find the X6 hard to beat. With a wealth of features, great new touchscreen interface, and the bargain of the Century that is the Comes With Music service, the X6 is the perfect music phone for any music lover.
Better still, the X6 is now available on a number of different mobile networks, so the price has come down nicely, with a range of free gifts thrown in to sweeten the deal even more!