Google is about to announce its much-hyped Nexus One Android phone. I'll be updating this post from time to time as details are announced, but you'll get a much more real-time experience by following me on twitter (@mobmental).
(BTW, just to clarify, I'm not actually at the event – I'm reading about it at Gizmodo as it happens. I'm still blogging about it in real-time, though, so technically that's live blogging ;)
Follow the announcements after the jump.

Hooray, it's starting at last!
18:08: "Today we will unveil the next stage in evolution for the Android."
At last!
Waffling on about the background first – talking about Android in general, starting with the G1.
18:10 There's now 20 handsets, with the most recent being the Droid (ok, we know that!)
18:12 Still talking about the background. Waiting for something interesting to happen! I don't wait well – get bored easily :) But I know when the news itself hits, I'll be typing like a maniac!
18:12 People search the Web 30x more on an Android phone than a feature phone – which is why Google put so much cash into developing the smartphone.
18:16 this is more like it: "the next step in Android Evolution"
18:19 – Next step is apparently the Nexus One – would never have guessed that! They're calling it a new class of device – the "superphone". Beats Nokia's "multimedia computer", but it needs to do something pretty powerful to live up to that kind of billing.
18:21 HTC's Peter Chou is now on stage telling us about the hardware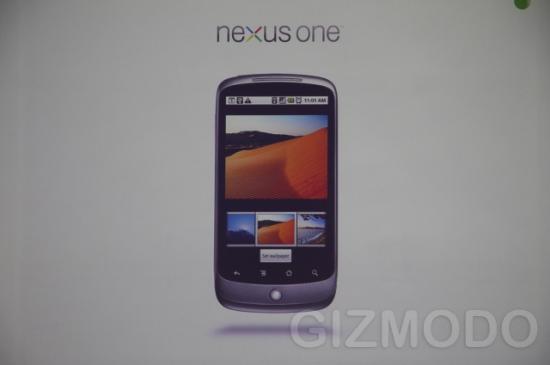 18:22 About to demo some software. At last!
18:25 Confirmed Nexus One Specifications:
Trackball
Multi-colour notification LED
Snapdragon 1GHz processor
3.7″ AMOLED screen
Light and proximity sensors
compass
GPS
accelerometer
5 megapixel camera with LED flash
Stereo Bluetooth
3.5mm headphone jack
Active noise cancellation
Custom Engraving
Hardware's only half the story though – the NexusOne is all about the software and integration with the mobile Web. Cool, so what have we got?
18:32 Software
All the apps you'd expect are there – Facebook, turn by turn SatNav, etc. There's also 5 homescreens now, which are much more customizable.
There's also a News+Weather app that shows local news events next to local weather, which is pretty neat.
Live wallpapers is a new feature, which lets you interact with the wallpaper (you can see both of these features on the leaked video)
18:38 This is more like it. There's a new 3D framework on the NexusOne which powers the live wallpapers. It also powers the new Gallery app for viewing your pics, as well as many new fancy user interface transitions.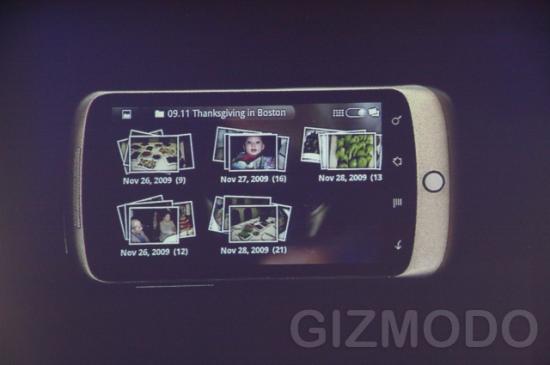 Albums are automatically clustered by time, date and location – so much better than clustering by random filename! Maybe I'll be able to find my photos in the future (or is that asking too much?!)
There's also background sync to Picasa, which is a brilliant idea. Could even spell the end for Flickr (at least in the longterm)
The voice recognition actually seems to work! Amazing! All processing is done on the back-end on Google's servers, which shows how scarily powerful their servers are!
18:44 Google Earth for Android! And it looks brilliant!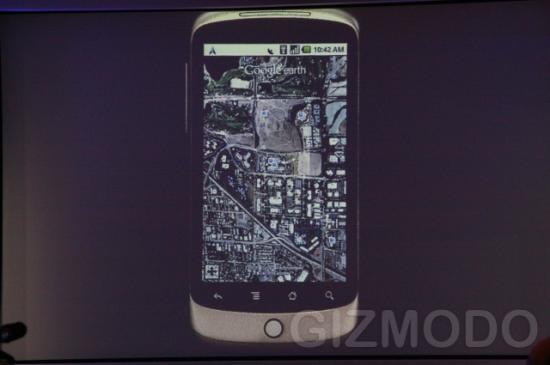 Super cool – you can use Google Earth like you do on the desktop, fly around 3D terrains, and search for things with voice at the same time! Now that really is something!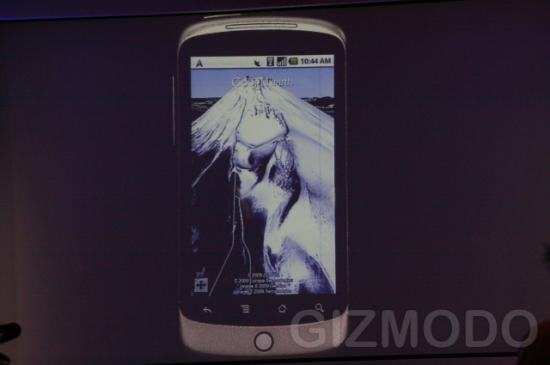 18:47 Google will be selling the #NexusOne through a Google Web store. Think I can already hear CarphoneWarehouse crying!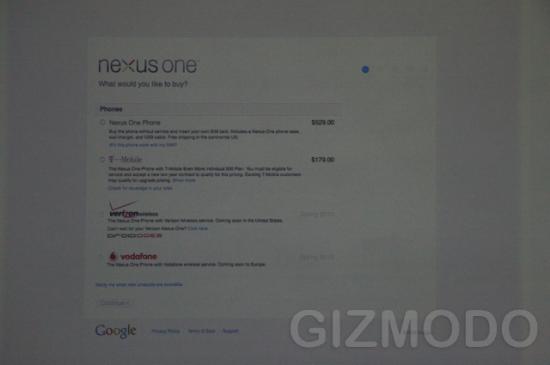 18:47 YOU CAN PURCHASE A NEXUS ONE TODAY! T-Mobile have it, and you can buy it now from Google (US only at the moment, worse luck!)
Oooh, but wait – You can also buy it with Verizon and Vodafone service, which should mean it's coming to the UK :)
18:51 Price announced! As we suspected, it's $529 unlocked, $179 on T-mobile with a two year contract.
And it's coming to Europe on Vodafone in Spring 2010 :D
They're launching the Web store in the US, but will also ship to test markets, which include the UK :) Wonder if this means we can buy a NexusOne in the UK now? Actually, we should as long as it's unlocked! Sweet!
Google will also be offering more handsets, more operators and more countries through the year. At last, they've broken the stranglehold of the operators! You can buy the phone you want with the operator you want – it's the exact opposite of Apple's locked-in model :)
19:00 Q&A time now. I'll get cracking on a more in-depth post.
First thoughts – is it a super phone? Not in terms of features, but in terms of Web integration, Google Earth, voice recognition (which may just be the killer app) and the new Google Web Store, it's certainly going to shake up the market.