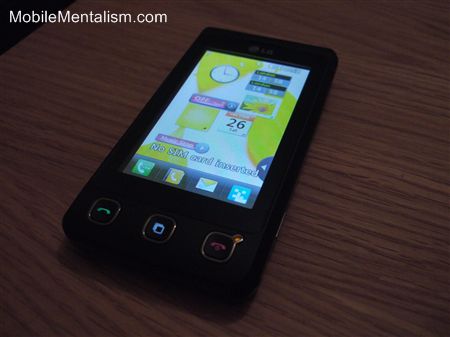 Prepare yourselves for a hands-on LG KP500 review, a new phone from LG which I've just been sent by the nice people at LG to have a play with!
Better known as the LG Cookie, the KP500 is a brand new phone from LG, and I have to say, after playing with it for around 20 minutes or so, I'm extremely impressed. The KP500 is a touchscreen mobile phone with a really intuitive and rather smart new user interface, and has one of the clearest, sharpest screens I've seen.
It's not exactly under-specified either. Sure it doesn't have Wi-Fi or GPS, but it looks like it'll give the Samsung Tocco a run for its money as a decent touchscreen phone.
Read on after the jump for my complete hands-on LG KP500 review.

LG KP500 Overview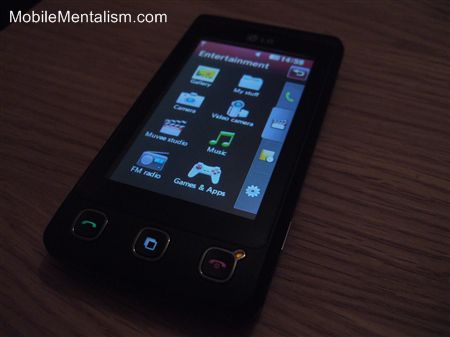 The LG KP500 is a mid-range phone, and so doesn't come laden down with a huge number of features. What you do get for your money, though, is a fantastic little phone that's super slim and super-light. Indeed, at just 89g, it's so light, I'm quite sure you could easily forget it's in your pocket!
The KP500 that I received comes in black with a huge touchscreen dominating the front together with three buttons. The touchscreen is haptic, so the phone vibrates whenever you touch something interesting (insert your own punchline here!), and can be used either with stylus or with your finger.
You can enter text either through the stylus, by pointing and clicking at various characters (i.e. a mobile phone-like keypad or a full virtual QWERTY keyboard), or by writing, as the KP500 also supports hand writing recognition.
It's extremely minimalist on the outside, with just a few dedicated buttons, with most of the actions being performed via the touchscreen.
LG KP500 User Interface
Time was when the user interface was the last thing you worried about with a mobile phone, but since the iPhone, all that has changed. Every phone and his dog now has a touchscreen with a fancy new user interface, and the LG KP500 is no exception.
This time, though, the user interface is rather smart. It's not overly elaborate. There are no massively animated icons or amazing transition effects from one screen to another, but you do get a satisfying little visual jolt when a menu is pulled down, and all of the menus are a really good size, really responsive, and actually look rather good.
The LG KP500 is clearly aimed at the Samsung Tocco, and for my money, the KP500 has the much better user interface. It's more responsive, visually more pleasing and more intuitive.
LG KP500 Camera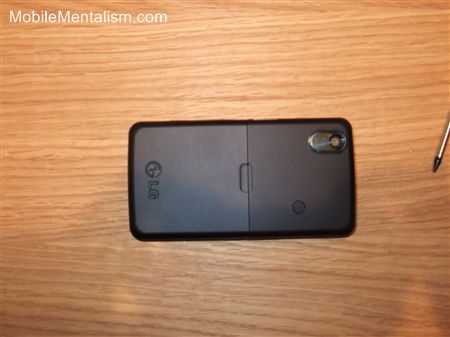 The KP500 comes with a 3 megapixel camera, and the pictures it takes are shown off to great effect with its large and extremely clear screen. Interestingly, although the screen is 3″ in size, it only supports 256,000 colours, yet it's so bright, it looks like it's displaying many more.
Anyway, back to the camera. It is, as you'd expect, located on the back of the device, with the camera key in the usual place on the top. You get the obligatory shutter delay that you find on many camera phones, but it's nowhere near as slow as on many other phones.
The camera comes with a limited range of features for taking better pictures. You can adjust the exposure, white balance, and choose day or night settings, but that's about your lot. As such, although it takes good pics in good conditions, don't expect it to perform well in low light conditions or where there's fast motion.
There are a few neat ways of viewing your pics once you've taken them. There's a slide show feature, which literally slides your pics from the right to the left, or you can use the stylus and slide the manually. There's also the traditional gallery, where you can browse through thumbnails to find the pic you want.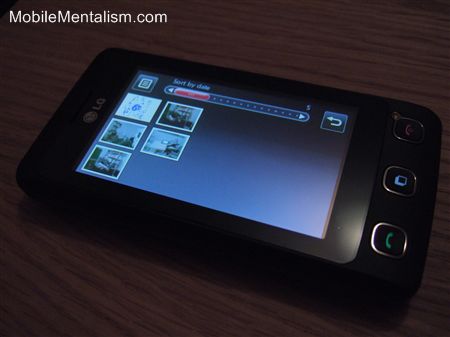 The video camera offers the same array of features as well, but is a bit more limited – just 12 frames per second at a QVGA resolution. This is fairly poor, and I can't imagine many people recording anything of note on the LG Cookie!
Music features
The music features of the LG KP500 are much better. You get the obligatory MP3 player with a variety of different adjustable equalizer settings, and although the phone only comes with 48MB of onboard memory, there's a microSD card slot that will support up to 8GB.
There's even an FM radio built-in, if you're bored with your tunes.
Connectivity
The connectivity on the LG KP500 aren't exactly great. Forget Wi-Fi, HSDPA – indeed, you can even forget 3G. Although the KP500 has a Web browser, it only supports quad-band GSM, GPRS and EDGE, meaning you'll be lucky to get dial-up speeds when using the Internet. This is a shame, as the screen is a good size for Web browsing, but it's one of the downsides of building a phone down to a price, rather than up to a high spec.
You do, however, get USB 2.0 and Bluetooth A2DP,so you can stream your tunes to a suitably-equipped Bluetooth speaker, for example.
Other features
In addition to the features listed above, the LG KP500 makes good use of its accelerometer. As well as automatically adjusting pictures to either landscape or horizontal mode just by turning the phone over, it also lets you adjust the icons you've placed on the home screen's desktop.
If you've dragged a lot icons on to the desktop so that they're scattered all over the place, simple shake the phone and they're automagically arranged neatly for you. Not exactly a must-have feature, but a nice touch nonetheless.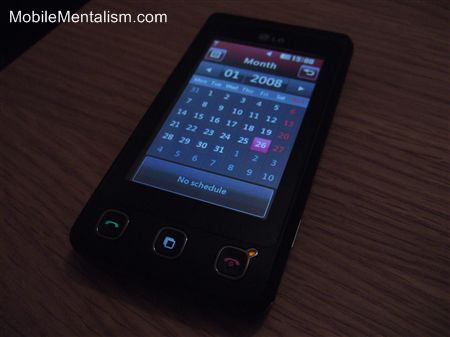 There are also quite a few nice applications to play around with, including your usual ToDo lists, calendars, and even a Word and Excel viewer. In addition, there are some nice apps you can use for editing your pictures and videos directly within the phone, including the ability to write or draw all over your picture.
Again, not a must-have feature, but it all adds value to the overall package.
Summary
At this stage, you might be thinking the LG KP500 is a bit underwhelming. It has a good display, a very usable touch screen and a nice user interface, but everything else seems a bit limited.
The reason for this is that LG decided to pitch the LG KP500 at the bottom end of the market, and this, naturally, is reflected in its price. The LG KP500 will set you back just £97, and that's Pay As You Go, without any contract whatsoever. For a phone as good looking as this, with a genuinely good touchscreen and a great little user interface, that's fantastic value.
As such, feature for feature, it can't compete with the Samsung Tocco, but given that the Tocco is £200 more, it doesn't have to. The two phones are pitched at entirely different markets.
The Samsung Tocco is a good-priced feature phone that sits at the middle of the market. In contrast, the LG KP500 is a great-priced touchscreen phone that sits at the low end of the phone, with features to match.
That said, the KP500, despite its lower price, has a much better user interface, is more responsive, and just feels more fun and easier to use all round than the Tocco. For less than £100, this is fantastic value, so if you're looking for a neat phone at a bargain price, I can strongly recommend the LG KP500 Cookie.
I'll give it 9/10 – strongly recommended!