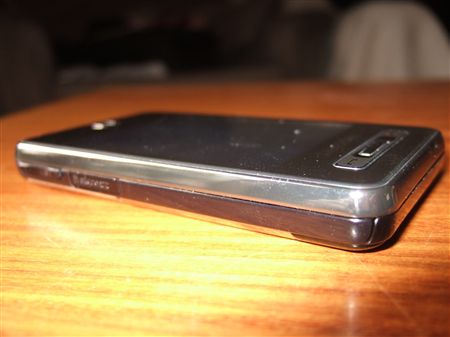 When I first picked up my Samsung Tocco review unit, I was a little skeptical about it. The Tocco is a touchscreen phone, you see, and I couldn't help but think that it was yet another touchscreen phone that was launched in response to the iPhone, but which didn't actually work all that well.
A poorly implemented touchscreen phone is little short of a disaster. They're so slow an inaccurate, they make the entire phone almost unusable.
Fortunately, my misgivings with the Tocco proved entirely unfounded. It's a super-slim feature-packed touchscreen designer phone from Samsung that's well put together and a lot of fun to use.

Samsung Tocco F430 Overview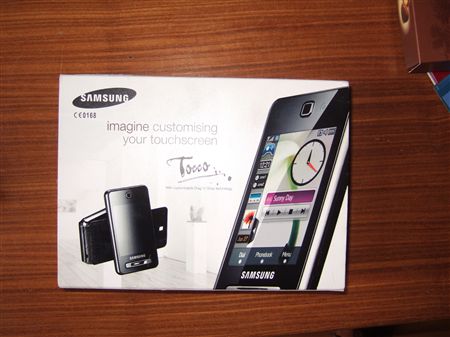 The Samsung Tocco F430 came out at the same time as the Samsung Omnia, but whereas the Omnia was heavily promoted as an iPhone killer, the Tocco was its little brother.
In many ways, this went in favour of the little Tocco, as it didn't have the heavy weight of expectation hanging over it.
The Tocco, then, is a slim touchscreen phone with a good set of features, including 5 megapixel camera and 7.2Mbps HSDPA for super-fast downloads. As with any mobile phone, though, it's not the list of features that matters, it's how well they work, so on with the Tocco review!
Samsung Tocco's exterior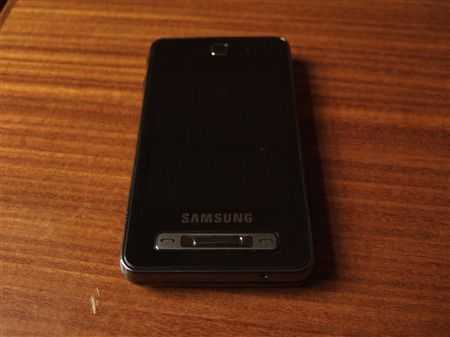 The first thing you notice about the Tocco is just what a good looking phone it is. It's tiny for one thing – just 98.4mm x 55mm x 11.6mm in size, and weighing only 100.6g. The front panel is taken up entirely with a large 2.8 inch screen with just three buttons at the bottom for accepting calls and quick access to the phone's main menu.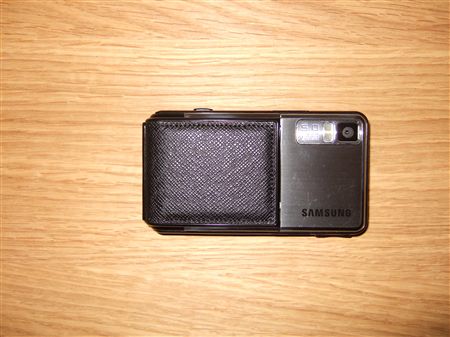 On the back is the obligatory camera, which in the Tocco's case, is 5 megapixels in size. On the back, you can slot either a silver battery cover, or a silver and leather screen protector, with the leather part wrapping round over the front to cover the screen.
This is a nice touch, as it means you don't have to worry about buying an external screen protector.
There's the usual array of buttons and microSD card slots scattered around the edge of the phone, but let's face it, it's not the outside we're interested in – it's what's going on on the inside that's where all the fun is!
Samsung Tocco's user interface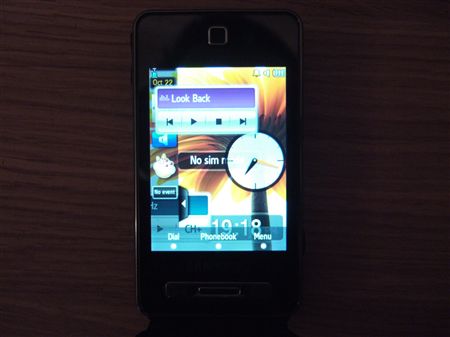 Touchscreen phones need fancy user interfaces, and the Tocco's is no exception. Once you switch it on, you're presented with a desktop with icons that can be dragged around with your finger. On the left of the screen is a small strip with other icons on. These can be dragged onto the desktop, from where the application they represent can be launched. You can also scroll up and down the icon strip using your finger, which is very iPhoney and a nice touch.
The user interface is a little jittery at times – it certainly doesn't flow as smoothly as the iPhone's – but it's pleasing to use, and certainly doesn't get in your way.
When you launch an application, everything's nicely presented and intuitive to use. In fact, it's so intuitive, I was able to use the whole phone without looking at the instruction manual once.
Being able to touch the screen to access menu items is just so much more natural than button pushing, and being able to overlay icons on top of the screen means you're not forever wading through long complicated menu hierarchies.
The only downside is text entry, which is always a nightmare for mobile phones. Sure you get the virtual keyboard overlaid on the touchscreen, and Samsung provide a haptic feature that makes the phone vibrate whenever you successfully touch a virtual button.
However, the keyboard isn't QWERTY – it's a simple numeric keypad, which is difficult enough to type words on when it's a real physical keyboard, but it's a nightmare when it's a virtual one.
Worse, the haptic feature is a bit pointless. The phone buzzes softly whenever you hit a button, but only after the screen has changed, which pretty much gives you a decent enough clue that you've hit the button anyway!
I did suspect this might just be a feature for a feature's sake, and I'm not wrong. It's an interesting approach, and it works well on the Wii, but haptics on the Tocco jus isn't necessary.
Samsung Tocco Camera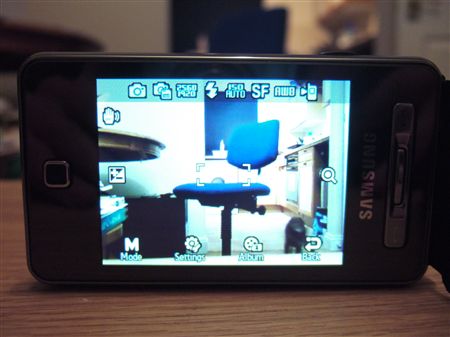 The Samsung tocco's camera is a 5 megapixel unit with a whole host of features, including auto-focus, face detection, anti-shake and a load of different scene modes
Taking photos is easy, and there's a range of things you can do with the pics once you've taken them, from emailing them to your friends, to uploading them to the web. The touchscreen makes using the camera a snip, as the icons to adjust its settings appear overlaid on top of the camera's image whenever you touch the screen.
This makes changing white balance, for example, or flash mode, or whatever setting you're trying to alter, both easy and quick, which is a real boon when trying to capture the perfect shot.
The only downside is the speed at which a picture is taken. From pressing the camera's shutter to the picture actually being taken takes around 3 seconds, which might as well be 100 years if you've got a subject that's moving.
The resultant picture quality's good, though, once you've actually taken a photo, which I guess is the main thing. Plus, with anti-shake, face detection, white balance adjustment, panoramic shot mode and the ability to change ISO levels, the Tocco's camera lets you play around with its settings to your heart's content in search of the perfect shot.
It's just a shame it takes so damn long to take the photo in the first place!
Connectivity
The Tocco isn't meant to be one of those all-singing all-dancing phones like the Nokia N96, and so you wouldn't expect it to come with all the features of a super-computer.
And indeed it is missing one or two features that are pretty much becoming essential in most mobile phones these days. Specifically, there's no WiFi and there's no GPS. The Tocco isn't alone in this, though- most phones at this price point have to sacrifice some feature or other, and WiFi and GPS haven't yet made it to the list of people's essential features (although, for some odd reason, extremely poor video recording seems to have!)
Fortunately, the Tocco makes up for this with support for HSDPA, which at least means that your data downloads at a nippy 7.2Mbps. Just make sure you don't pay by the byte on your data plan!
Applications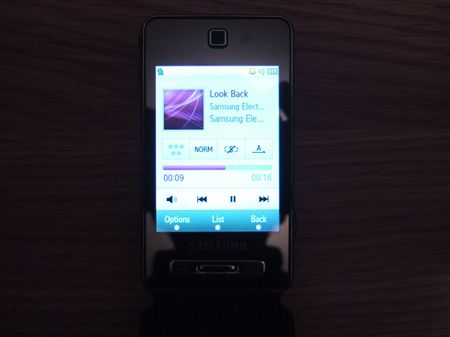 The Tocco comes blessed with Java, but this doesn't mean it comes blessed with games. In fact, it comes with just one – a piss poor puzzle game called Photo Puzzle that's so bad, it doesn't deserve any more words wasted on its wretched carcass!
It's not helped by the fact that the screen's resolution (240 x 320) and number of colours (256,000) are pretty weak, meaning you get horrible banding whenever a gradient fill is used, just like you used to in the days of 16 bit computing!
In an age when other manufacturers have no problem throwing in screens capable of displaying 16 million colours in near VGA resolutions, you'd think Samsung could at least try and keep up.
As far as other applications are concerned, you get your usual array of calendars, phonebook, alarms and MP3 player, each of which is easy to use, but won't exactly set the world on fire.
Samsung Tocco Specification
The Samsung Tocco comes with the following list of features:
Connectivity: GSM 900 / 1800 / 1900, HSDPA 2100
Size: 98.4 x 55 x 11.6 mm
Weight: 100.6 g
Display: 2.8" TFT touchscreen, 256K colors, 240 x 320 pixels
External storage: microSD (TransFlash), up to 8GB
Internal memory: 232 MB of internal memory
Bluetooth v2.0 with A2DP
USB v2.0
SMS, EMS, MMS, Email, Instant Messaging
WAP 2.0/xHTML, HTML browser
Camera: 5 MP, 2592?1944 pixels, autofocus, video(QVGA), flash
Java MIDP 2.0
H.264/H.263/MPEG4 player
MP3/AAC/AAC+ player
Camera face detection
FM radio with RDS
Built-in handsfree
Stand-by: Up to 250 h
Talk time: Up to 3 h
Summary
The Samsung Tocco is a great little designer phone overall, but with one or two flaws. On the plus side, it's super slim, looks great, has a good user interface with a responsive touchscreen, and comes with a good set of features. On the downside, text entry is difficult, the screen's picture quality isn't great, and the applications are pretty basic, meaning you'll get bored of using them pretty quickly.
Overall, though, and given its price, the Tocco is an extremely good phone, and is a great alternative to the traditional keypad-based phones that dominate the mid-range sector.
If you're looking for a reasonably cheap, stylish, well featured phone that offers something just that little bit different from the rest, give the Samsung Tocco a go.
I give it 8/10.
You can buy the Samsung Tocco now from Expansys from just £289 Pay As You Go.