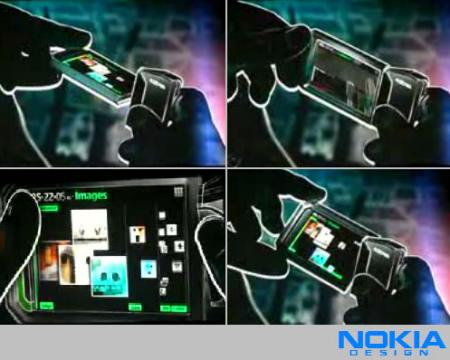 Nokia recently presented a couple of short videos at NokiaWorld 2006 that show off its designs for a fantastic new user interface. The ease with which the user is able to select various items on the screen and push them around with the flick of a finger, sorting and collating as he goes, make you wonder why no-one thought of this type of interface before!
The second video shows a user taking a picture, editing the image, then wrapping the image around the phone's body, effectively taking it from the virtual world to the real world. Not sure how realistic this particular piece of fancy wizardry is, but it's genius design!
See videos of Nokia's new user interface after the jump.


It looks so natural and intuitive, and is the first interface I've seen with the "give me a go!" factor since the original Mac! More than anything, it looks fun!
Better still, it finally takes the mobile phone out of its restrictive wannabe-a-PC phase it's been stuck in for the past few years. Think of the interfaces for all mobile phones with reasonable features – they tend to be based on the familiar interface your PC uses. Menu, pop up windows, icons, all fairly static.
But it doesn't have to be that way. PCs are largely productivity tools – mobile phone are lifestyle tools. They should be fun, engaging, intuitive, creative and dynamic, and Nokia's new user interface designs seem to be all that and more – they look like what we always thought the gadget of the future should look like!
Nokia haven't said whether they're currently developing a phone with this interface or not yet, but the Nokia N95 certainly shares some similarities with it, and I can't believe we won't see phones from Nokia with this interface at some point in the near future, as it seems such a sure-fire winner. I think mobile phones are about to get a whole lot more interesting!
Nokia Video 1
Nokia Video 2
[Source: GSM Arena]