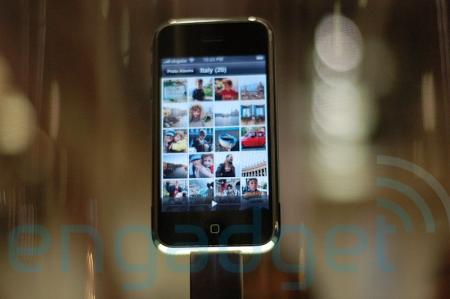 The Apple iPhone has finally been announced, and it emphatically marks a watershed in mobile phone design. In his keynote speech, Steve Jobs claimed the iPhone was 5 years ahead of all other mobile phones, and poured scorn on existing state of the art smartphones, such as the Motorola Q, RIM's Blackberry and the Nokia E65.
And he's right. The iPhone is like nothing on the market. But it's still not going to worry Nokia – here's why…
Not quite an Internet Connectivity device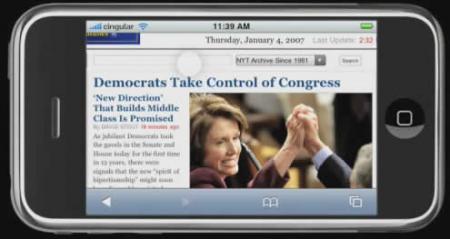 The iPhone's web browsing features are superb, with the multitap interface and the unique way the page can be rendered in either portrait or landscape mode just by turning the device around marking a sea-change in the way we use the Internet on or mobile devices.
But it's seriously hobbled by the fact it has no 3G connectivity. At a time when most smartphones and networks are supporting HSDPA, which can support speeds of up to 7Mbps (and will ramp up to 14.4 Mbps in the near future), the iPhone is limited to EDGE and its slow data rates of 236.8 kbits/s (and that's its maximum).
This makes using the Internet anywhere other than a WiFi hotspot unrealistic at best. Disappointing to say the least, and not what you'd expect from a device touted as an "Internet Communicator".
Text entry not as good as first thought
The iPhone has a virtual keyboard for typing text into the device, but according to Richard Windsor of Nomura Securities, the ease of use of text input is "debatable…You do not seem to get any tactile feedback, so users could get confused when inputing."
Of course, we'll know more on the effectiveness of Apple's design when the iPhone finally launches in June 2007, but it may be that cumbersome though they are, small keyboards on smartphones are there for a reason: they work better than the alternatives.
Limited market
One of the big reasons why Nokia and others will breathe a sigh of relief is that no matter how hungry consumers are for the iPhone, not all of them will be able to get one. Firstly, it's expensive – $499 and $599, depending on whether you go for the 4GB or 8GB version. And more importantly, it's locked to one network operator (Cingular), and in order to get an iPhone, you have to sign up to Cingular for two years – even if you're already on a contract with them!
For some users in the US, this simply isn't an option: Verizon has the largest network coverage in the States, and there are some key areas where Cingular coverage simply doesn't exist. There's no point in buying a phone that can't make a call, no matter how sexy it is.
According to PC Magazine, this locks out over 100 million potential customers, all of whom either prefer, or have no choice but to use, either Verizon, T-Mobile or Sprint:
"One Mac-friendly PC Magazine editor I know said, "Damn Verizon to hell!" when I mentioned the iPhone to him. Translation: He wants the iPhone. He needs the iPhone. But he isn't willing to give up Verizon's superior coverage in New York City for it, and I don't think many other people will, either."

Limited third party developer support
The iPhone uses Apple's own OS X as its operating system, and there's no hint yet of whether third parties will be allowed to develop software for it, or whether Apple will keep tight control on who can develop what.
In contrast, smartphones such as those from Nokia are based on Symbian OSes, Microsoft's Windows Mobile, or a variant of Linux, each of which allows for third party developers to develop whatever apps they choose.
Limited feature set
The iPhone may have a fantastic user interface, and its music features are second to none, but the rest of its features are pretty limited compared with existing smartphones. The iPhone only has a 2 megapixel camera, for example. Nokia's forthcoming N95 has a 5 megapixel camera with 3x optical zoom and autofocus, while Samsung's B600 boasts a 10 megapixel camera.
Clearly, the iPhone's camera is not its main focus, and so was tacked on simply because people expect a camera on a phone.
Equally, the video support is poor – it can play videos, but can't record them, and with only EDGE connectivity, there's no support for video calls, video streaming or mobile TV.
Nokia's ace: its own Next-Gen interface
But surely the iPhone's user interface alone will be enough to make the iPhone dominate its competitors, I hear you cry? Well, yes – the interface really is 5 years ahead of the current crop of mobile phones. But that doesn't mean the phones coming round the corner won't sport similarly-usable interfaces.
Just check out these videos of Nokia's next-gen interface (below), and you'll see what I mean. Nokia, and the other manufacturers, knew the iPhone was coming, and it didn't take a genius to work out that the interface would be very Mac like. So they already knew what they were up against, and have been hard at work designing their own interfaces that are just as usable.
Waiting for the iPhone hype to die down
One thing that's been very conspicuous by its absence at this year's CES was the distinct lack of major mobile phone announcements. In part, this was due to the fact that any new phone launched at CES 2007 would obviously be overshadowed by the iPhone announcement, which everyone knew was coming.
Buit it also lets the other handset manufacturers reveal their own products after the iPhone's launch. A case of "yeh, that's great Apple, but now check our new interface out!"
3GSM in particular should be well worth watching this year. This is the conference dedicated to mobile phones, and is far anough away from Apple's iPhone announcement for the handset makers to create some buzz of their own.
One thing's for sure – as Nokia's VP of NSeries Multimedia Computers, Pekka Pojakallio, agreed, the iPhone will force the other manufacturers to raise their game. Talking to TechDigest at CES 2007, he said "The best company will win in the end, so I think it's good news for us. It's not a threat, although of course it's hard competition, but that usually makes you perform better yourself."
Nokia's Next Gen phones for 2007
So imagine a Nokia phone that combines Nokia's next-gen interface with a 5 megapixel camera, full video support, WiFi, HSDPA, mobile TV and maybe even SatNav functionality like their N95, all for the same price or less as the iPhone, and without being tied to a single mobile operator – and then compare it to the iPhone. Suddenly, the iPhone doesn't quite seem 5 years ahead of everyone else any more.
Personally, I expect to see such a phone from Nokia to arrive sometime late in 2007. The iPhone doesn't come out in Europe 'till late 2007, so Nokia have plenty of time to refine their new interface. And comparing the iPhone with an NSeries phone, it's only the interface makes the iPhone the winner.
Nokia phones have the features, and soon they'll have the interface too. As Pojakallio says, hard competition usually makes you perform better, which is great news for the mobile phone enthusiast.
As I predicted last month, 2007 has the makings of being a vintage year for mobile phones. We're about to enter a new age of mobile phones, with features that work well combined with interfaces that are magical (to paraphrase Steve Jobs), making all phones released up until now seem like throwbacks from a different era.
2007: truly the year of the mobile phone.
[Sources: TechDigest, PC Magazine, EE Times]