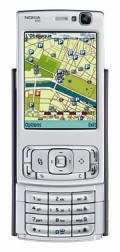 The Nokia N95 is Nokia's flagship mobile phone (sorry – "multimedia computer"), and so you'd expect it to be laden with features. As this Nokia N95 review shows, though, the features that it does come with are staggering.
Full Sat-Nav abilities, 5 megapixel camera with auto-focus, DVD-quality video recording, great MP3 player, Wi-Fi and HSDPA for 10x faster downloads are just some of the headline features of this amazing phone.
What's more impressive though, is that these aren't just gimmicks: they actually work! For example, any-one can throw a GPS receiver into a mobile phone, but unless you've got the right software, it's no more use than a compass.
With the N95, Nokia have created a mobile phone that's actually better than many Sat-Nav devices currently on the market!
It's the same for all the other gadgets it manages to combine, too. Everything about the N95 is superb (except maybe battery life!), so it seems only right that it gets a proper super-review.
Read on for a full review of the Nokia N95, including sample photos and videos, plus a couple of video reviews so you can see it in action.